Starting 2015 off on the right foot
by Rebecca Mayo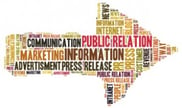 Today's banking environment is more challenging and competitive than ever before, making it critical for credit unions to implement a solid public relations program that effectively promotes and ultimately builds awareness among prospective members. But for your program to be effective, it must be balanced. As we wind down the year, credit unions should be building out their plans right now for next year through a healthy mix of press releases, media placements and member case studies (or testimonials).
1. Press Releases
Press releases should be considered the foundation for your credit union's public relations program, and can be used to directly communicate news to your members and the media. This may include announcements promoting new products and services, or even product enhancements and important changes. Press releases are also excellent tools to demonstrate your credit union's growth and momentum. This is critical, as members may decide to leave for another institution if they have little confidence you'll be around in the future.
Frequency is also important. Credit unions should aim for distributing a press release every four to five weeks at minimum to ensure they remain top of mind. Press releases should also be regularly updated on the credit union's website. Failure to do so can damage a credit union's brand and make the site appear outdated or not maintained. Imagine visiting your favorite retailer's website and seeing they haven't posted any news items in more than a year. It would feel as if the site – and possibly the organization – has been neglected.
2. Media Placements
Do you ever wonder why the same names and faces appear in the press? There's a reason and it has to do with strategically positioning your credit union's executives as industry thought leaders through media placements. Your institution can increase its credibility by putting names to the faces of your executives and providing current and prospective members with relevant information. For example, many local papers feature sections where executives can offer financial planning tips – something your members might value.
3. Case Studies and Member Testimonials
Finally, case studies and member testimonials are great tools to leverage when implementing a balanced public relations program. Case studies serve as confirmation that your credit union is upholding your members' expectations – your secret weapon and one of your credit union's most powerful tools to communicate success. There is nothing more influential than a member telling the story of how outstanding your credit union's products and services are.
Considering that the average consumer is more likely to switch accounts than in previous years – due largely to financial institutions making it easier to switch – maintaining a growing member base is critical. While press releases, media placements and testimonials are all individually important, leveraging all three can be even more impactful to helping your credit union gain and retain more members. This balanced approach is a surefire way to staying ahead, and failure to implement a solid public relations program could set you back in 2015.
Rebecca Mayo is an account coordinator at William Mills Agency, the nation's largest independent public relations firm focusing exclusively on the financial services and technology industries. The agency can be followed on Twitter, Facebook, LinkedIn, or its blog.