Keys to a successful renovation
by Lauren Schuster
CUES' Credit Union Management's online-only "PR Insight" column runs the first Thursday of every month.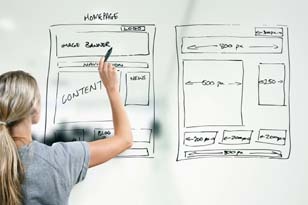 The summer season is generally considered as "downtime" for both businesses and members, so business matters are often pushed aside and re-addressed in the fall. Vacations or not, now is the perfect time for credit unions to capitalize on empty schedules and reinvent their websites to prepare for the second half of the year.
A website is a credit union's business card, and usually the first resource a prospective member turns to when researching the institution's products and services, so credit unions must be highly visible online. However, according to a recent 1&1 Internet survey, up to 40 percent of small- to medium-sized businesses still do not have a website. Credit unions must attract, educate and convince potential members to bank with them over competitors – and a great website is the key to doing so. Here are three sure-fire ways for credit unions to renovate their websites and turn summer blues into summer "dos."
1. Make a Good Impression
A credit union's website should improve a visitor's overall impression of the institution. To achieve this, credit union executives should keep the following questions in mind when (re)designing a website:
Is our website credible?
Does it welcome visitors?
Does it look professional?
The design and usability of a website must be consistent, easy to navigate, aesthetically pleasing and accessible. According to a 2014 Pew Research Report, 69 million consumers bank online. Despite which device members choose to access their bank accounts, the website must be familiar and consistent across all channels, delivering a welcoming atmosphere and enticing members to browse the site.
2. Create Compelling Content
A credit union's website must feature compelling, quality content that educates members and non-members about the institution's offerings. Credit unions should develop the website around key messages that support their value proposition, and then turn those messages into educational, actionable content for members. For example:
Member testimonials provide third-party validation of the credit union's capabilities. Credit unions can tout all day long about how great they are, but a solid review from an actual member is the highest form of praise, and those recommendations should be highlighted for prospective members to see.
Newsletters and blog posts serve as another opportunity for credit unions to communicate with members and provide regular updates about the institution's new products and services, involvement in the community, charitable donations and upcoming events.
Online newsrooms emphasize that the credit union is proactive in ensuring members are always informed, so credit unions should regularly push out press releases to maintain a consistent online news feed. Prospective members are also provided with a quick and easy archive of the credit union's latest news.
3. Enhance Online Visibility
Building a website is easy – getting members or non-members to visit the website is the hard part. Credit unions must create off-page search engine optimization to ensure they are in a top position when researched online. According to HubSpot's "25 Website 'Must Haves,'" off-page SEO is about building inbound links, essentially getting other quality websites to link back to your site.
Taking these three simple steps to improve your Web presence will not only help drive more traffic to your site, but will also increase member satisfaction and, most importantly, improve your efforts in attracting new members.
Lauren Schuster is an account representative at William Mills Agency, the nation's largest independent public relations firm focusing exclusively on the financial services and technology industries. The agency can be followed on Twitter, Facebook, LinkedIn, or its blog.
Photo credit: Dollarphotoclub.com/ronstik