I had the privilege of joining a client to announce his company launch at American Banker's Banking Analytics Symposium a couple of days ago in Boston. Although we had a tight schedule, we still managed to complete quite a few briefings and interviews, check out some of what makes Boston a great city and enjoy the common experiences that business travel often provides.
Oh, you're going two miles? That'll be $25
It's nowhere near the astronomical cab fare you're charged going from the Denver airport to downtown, but I was still amazed when the cab driver told me that the trip would be much higher because of "the toll." Sure, buddy. Also, to the people who said "wear a coat" and "It's windy at night," well, you were right. But when your carry-on doubles as your luggage, certain items don't make the cut (also exempt were my running shoes, which gave me an easy way to skip out on morning exercise). I promised Maria (the bartender at The Envoy Hotel's Lookout Rooftop Bar) that I would give her a shout out. Maria – Thanks for the wicked awesome drinks and dinner suggestion (Morton's The Steakhouse, which had personal wine lockers for the more… "preferred" customers).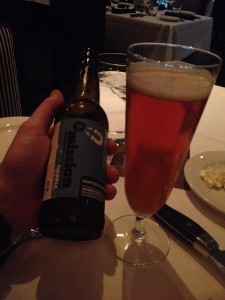 Oh yeah, another first for me: Omission Pale Ale – 10/10 would beer again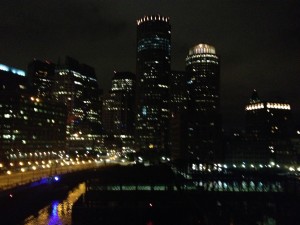 If you want a better picture of Boston, I suggest you just Google it.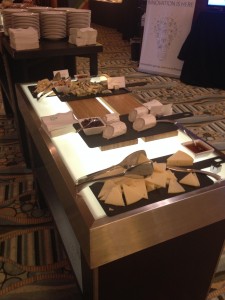 Down to Business
How refreshing it was to have a few hundred people, meeting rooms and sessions all in one compact area. The folks at SourceMedia did a fine job organizing this event. As everyone already knows, symposiums have a much more casual, conversational atmosphere than other events, which bodes well for events where information is supposed to be shared and discussions stay civil (until the drink carts roll out). Also, I have a rule for food: if it's free, you don't complain. Still, there are many people who will find something wrong with everything ("These eggs don't taste cage-free"). And big Kudos to SourceMedia for this cheese table, which I started taking things from before realizing that it wasn't officially "cheese" time.
When I wasn't freezing on a rooftop bar or committing social faux pas, I sat in on more than a few sessions (this is a work trip, after all). Much of the symposium's focus was on using customer data more effectively and while it's no secret that financial institutions are gathering petabytes of data on customers, the data is virtually worthless unless it can be used to establish key performance indicators to increase profitability and reinforce the customer's lifecycle. Of course, before you can even do that, you have to learn where the customers are, how to get the data from them and how to segment them with more precision than ever before. To me, the most interesting session was "Data Challenges with the Internet of Things," presented by J. Paul Leavell (Senior Marketing Analyst for Charlotte Metro FCU). His session highlighted how data prevalence through the Internet of Things presents a huge opportunity for financial institutions, who should be more interested in capturing "non-traditional" data (i.e., customer and payment information from a smart fridge or a car).
Personal thanks to:
Penny Crosman, Tim Daley (director, Cornerstone Advisors), Adam Dadich (national manager of Conference Sponsorship Branding, SourceMedia) and Ed O'Brien (director of Banking Channels Advisory Services, Mercator Advisory Group) – for giving me the time of day;
Katy Perry and Miley Cyrus – for the sweet jams prior to the opening session;
Steve Cotton, (CEO and founder, FI Navigator) – for the great company, conversation and authentic New England Chowdah;
Bonnie (gate attendant, Delta) – for moving my seat to the window so I could catch some sleep on the way home; and
Sbarro's – for really hitting the spot with a real taste of Boston's finest pizza.