In today's social world, your brand may be pulled into highly sensitive debates
By Heather Sugg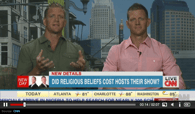 In the world of finance, perception is reality. Managing a public reputation can provide challenges, particularly when a corporation is comprised of many employees and has close relationships with partnering companies. These individuals and corporations can define your brand through their professional and personal lives. In today's age of connectivity, it may only take one mistake to set back years of carefully built brand image.
Recently, SunTrust and HGTV were both involved in a compromising situation based on controversial messages that HGTV hosts David and Jason Benham made public. HGTV dropped the Benham's show because of the owners' stance regarding anti-gay, anti-choice beliefs. SunTrust was subsequently burned by the actions of one of its unnamed real estate management vendors when the vendor made the decision to pull all of SunTrust's listed REO properties from the Benham's business.

Twin brothers, David and Jason Benham, were scheduled to host a HGTV show "Flip It Forward" where they help deserving families buy homes they could not otherwise afford and transform them into dream houses. Months before airing, HGTV was notified of "extremist" viewpoints that the twin brothers expressed years prior, and it subsequently canceled the show quietly in a Tweet.
For HGTV, the Benham brothers no longer represented the character and values that the network wished to identify with. The producers understood that employees represent your company to the general public, and took their stance accordingly.
The next week, the Benham's were notified that SunTrust had also dropped their business. The preferred brokers contacted SunTrust, but the bank declined to explain why it fired them. So, the brothers took the news viral. Headlines read, "SunTrust Cuts Business Ties With Benham Brothers After Conservative Views Attacked." Within 24 hours, SunTrust reversed the decision and issued a statement that the decision was made by a third party vendor with which they have "clarified their policies."
While the Benhams blamed SunTrust for a violation of their First Amendment rights, the true source of this mishap was a miscommunication. According to SunTrust, the removal of the Benhams from its vendor list was the choice of a third-party company that had recently taken over management of SunTrust residential assets. In this instance, the unnamed vendor created a situation that was highly detrimental to SunTrust's image. Because the vendor was working on behalf of SunTrust, this vendor's decisions impacted SunTrust's reputation.
This public relations blunder was riddled with poor corporate communication and employee actions. At SunTrust, the entire scenario could have been avoided if the Benham's outreach to the bank had been escalated properly. Processes and procedures must be set to recognize situations that need to be addressed at a higher level, and management must be receptive to the conversations. On behalf of the unnamed vendor, terminating the relationship with the Benhams was not in line with SunTrust's policies. The specifics of where this decision failed are still unclear, but the vendor was working on behalf of SunTrust and their decision reflected poorly on the bank. This would no doubt put a strain on their relationship.
Employees and partners that represent your company must represent your corporate values and policies at all times. Really, any known associate of your company has the capacity to damage your organization's brand, and quickly. Imagine the possibility of any given Tweet, Facebook post or iPhone video being placed on American Banker tomorrow. Would you be able to stand proudly next to the statements being made by your company, its employees and your associated vendors?
Your company should clearly communicate its expectation of how employees conduct themselves publicly. Polices should encourage using common sense and respect for everyone's rights and beliefs. It may also be beneficial to get specific and provide details. In most cases, employees should clearly state whether they are or are not representing the company, and not intermingle the two.
Ultimately, your company and its associates should have a personality, take a stance and share opinions. Your brand is one of your most valuable sales tools, and it should stand out. I work with start-ups that want to show an edge, companies that want to be known for their Midwestern values, visionaries that want to reinvent the industry and many more diverse entities. Those identities should be demonstrated in your communications and though your employees. Public relations can be the key to helping you build this image. We can introduce your leaders to the public, put clients in the spotlight to share stories of your great service and support, and build your brand into a reputable, well-known name. But, what we saw with SunTrust is not the first time that a corporation was pulled into a moral battle; I think we will see even more of this as the public's views become increasingly louder and more diverse. Policies and procedures must be put in place and followed to ensure that your associates are representing your brand with dignity and respect – and actions speak louder than words.