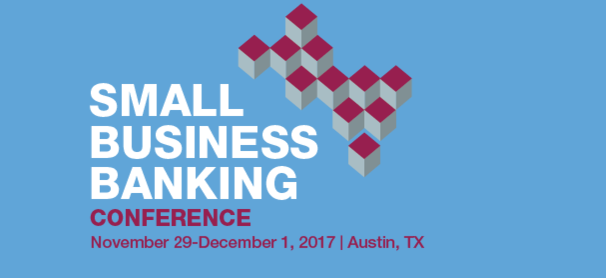 Customer experience, automation, machine learning, artificial intelligence (AI), ease of use, flexibility – all of these were part of the discussions at this year's SourceMedia's Small Business Banking Conference in Austin, Texas. Now in its 23rd year, the conference featured more than 20 technology providers and rallied together innovators from across the globe to discuss how financial institutions can better engage with business customers… and the timing couldn't be better.
According to The Wall Street Journal, the U.S. economy is running at its full potential for the first time in a decade, fueled by a rise in small businesses. In fact, a survey from Microsoft Store of 1,300 U.S. business owners indicated continued growth for 2018, with 90 percent of respondents saying they plan to hire one or two new employees next year. This is good news for the job market; however, a number of decisions may be made before yearend that will change the competitive landscape for small businesses. Between massive tax revisions and the end of net neutrality, small businesses are expected to struggle in the coming year, creating an opportunity for financial institutions to step in and provide real value.
Attendees heard from innovators and technology providers on how to do just this, all repeating the same mantra – small businesses are looking for more than a financial provider. They want tools that help them grow their business and remove the tedious activities that prevent that. Among those companies were an impressive line-up of new and veteran organizations that were able to demo their solutions.
Baker Hill
First up was WMA-client Baker Hill, based in Carmel, Indiana and provider of Baker Hill NextGen™, a turnkey online loan application system with a roles-based modern user interface specifically engineered to adapt with the evolving needs of financial institutions. For banks, small business and commercial lending can be bogged down by tedious application processes, sluggish response times and frequent delays. For businesses seeking funding from their traditional bank, this negatively impacts the customer experience. By leveraging Baker Hill NextGen™, financial institutions can take a more customer-centric approach and both modernize and automate their lending processes to meet market expectations for convenience, speed and simplicity.
Mirador
Based in Portland, Oregon, Mirador's small business lending platform powers customer acquisition, digital loan application and digitization, intelligent product routing and pre-screening, data management, and borrower communication. The company recently surpassed $1 billion in loan requests since it was established in 2013. The company also boasts that on average, lenders partnered with Mirador see as much as a 69 percent time savings in small business management, an average cost savings of $1,550 in loan origination, and a quick 10-minute application process versus hours.
AI Foundry
Established just last year, AI Foundry created a lending system focused on transforming the customer experience using robotic process automation. The demo showcased a smooth, seamless loan application process which resulted in a comprehensive check list with a complete audit trail. Think Quicken Loans® on steroids but for small business lending. The system also recently integrated Amazon's Alexa, which it debuted at Finovate Fall earlier this year, further transforming the customer experience and empowering financial institutions to deliver real-time updates to customers on their loan application status.
RCGILTNER Services, Inc.
RCGILTNER Services, Inc. provides turn-key digital lending technology and integrated digital marketing for financial institutions, targeted toward small business and consumer loans. The company provides services under the financial institution's brand and enables them to offer a loan in 30 seconds in-branch or on a mobile, smart device or computer, and complete the loan with e-sign in under five minutes. RCGILTNER's turn-key digital business strategy also manages all compliance, adverse action, and credit and risk monitoring.
9 Spokes
Based in the Auckland central business district (CBD), 9 Spokes certainly offers a solution that boasts the cool factor. Its robust dashboards with customizable widgets like local weather forecasts and social media go beyond a financial offering. Referred to as "the app of all apps," 9 Spokes' platform adds serious value to help small businesses not just manage their finances, but grow. This is critical for financial institutions – the more engaged the customer is with them, the more insight into their business the financial institution has, allowing the institution to offer the right products during times when critical business decisions are being made.
Prisma Campaigns
In business for more than two decades, Prisma Campaigns, a spin-off of Infocorp Group, offers a smart omni-channel solution for orchestrating marketing campaigns. Through Prisma, financial institutions can coordinate marketing and commercial actions through all the available channels, identifying the best possible next action for every client using Machine Learning. The end goal of the system – to make each customer feel special.
Intralinks
Ease of use and security are critical to keeping customers. In fact, 97 percent of online applications are abandoned by the customer, according to Forrester. Clearly, there is room for improvement, and Intralinks is supporting that initiative. As pioneers of the virtual data room, Intralinks' technology enables and secures the flow of information, empowering financial institutions to work more productively and with complete confidence.
SizeUp
Founded last year in San Francisco, SizeUp is big data for small businesses, providing business intelligence and market research to companies so they can make smarter decisions through data. Financial institutions are offering SizeUp as a value added service differentiator given to help their business customers succeed and grow.
As small businesses face challenges next year, competition is expected to heat up. We know from surveys and consumer research that small businesses want and need not only convenience, speed and accuracy from their financial institutions, but overall business and financial guidance. With the level of innovation seen at this year's show, financial institutions have an opportunity to support their small business clients through better engagement, which will not only help the businesses grow but allow financial institutions to gain a competitive edge and become the institution of choice for local businesses within their communities.