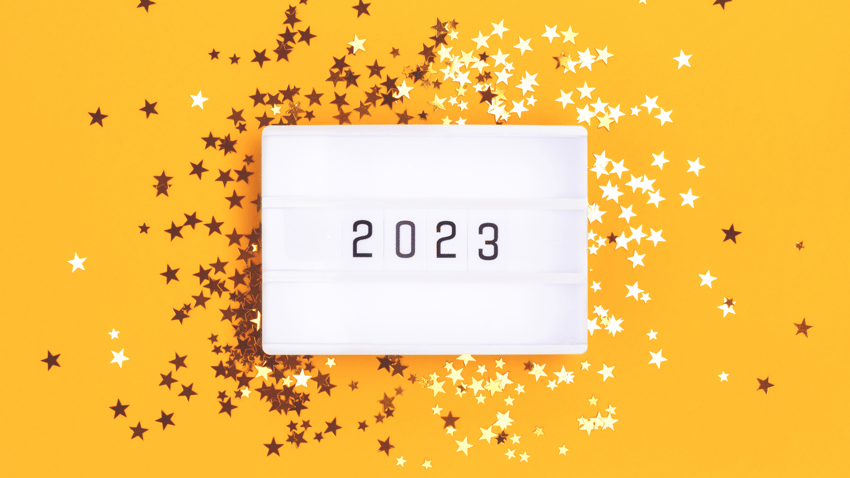 The fintech and financial services sectors have proven to be profoundly resilient and we look forward to another productive and innovative year. As we work on our annual Bankers as Buyers report, which highlights predictions and trends for the financial services industry, we were inspired to make a few of our own. WMA team members weigh in on their 2023 fintech, marketing and PR predictions.
Prediction: Blend of Earned/Paid Media and Search for Other Social Verticals
"More and more we're seeing a 50/50 split of earned and sponsored content and I believe it will amplify more next year. I also think companies will be looking for more avenues to distribute news and explore other social channels, especially with the recent changes to Twitter." – Haleigh Dhaou, Account Supervisor
Prediction: The Blockchain and Web3
"2022 was a really bad year across the blockchain. From the dramatic drop in Bitcoin's value in May, to the cratering of the NFT marketplace, to the recent scandal and collapse of FTX, the crypto space has been through quite the hangover after a record-setting year in 2021. The crises that wracked the crypto industry in 2022 have laid bare the financial and regulatory concerns that had until very recently been ignored or explained away. Regulators might now take a renewed interest in the complex world of crypto. While crypto may not be going away for good just yet, it almost certainly will not enjoy its former prestige and popularity for a long time." – Patrick Guilshan, Account Associate
Prediction: Personalization is Key
"Today, everything is hyper-personalized. A personalized experience is an expectation and a need, and that is something that we need to be aware of as PR practitioners. When even the online advertisements that we are exposed to are custom-tailored to our individual interests, it only makes sense that we must customize our PR approach based on clients and journalists unique and individualized needs." – Kayla Smith, Account Coordinator
Prediction: 2023 is All About the CX
"According to a recent study by the Digital Banking Report, 70% of senior banking executives rank CX as a top priority. First impressions are the only impression in our evolving digital banking landscape. Customers are increasingly reluctant to give second chances if expectations aren't met. FIs need to be rethinking existing processes while working to incorporate ease of engagement, responsiveness, empathy and transparency into the user experience. Revamping the CX at every touchpoint by implementing a healthy blend of human and digital capabilities across the entire customer journey will help strengthen a customers' trust and loyalty in your institution." – Kyle Smith, Account Associate
Prediction: Shifting Social Landscape
"With all the turmoil happening at Twitter, users are leaving and new platforms like Hive, Post and Mastodon are competing for their accounts. It will be very interesting to see what becomes of Twitter in the new year and which newcomer succeeds in its mission to fill Twitter's place if the popular platform can't turn it around." – Gracie Gay, Account Agent
Prediction: All Eyes on Embedded Fintech
"There will be a narrow focus on embedded fintech as financial services providers attempt to extend their presence into new areas. Community institutions will need to determine how to become more closely intertwined in their customers' and members' lives to retain relevance." – Amber Bush, Group Director
Prediction: Financial Health Becoming Increasingly Important
"More than three in four Americans (77%) report feeling anxious about their financial situation, according to a new Mind over Money survey by Capital One and The Decision Lab. Next year, financial institutions will need to enhance education around financial health and better analyze and leverage customer data to help customers facing different situations improve their financial wellness. The institutions that empower their customers with the tools and knowledge to more effectively manage their finances will have greater customer loyalty." – Maggie Wise, Senior Account Agent
Prediction: A Consumer Privacy Lockdown
" We will continue to see an emphasis on consumer privacy in the new year. We have already seen many organizations (think Apple with email privacy features) lockdown to protect consumers from utilizing their personal data. Google continues to push back the removal of third-party cookies from Chrome. However, to prepare for the inevitable, companies need to invest in building their first-party database. Companies will also need to stay compliant with current and future governmental regulations. Inspired by the California Privacy Rights Act, protections at a state level are growing in popularity, with many going into effect in 2023." – Kerry Eagan, Marketing Representative
Prediction: FIs will Implement AI in a More Intentional Way
"Community financial institutions will continue to implement AI to help them humanize their digital experience in ways they could never do in the branch. However, it is important not to invest in AI just because it's trendy. To be effective, AI should be applied in areas it can have the most impact. When choosing the right AI technology, community financial institutions should: gauge their members/customers' and institution's needs and set clear goals (e.g., increased efficiencies, better customer service, hyper-personalized member experience, etc.), use return on investment (ROI) models created to consider the full scope of the technology's impact, put together a strategy and budget, and analyze the AI vendor market to determine what provider suits the institutions' needs, goals, and culture." – Sabina Andrei, Account Director
Prediction: Cultivating a Defined Personal Brand
"In today's digital world, people want a deeper connection that instills a sense of familiarity and trust while providing valuable insights and knowledge. To prosper next year and beyond, it will be critical to cultivating a defined personal brand across multiple platforms, showcasing a unique combination of skills, experience and personality - it is how one will be able to stand out among the crowded landscape, even through a phone or computer screen." – Maddie Mitcham, Account Associate
Prediction: SMB Fintech Will Explode in 2023
"The rising cost of living challenges will encourage FIs to look for ways to grow their business with more stable customer groups. At the same time, small and medium businesses are going to be watching cash flow even closer as interest rates remain higher and consumers potentially scale back spending. SMB business models might be less vulnerable to inflation and interest rates, and fintechs that can serve those markets will be very lucrative for FIs."
Prediction: AI Will Start to Intrude on Many Verticals
"Late in 2022, ChatGTP drew attention for it's "real language" ability to generate complex texts based on user prompts. Digital artists faced challenges with AI-based programs displacing artists by copying popular styles in auto-generated images. In PR and marketing, AI has the potential to shake up reporting, social listening, content generation, and monitoring. In every industry, the challenge will be finding the best way to use AI to give staff the ability to create more value doing the tasks and strategies AI cannot." – David Jones, Executive Vice President
Prediction: Embedded Finance is Paramount
"A FIs success is going to depend more than ever on its ability to deliver digital transformation to meet customer expectations. Embedded finance is a huge opportunity not only for fintechs, but also for consumers. It gives them options to increase convenience and savings." – Catherine Laws, Executive Vice President
Prediction: More Consolidation
"We will see more consolidation of point solutions. The trend will be accelerated by the leveling of valuations and tightening cash flow. There's a benefit to the industry as this helps with the implementation of full-service solutions and opens the market to new innovators."
Prediction: Results-Focused Messaging
"From a communications standpoint, we are seeing a lot of fintechs shift their focus from technology to the benefit of the solution. For example, Simon Taylor pointed out the shift from 'Stablecoins' to 'deposit-tokens'. More simply put, consumers don't want a mortgage, they want an easy and efficient route to home ownership. Consider how this can be applied in your market." – Heather Sugg, Executive Vice President
As we prepare for the year ahead, staying up to date with PR, marketing and fintech trends is crucial to achieving success. If you're interested in submitting an article to Bankers as Buyers 2023, contact Scott Mills at Scott@williammills.com.