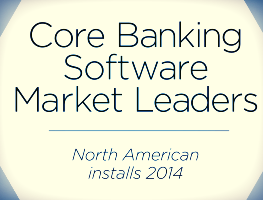 By Scott Mills, President and Principal of William Mills Agency
In the mid-1970s, there were hundreds of companies offering core banking platforms, in fact, Association for Financial Technology or AFT started as an association to serve those companies. Since then, most of those companies have faded away, many through consolidation.
Providing a core platform and support services has grown increasingly more complex due to the expanding number of bank product offerings and channels, the interconnectivity of systems, and a greater compliance burden places on financial institutions.
Even though we do not have as many core providers, much of the technology they created lives on in the platforms of the leading core providers. There is a good business case for providing multiple platforms for the different sizes of banks served. It is interesting, though, to see which vendors maintain many systems versus those that concentrate their ongoing development on a few.
Click here to see all of the major providers and the names of their banking platforms.
We'd like to thank Paul Schaus of CCG Catalyst for providing this information.