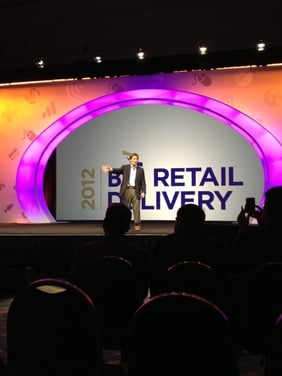 By Scott Mills, APRPresident of William Mills Agency

According to BAI, attendance was around 1,700, which is in line with last year and well ahead of their attendance lows from a few years ago.

The programming seemed better than last year, and break out sessions were crowded. In my opinion, Sir Richard Branson and Guy Kawasaki were also far more appropriate for the event than last year's big gun.

My two favorite points from Guy Kawasaki's speech "10 Ways to Have Innovative Companies" were:
Your company/products should "make meaning" (have a higher purpose). You should want to change the world, not just make money.
The 10-20-30 PowerPoint Rule is: your presentations should have no more than 10 slides, last no longer than 20 minutes and use a 30-point font.
Vipin Gupta, CIO for Key Community Bank at KeyCorp, with more than 1,000 branches and more than 1,600 ATMs, addressed the FinTech 100 breakfast. He gave some insights about selling to KeyCorp and discussed the changing roles of bankers and their vendors.
According to Gupta:
Vendors have to understand ROI selling AND realize the higher business or strategic value of what they are selling to the bank.
There is a trend toward externally managed "partnerships," whereby everyone is helping the mid-tier and smaller banks control costs and compete with the largest banks.
Bankers are operating in a more complex environment – the business of banking is more complex; technology is more complex; and stakeholders are more diverse. This creates a hyper-collaborative environment whereby vendors have to sell up the organization and to more audiences.
In summary, Gupta says bankers are not buying solutions; they are buying partnerships, character, relationships and accountability.
See our photos from BAI here: