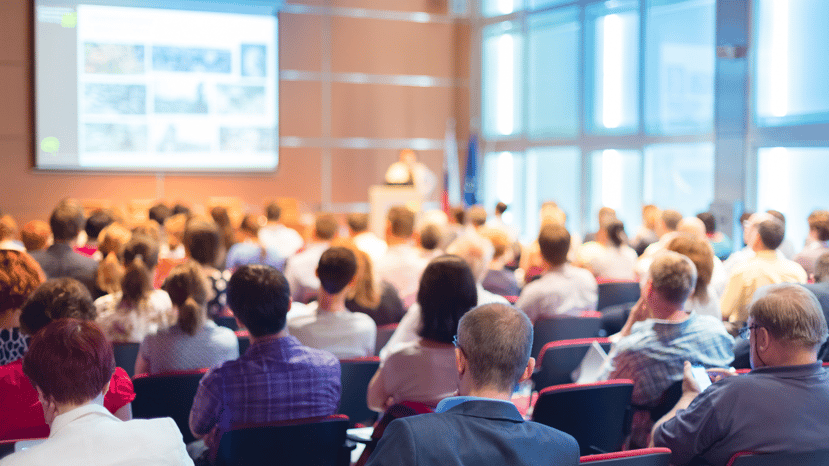 Class is back in session! Once again, school buses are lining the streets, and store shelves are packed with notebooks and pencils, but this season is much more than just back-to-school time.
It's also conference season, when dozens of tradeshows and industry events pop up around the world, attracting vendors and media from all over. Although conference life may just be part of the gig for some, for many, it's a chance to get out of the office, network, and gain fresh insight. The question is, though: how can you best prepare and make the most of it?
Time to Study
Don't worry; although you won't be tested, it's still important to do your prep work ahead of time. Between the event website or social channels, study each to see if the list of session speakers or media attendees has been posted. This can help maximize your time, allowing you to narrow down which sessions you want to attend and who you want to meet or reconnect with in advance.
Another tip is to message those contacts beforehand to see if you can schedule some time to connect during a break or networking session. This will give them a great first impression, demonstrating how much you value their time and want to engage. Plus, you won't be left at the end of the event wishing you could have met with so-and-so.
By scheduling the most important meetings in advance, you'll be free to relax and take advantage of more spontaneous opportunities as they arise. However, be sure not to overbook your schedule – it's good to leave wiggle room for impromptu meetings and casual networking time.
Collaborate with Peers
Time for group projects; just as school is filled with collaboration, conference social events are one of the best ways to meet and engage with your industry peers. Utilize these more informal settings to facilitate in-depth, one-on-one conversations and expand your network. If your company has a vendor booth, you might feel tied to it, but make sure to find time to break free.
And, don't be afraid to check out other vendor booths. Even if you might not be looking for a new solution or partnership, finding out about other innovative products and services available can be quite insightful. Vendors are a wealth of knowledge regarding challenges and trends within the marketplace, so even a brief discussion could significantly influence your strategy or industry perspective.
Don't Forget Your Homework
Do your homework; even though it's the last thing you want to do, once you return from an event, follow up and knock out any unfinished business. For instance, you and your team should have traded several business cards while onsite. So, spend some time sorting through and setting aside the contacts you believe could bring value to your network. And, learn a little more about each individual and note any personal information you may recall to reference in future conversations.
After doing so, make a point to write a note or send an email to the contacts you are most interested in. The ideal goal is to simply establish a relationship rather than turning these connections into business transactions. Start by either relaying how you enjoyed meeting them or by sending a link to an article or news announcement that might be of interest to them.
In addition, be proactive and plan for future conferences, determining which could be worthwhile as well as ones where your new connections might be in attendance too. This is a great opportunity to ask others about their conference plans for the remainder of the year – whether that's in person or in a follow-up conversation. Check out the WMA Financial Trade Show and Conference Directory to see the remaining industry events for 2023.
Ask Advice from Teachers
Raise your hand; whereas events are a great place to connect and interact with other industry professionals, it's also an excellent venue for meeting media. The sheer amount of news flooding reporters and editors' inboxes is overwhelming, which makes it that much more critical to have face time with these individuals. By informing your PR team in advance of what conferences you are attending, they can get connected with these reporters and gauge their interest and availability for an onsite meeting.
Between coordinating conversations or providing interview tips, your PR team is here to help you. Don't feel as if you have to take on tradeshows or industry events alone. As conferences can be exhausting at times, asking your PR team for advice or support can help take away stress and make your time onsite more worthwhile.
Having a successful conference experience requires a strategy. Just like in school, it's important to study beforehand, collaborate with peers, do your homework, and turn to your teachers for advice; this will not only set you up for success at tradeshows and industry events but in the long run, help grow both your network and chance for future opportunities.
Looking for the right fintech marketing and PR agency to maximize your event presence? Contact William Mills Agency today. ­­­­