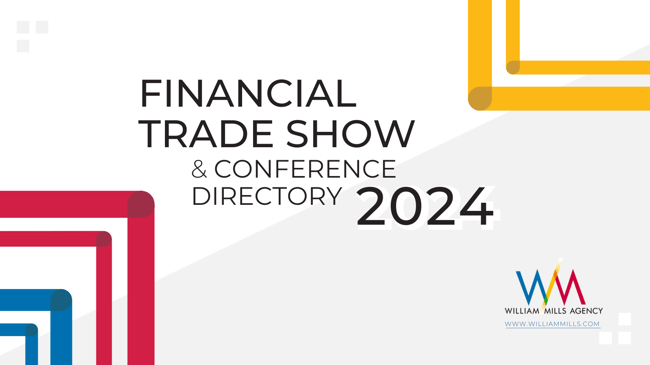 ATLANTA, November 15, 2023 – William Mills Agency, the largest independent public relations and marketing firm specializing in the financial industry, announces the release of its 2024 Financial Trade Show Guide. The annual report lists industry-focused trade shows and conferences in the payments, fintech, banking, mortgage, lending and credit union categories.
Please download the free report here.
"For 29 years WMA has published the definitive financial trade show and conference guide. These 2024 events provide some of the best opportunities for in-person networking which helps to cultivate key business relationships with fellow industry professionals," said William Mills, CEO of William Mills Agency. "These events are great places to learn about the latest new financial technology developments, raise your company's profile and spend time with key industry influencers, all in one place."


About William Mills Agency
William Mills Agency is the nation's largest public relations and marketing firm serving the financial technology industry with an emphasis on fintech providers. The agency has established its reputation through the successful execution of media relations, marketing services and crisis communications programs. The company serves clients ranging in size from small start-ups to large, publicly traded companies. For more information, please visit www.williammills.com.