Last Friday afternoon, William Mills Agency team members, Scott Mills, Jerry Goldstein, Blair Logan and Kelly Williams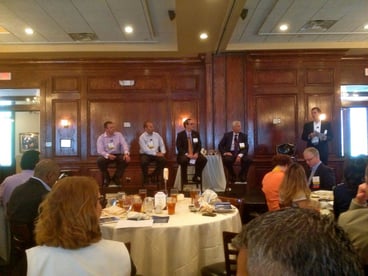 listened to TAG FinTech's Panel on the Big Data Value Equation.
William Mills Agency was a proud co-sponsor of the event and was pleased that 135 people attended. The panel included:
Paul Bridgewater, Group Executive of Global Products, TSYS
Doug Clare, Vice President, Fraud Solutions, FICO
Mark Pearson, Chief Architect, SunTrust
John Reed, Senior Vice President, Enterprise Information Systems and Chief Architect, First Data
Moderator:
Don Campbell, President and CEO, Virtual Management Technologies
Here are highlights from the panel members:
Dealing with Big Data
Panel members shared that Big Data presents both an external opportunity to enhance their products and services to customers as well as an internal opportunity for their companies to improve processes and delivery of services to customers.
Key Points
Big Data changes our perspectives — instead of looking through the rear-view mirror, customers can now look through the windshield.
Big Data enables companies to change their value proposition from a cost-basis to more of a value-added capability for customers.
Big Data helps companies make really fast, high-volume decisions at the point-of-sale. Technology is allowing more ways to access and analyze information quicker.
Big Data helps financial institutions look at their customers and move their customers' experience to a 24-hours a day activity. This is "real-time brand interaction."
Big Data enables companies to start a conversation around the "customer experience" instead of around fraud detection.
For some companies, Big Data is operationally oriented. Some businesses are not yet offering it to clients but are using it to maintain and improve services for their customers. Companies use big data analytics further upstream in their decision-making processes than ever before.

Transaction processing speeds have increased by 2x over last few years with a corresponding increase in quality.
There have been material improvements in fraud detection across all platforms — ACH, wires and card processing.
Big Data is both an opportunity and a challenge. It is an opportunity for business growth and customer stickiness.
Companies are looking to Big Data for ways to combine unstructured data with the structured for customer service, product development, etc.
Final Thoughts
With Big Data, it's not so much about the speed of the data as it is the speed of the rate of change of the data.
Big Data is just one part of our "Enterprise Modernization" process. You cannot think like a RDBMS model with Big Data – you need to think differently!
After the panel, Scott Mills, President, William Mills Agency noted, "Big Data as a movement is going to be very big for the financial industry moving forward. It is a hot and rising topic. It promises ways to reduce fraud, improve efficiencies, and help identify offers and cross-selling opportunities. We were pleased to sponsor this event. Clearly the number of attendees and the quality of the speakers show the importance of this topic today."