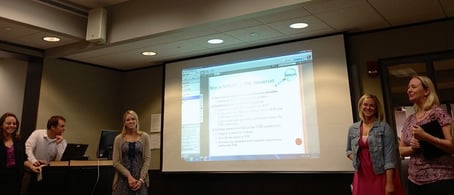 William Mills Agency has long been a supporter of PR education in our university system. William Mills III, CEO of William Mills Agency, continues to support Florida State University (FSU) and is meeting today in Tallahassee with the College of Communication and Information (CCI) Advisory Board in his role on the Executive Committee. In the last month, we also hosted 10 students from Auburn University's Public Relations Student Society of America, a booth at University of Georgia's career fair and four Kennesaw University PR students who stopped by to shadow our account teams. Our commitment to public relations education, started of course with our founders: Bill and Eloise Mills.
In 2003, the Board of Directors of William Mills Agency established the Bill and Eloise Mills Scholarship in the College of Communication at Florida State University (FSU) to honor their founding and service to the agency, and their dedication to the university.
At the time, John Mayo, dean of the College of Communication at FSU said, "The Mills are a very special couple whose devotion and loyalty to the University is truly impressive and appreciated. Establishing a scholarship in their honor and recognizing their contributions to FSU is a fitting tribute."
The scholarship assists students with the financial costs of pursuing an undergraduate degree in Communication. Selection of the scholarship recipients is based on exceptional academic abilities and need.
Please support continuing education by giving to the Bill and Eloise Mills Scholarship at FSU.
To give online
Select from the drop down menu "Designate a Fund"
Enter "Bill & Eloise Mills" #1753
Also, checks can be mailed to

FSU Foundation Fund #1753P.O. Box 30627392010 Levy Ave.Tallahassee, FL 32301-2739

Photos: Top Right: NSSLHA FSU Chapter Student Presentation. Bottom Left: Mark Rodin and Student Producers at Seminole Productions (FSU) Bottom Right: Auburn PRSSA Students at William Mills Agency