Last year we saw a decreasing number of financial institutions, and this consolidation trend has continued to pick up speed. According to figures from the FDIC and the Credit Union National Association (CUNA), there are a total of 13,066 financial institutions in the U.S. However, there are 640 fewer financial institutions than the previous year or a loss of 4.7 percent.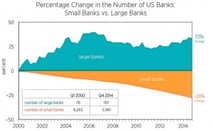 In the past 30 years, more than 10,000 banks have closed because of mergers, consolidations or failures. The overwhelming majority of those closures were small banks, those with less than $100 million in assets. According to the Mercatus Center, the number of small banks has declined 27 percent, from 8,263 in Q1 2000 to 5,961 in Q4 2014, and we predict the shrinkage will continue this year, particularly among the smallest financial institutions due to the continually increasing regulatory costs and to some older bank owners selling their institutions.
Unlike a few years ago, the government isn't driving consolidation through takeovers and loss-share agreements. Consolidation is continuing to occur, in part, because of the cost of compliance, even though smaller financial institutions are exempted from some of the rules for the largest financial institutions.
Both big and small banks face higher costs to comply with regulations passed under the 2010 Dodd-Frank financial reform law. Some banks have had to quadruple the number of staff dedicated to dealing with these and other regulations, and such costs are much easier for large banks to absorb. According to one core provider, 28 percent of their development goes to addressing compliance issues.
The past 20 years have shown continued concentration in the U.S. commercial banking space with banks with more than $10 billion in assets dramatically gaining deposit share, analyst firm Celent said in a 2014 report. Today the top five banks in the U.S. have nearly 40 percent of all domestic deposits.
Similarly, credit unions of more than $500 million in assets are gaining deposit share and growing in number at the expense of smaller players. Credit unions with less than $50 million in assets are quickly disappearing, while those in the $50–100 million range are in a precarious position, according to Celent.
Cornerstone Advisors, Inc. predicts the consolidations will increase among mid-sized banks struggling to grow revenues. For more information on these trends, please download William Mills Agency's Bankers as Buyers 2015, a detailed collection of research, observations and articles regarding technology solutions and services that U.S. bankers will buy in 2015.