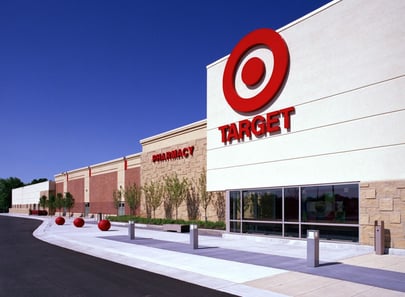 The financial industry can learn valuable PR lessons from Target
By David Jones
In early July, the company invited controversy when they requested that gun owners not bring their guns into stores, even in states where the open carrying of firearms is legal. In a statement released July 2, Target said:
As you've likely seen in the media, there has been a debate about whether guests in communities that permit "open carry" should be allowed to bring firearms into Target stores. Our approach has always been to follow local laws, and of course, we will continue to do so. But starting today we will also respectfully request that guests not bring firearms to Target – even in communities where it is permitted by law.
We've listened carefully to the nuances of this debate and respect the protected rights of everyone involved. In return, we are asking for help in fulfilling our goal to create an atmosphere that is safe and inviting for our guests and team members.
This is a complicated issue, but it boils down to a simple belief: Bringing firearms to Target creates an environment that is at odds with the family-friendly shopping and work experience we strive to create.
As much as executives would often prefer to ignore politics and controversial issues to focus on their business, staying on the sidelines is sometimes not an option. In these situations, companies often feel stuck between the proverbial rock and the hard place, knowing they will alienate or even enrage segments of their customer base no matter which side of the issue they choose.
However, there are a few key things communications professionals should do when choosing sides on a policy or issue that could invite controversy.
Listen, Decide, Communicate, Evaluate and Move On
The first thing executives should do is truly listen to both sides. Few issues are black or white, and there may be strong, valid arguments for both sides of the issue. In the Target situation, advocates of being allowed to carry weapons raise the point that the action is legal in many states and qualified carriers may serve as an impediment to crime. Opponents counter that more guns in public often make many people fearful, and there is no way to judge who is qualified to carry at a mere glance. Target did a good job acknowledging these sides in their decision.
Next executives must weigh the pros and cons of each side and then make a decision. This decision can be guided by several factors: potential for profit or loss, personal convictions, corporate culture and brand, or legal ramifications. In this situation, Target made the call that requesting gun-owners not bring their weapons best fit the corporate culture and audience that makes up the bulk of their business.
Once a decision is made, communicate it clearly and consistently. Target posted the announcement on their website and has engaged with media to answer questions and explain the rationale that went into their decision. This stage is critical – communication staff must anticipate and prepare for the most likely questions that will come from both supporters and opponents of the decision. Spokes persons should be prepared with the information and facts that helped executives make their decision and be media-trained to communicate that information clearly.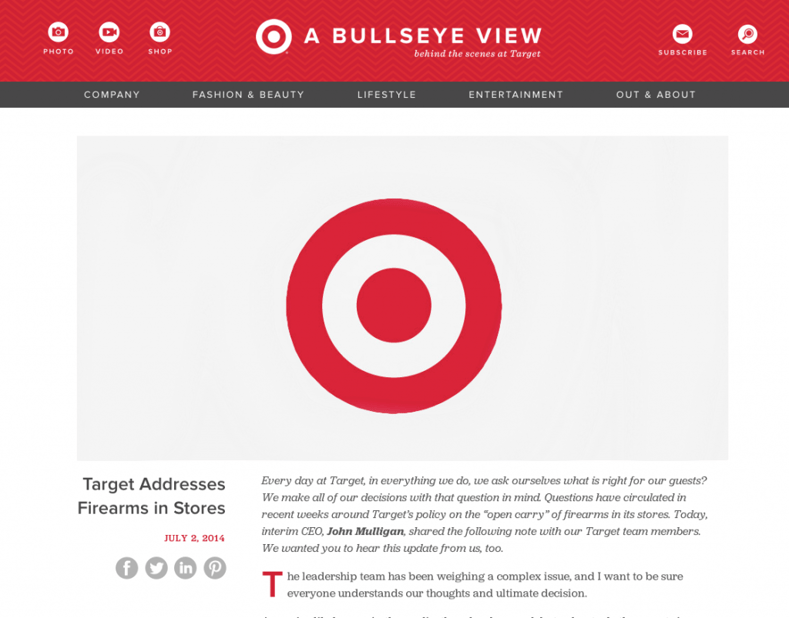 Finally, remember that you won't please everyone. You can evaluate the effectiveness of the communication, and executives should monitor the impact of the decision on staff, customers and sales. While it's fine to revisit a decision based on new information, do not feel like you have to provide a knee-jerk reaction to a surge in criticism immediately following the announcement. Even in Target's decision, some of the strongest criticism has come from people on both sides disappointed they didn't draw a stronger line by making an all-out ban or being completely open.
The financial industry is often a target of advocacy groups, upset customers and government. In the long run, your customers will respect and reward companies that tailor policies and practices that best match the corporate culture and legal framework of the business.