By Charlyne H. McWilliams, Account Supervisor at William Mills Agency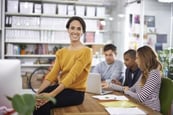 We have seen it happen time and time again. A fresh new company that has received a new round of funding or venture capital and/or had a successful Crowdfunding campaign now wants a huge media blitz for its launch. The management team wants all the bells and whistles to propel the company into immediate stardom. They want a rainmaker, Olivia Pope and the Midas touch all in one.
In 2012 alone more than 500,000 start-ups were launched, according to the Harvard Business School. The level of their success is built on several factors including timing, funding, economic climate and yes, marketing and public relations. It is very important to remember though – marketing and public relations are not the same thing; they do, however, complement each other and can be done simultaneously.
William Mills Agency was founded almost four decades ago, and we have seen and worked with our fair share of start-up companies on their marketing and public relations campaigns. Let's look at a few strategic suggestions to help any emerging company determine when is the appropriate time to start a public relations campaign.
Know who you are and what your company really offers before trying public relations. It is crucial to know who your audience is and how to approach it. Understanding your role in a particular industry, what you have to offer and what makes you unique from existing companies will help your public relations efforts tremendously. Identifying these key questions will help in developing solid messaging and explaining concisely, why your business is relevant now.
You are not your competition. Comparing the media coverage other companies in your space have garnered and wanting the same immediate results is not realistic. After all – they have an established reputation. Even if you KNOW you have a more solid product, it may take some time to get traction in your industry. It is better to determine what specific trends or topics you can discuss that will bring positive attention to the company and position you as a thought leader and a go-to source for the media.
Stay focused. It may be an exciting time for you and your mind is racing in multiple directions about the products and services you have in R&D or even in the queue to roll out. Having a strong company vision is paramount, but it is also important to be attuned to the current efforts to ensure they are successful; this will set the foundation for future efforts. Having a team to remind you of what is most important at a particular time is essential to staying on track.
It is a long-term commitment. Public relations cannot be viewed as just a short term splash for the launch of your start-up campaign. You must develop a plan, trust the plan and work the plan. And even in this microwave generation when we want instant gratification, it may take some time to gain the visibility you want. Just because you were not included in a list of the most interesting companies to watch, do not discount your efforts. Companies have to prove that they are in the business for the long haul. Reporters and editors do not want to write about a company only to find that three months later that company has shut its doors. Resist the urge to expect immediate returns; public relations needs to be nurtured, and then the results will follow.
You actually cannot handle marketing/public relations yourself. This is a common pitfall for many companies in which the president wants to keep costs down. Because he or she knows a few media people, and has had an interview or two, taking on and managing the public relations activities too seems like a doable activity on top of running the company. Sometimes this approach can work, but think about the valuable time you take away from actually building your business infrastructure when you take on developing, managing and monitoring your public relations results. Think of it like this: if you are a dentist, are you going to pull your own teeth just because you have that knowledge? Working with a trusted business partner who is willing to help your company in this process is invaluable and foster long-term success.
Starting a business is an exciting and challenging time. Looking at these five areas when considering public relations will help keep you from taking on too much and feeling overwhelmed.