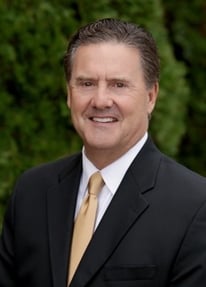 WMA Corner Office Interview with Churchill Mortgage Corporation CEO, Mike Hardwick
Recently, William Mills Agency had an insightful conversation with Mike Hardwick, CEO of Churchill Mortgage, in which he shared his views about public relations in today's mortgage industry and why PR is critical to an organization's success.
1. The housing market is arguably one of the most cyclical businesses. What role does PR play in ensuring Churchill Mortgage stays at the forefront of the industry as lending volume fluctuates?
I think it is very important to use positive PR to shape the public's perception of housing and home lending in general, and specifically how the public perceives a company. The media certainly does its job well in pointing out the companies that take advantage of the public's lack of solid knowledge about how to effectively identify the right time to purchase and the right type of mortgage product to best fit their individual situation.
A high quality, consistent PR campaign helps communicate Churchill's value and credibility to the right markets. Couple that with opportunities to tell our story and we're able to better illustrate our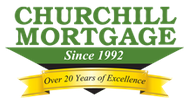 uniqueness within the marketplace as well as gain a positive perception both nationally and locally. When you are in a cyclical business, you want to do everything you can to make sure that the value of your brand is not cyclical as well. Public relations keeps our message relevant and in front of the audience we want to speak to.
2. What would you say to a CEO in the mortgage industry who is skeptical about starting a PR program in a time when interest rates are rising, the cost to originate is at an all-time high, and regulatory guidelines have created a complex and risky business?
When volumes and net revenues are down, it becomes difficult to focus limited resources on PR. Having said that, I do feel that it is very important to continue to identify effective ways to communicate your message. During leaner times, people want to work with companies that they feel are trustworthy. Making some effort to communicate your desire to really help people through those times is important. It is never easy to spend monies for anything deemed "unnecessary," but it is important to not completely stop PR during those times.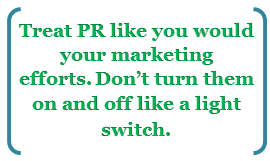 Finding a really solid and experienced firm like William Mills Agency to work with is paramount when business is off. Treat PR like you would your marketing efforts. Don't turn them on and off like a light switch. Rather, turn them up or down as the market and finances determine. When consumers are constantly seeing news about rising rates and costs of mortgages, and the regulatory environment has created a long line of negative headlines about banks and mortgage companies, it should be a critical piece of your strategy to consider the beneficial impact of a positive message through editorial coverage. Third-party validation from articles brings credibility that an advertisement cannot.
It is also important to consider what your competition might do with this timing. Many will stop their PR efforts to cut expenses, thereby giving you a larger opportunity to gain coverage, be seen and be heard.
3. How has PR supported your internal goals, such as recruitment efforts?
By providing our message on a consistent basis through good PR, we have been able to get the attention of potential recruits. Good PR gains attention in many circles and can be used throughout the recruiting process. A joint approach of exposure in national publications and local media has afforded us the ability to speak to a broad base of potential candidates. PR tells the story of our brand and helps others know that we are a place where top talent comes to continue to grow while still being able to focus on their family and community. It is also a great way to let an audience we have not yet met understand there is a mortgage company focused on the success of its employees. We give them an opportunity to earn free allocations of stock each year to help them to take care of their family and even retire.
4. What role has PR played in the overall success of your organization, and has it positively influenced Churchill Mortgage's brand?
Our PR efforts over the past five or so years have been positive. WMA has done an exceptional job of gaining solid positive PR for us on a consistent basis. We have been able to expand across the country, and I am quite sure it would have been much more problematic for us without our PR partners at WMA. Good, solid, positive PR is always helpful, and at times can be the difference maker.
About Mike Hardwick and Churchill Mortgage:
Lawson H. (Mike) Hardwick III is founder and president of Brentwood, Tenn.-based Churchill Mortgage Corporation, a leader in the mortgage industry providing conventional, FHA, VA and USDA residential mortgages across 33 states.
With more than 30 years of mortgage and banking experience, Hardwick is a successful mortgage lender and a seasoned businessman. With experience as a mortgage, insurance and real estate broker, the knowledge and expertise Hardwick possesses is invaluable. Focused on providing a top quality experience to consumers, Hardwick has proven himself as a successful entrepreneur, building and maintaining multiple financial companies.
Unique within the industry, Churchill Mortgage is the only mortgage lender endorsed by nationally syndicated radio personality and personal finance expert and author, Dave Ramsey. Through its consultative approach to lending and strong commitment to local communities, the lender focuses on the right loan product for each borrower, providing the education and tools necessary to ensure borrowers' financial stability.