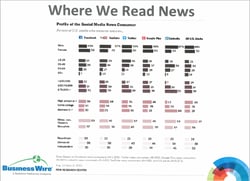 By Jerry Goldstein,
Recently our agency had the pleasure of hosting Serena Ehrlich, director, Social & Evolving Media at Business Wire, at our offices for an update on "All Things Social." We have made distribution of the news via social media a priority since the emergence of the channel more than five years ago. Yet, we still find many B2B financial services executives dismissing social media as a waste of time for their businesses, even though they invest thousands of dollars in public relations programs.
Never one to be easily discouraged (some might call me hardheaded), I would like to take one more crack at explaining the relevance and importance of social media to today's PR and content marketing programs. Similar to the world of real estate, let's begin with the central concept of LOCATION.
Success in public relations and business communications has always been concerned with not only the development of a compelling story but also how that story gets to market. PR professionals are always looking to place key stories in the most impactful financial publications and ensure the widest circulation of news releases to the media using news distribution services such as Business Wire.
Just as the Internet and mobile technologies have changed the way buyers evaluate products and services, these technologies have also impacted the way people consume the news. And social media is driving these trends.
All consumers are overloaded with information. Ehrlich notes, "With so many places to get information, consumers rely on influential content." Editorial content remains a major source for TRUSTED information. According to a 2013 Nielsen survey, 67% of consumers listed editorial content as a trusted form of advertising (word of mouth/recommendations from people you know still remains at the top of responses with 84%).
Today's consumer relies on multiple sources for news – local and cable TV, radio and print publications, newspapers (albeit, in decreasing numbers) and increasingly, social media. When looking at the percentage of U.S. adults who consume news on social platforms, LinkedIn is the top B2B platform, but 33% of YouTube searches are news related. According to a Pew Research Report in 2013, Percent of U.S. adults age 30 – 49 who consume news on
LinkedIn 50%
Facebook 39%
Twitter 38%
YouTube 34%
Your company's news release is competing for space within every media outlet and, once published, for readership. How are you going to stand out in this 24-hour news cycle? How do you ensure your news and articles are actually being read by your customers and prospects?
The effectiveness of your PR program is equally about DISTRIBUTION as it is about the compelling story. And that means more than simply distributing over a wire service. That means social media distribution. Your news doesn't go viral by itself. It requires a coordinated program of social distribution to ensure maximum visibility and readership by your target audiences.
There are a host of things your public relations team needs to be doing to maximize the readership of your content across digital and social channels. Best practices are constantly changing in line with changes to Google search algorithms and social media rules. This includes placing Tweets and "Click to Tweets" within the body of your releases to make it easier for journalists to share your news whether they write about it or not – changes not dreamed of several years ago. I won't bore you with the details, but it's safe to say that if you aren't implementing such changes to your distribution, many of your competitors are, and they are reaping the benefits of such activities.
However, if your organization has not invested the time to build a professional and active network on social media channels these practices will yield little success. Every financial services business needs to engage their target customers wherever those individuals are active. Social media is a significant channel, not just for recruiting and finding an entry point for penetrating an organization, but for distributing news.
Your organization needs a coordinated plan for building its base of followers over the relevant social media networks for your business and promoting your news releases, articles and self-published content. Don't underestimate the impact that a social program will have on your sales efforts!
P.S. While I was finalizing this post, IDC Research just posted a white paper on Social Buying Meets Social Selling. A key finding: "online social networks play a vital role in the purchase process of 84% of the most senior B2B buyers." Still not convinced?