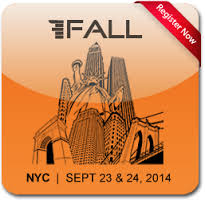 By Heather Sugg, Account Supervisor and Regional Manager
FinovateFall 2014 begins next month. Are you ready? This show marks the event's eighth year, and it continues to debut the industry's best new ideas. The convenience of New York tends to bring a stronger media presence, in addition to the analysts, investors, vendors and financial institutions that are all looking for a special edge. Last year we compiled a list of tips for both presenters and attendees to make the most out of your two days in the city. We received great feedback and are re-publishing it for all of our new Finovate presenters and attendees.
Tips for the Stage
Prepare and Practice
It is abundantly clear on show day who has poured time and effort into their presentations and who has not. There may be a battle between spending more time coding/getting your product ready for a live demo and preparing your speech, but you must spend time on both. The Finovate team is dedicated to making sure that you look your best, from all of the pre-show materials that they provide down to the last minute dress rehearsal. Be sure to take advantage of their input – they have seen it all.
Have a back-up plan
Sometimes preparation is simply not enough. Have a back-up plan in case you are having trouble with the Internet or your technology. Technical difficulties are not the end of the world at Finovate; you are dealing with a group of technology professionals who understand the dangers of a live demo. The important part is to recover smoothly. Don't let the trouble get to you, or at least don't let it show! Another part of your back up plan should include knowing what sections of your presentation you can cut to make up for lost time. Don't be the person who is trying to speed talk through one more sentence after the buzzer. No one is listening any longer.
Remember media relations
Finovate has a strong media presence. Feel free to reach out to press, analysts and bloggers with a preview of what you will be sharing to see if they are interested in a meeting. When contacting the media, research and be familiar with each contact's beat(s) before reaching out to them. Quality always trumps quantity with the media; this is an opportunity to build long-lasting relationships. Be aware that the media also wants to see the presentations. Schedule meetings during meals and breaks whenever possible, and do not waste time going off site during the day.
Learn from others
Watch the videos of past demos for some good lessons. For instance, talk with the audience and don't read from a script. If it's feasible, get the audience to use your technology. BillHighway encouraged attendees to use its platform to make an online donation to St. Jude's Children's Research Hospital a couple of years ago. The interaction and good deed was widely applauded. Know the audiences you want to address (investors, customers and/or partners) and clearly identify the value proposition for each. Also, remember to show some personality.
Tips for the Stands
The teasers don't tell all
It can be very hard to explain a new technology in a few sentences, trust me. Many Finovate presenters have a lot of nuances that might not make the brochure, but are exactly the type of gem you've been searching for. So, catch as many demos as you can. You might be pleasantly surprised with what you find.
Network
Networking opportunities are just as important a part of Finovate as the presentations. It is very rare to be at a show where you can walk up to a booth and find the CEO and CTO both open to conversation – or have the team of a large credit card or bank prospect out looking for new ideas. Participants should take advantage of mixers, meals and post-show opportunities. Plan as much as you can in advance, but always be open to new meetings.
Share
While attending FinovateFall, be a friend and help keep everyone updated on the latest and greatest. You'll make some new connections, too. This year William Mills (@WilliamEMills), and I (@HeatherSugg) will be attending the conference. Message us if you would like to meet.
We are proud to have a great number of Finovate veterans in our network at William Mills Agency. I tried to prioritize the most important last-minute tips, but give us your insights. What else should we be thinking about this week in preparation for the show? Please leave a comment below.