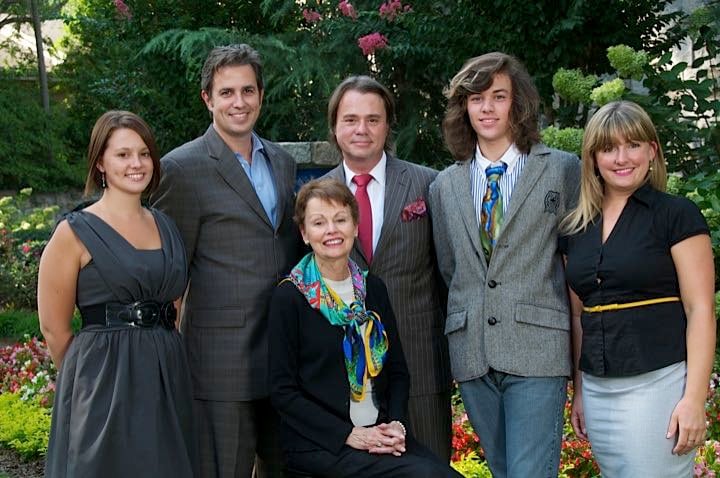 Q: How was it growing up with the agency?
K.T.: It was nice growing up at the agency. I remember coming to the agency after school to help my dad with his filing. As a kid, the littlest things are the most memorable. I remember sitting for hours crushing cans for recycling or talking with Eloise and Ruth who would tease me about putting three packets of hot chocolate in my cup. Bill had a toy I would play where you shoot a penny into a piggy bank. (He often let me keep the change in the piggy bank afterwards.)
In high school, my dad and I would carpool to school and work together. I'd come by the office to help Ruth with the mail or organize publications. It was nice to walk by everyone's office and sit down and chat with my grandparents or my uncle. As I got older, I was able to intern for the agency and assisted with cleaning up their databases and organizing client work.
Ryan: Growing up with the agency was a unique experience that gave me an education outside of school at an early age. I remember coming in "to work" as early as elementary school during the summers. At that time, folks at the agency would teach me how to type on a typewriter. I would help with the mail and filing, and I would try my best to be helpful. During the 1990s, the agency was located in a house on East Shadow Lawn Road in Buckhead. I remember every office was distinct and carried with it the personality of the occupant. It always felt like an extension of family. That was partly because my father, uncle, grandmother and grandfather worked there, but also because of the familiar faces of the rest of the staff that I had seen for years.
Tyler: Growing up at the agency was fun. When I was younger, I would basically come to the office once or twice a year with my dad and watch movies in the conference room or just find things to do. Sometimes I would make these survey-type things where I would draw up different superhero parts and give them to people around the office. Then I'd ask them to circle what parts they wanted and would create their personalized heroes. Everyone was very nice to me growing up and easy to talk to. I always appreciated the hospitality of the employees.
Q: What was the most impactful and/or memorable moment for you?
K.T.: The 30th anniversary party was very memorable for me. I was about 18 years old and had grown up with the agency my whole life. I mainly thought of the agency as a place where my family worked, but after listening to everyone's stories, I grew to respect the agency for what it was. It took a lot of guts for my grandfather to leave his job and start a company all on his own in the middle of his career. It took even more hard work for Bill, Eloise, William and Scott to build a strong company that would last for generations, and I am very thankful for that.
Ryan: At the end of my internship in 2001, I had chosen to follow in my father and grandparents' footsteps and attend Florida State University (FSU), which meant I had to leave the agency to move to Tallahassee. At the time, this seemed like the penultimate decision. I had been with the agency for so long, it was difficult to leave. On the last day of my internship, a colleague of mine (who would later become my boss) offered some words of wisdom that I have carried with me to this day. When I graduated from FSU and moved back to Atlanta, I returned to the agency to continue working fulltime with my colleague-turned-boss. It was a full-circle moment for me.
Tyler: I don't have one memorable moment that I can recall. What I do remember is that every time I would visit or come to work, I always had a good time with the employees and my family.
Q: How is it working for the agency or how was it interning for the agency after growing up with it?
K.T.: It's strange working at the agency after growing up with the company for 20+ years because I know everyone who works here and have known them for decades. It's an odd feeling going from family & friends to co-workers. For the first few months, I was worried I would be seen as "the boss' daughter" but everyone at WMA has been very respectful and has allowed me to grow in my own right. I like seeing family every day, and I never have to worry about finding someone to go to lunch with.
Ryan: A lot of the people who make up William Mills Agency are family whether we are directly related or not. I've known some of the more tenured (unrelated) people at the agency my whole life!
Tyler: Working for the agency has always been something I've really appreciated having as an option in my life. I'm very lucky to have a family that would allow me to help out when I could. I have always been a fairly organized person, and over the years I've tried to keep the office in tip top shape. I'm glad that some of the things I've done in that respect have stuck!