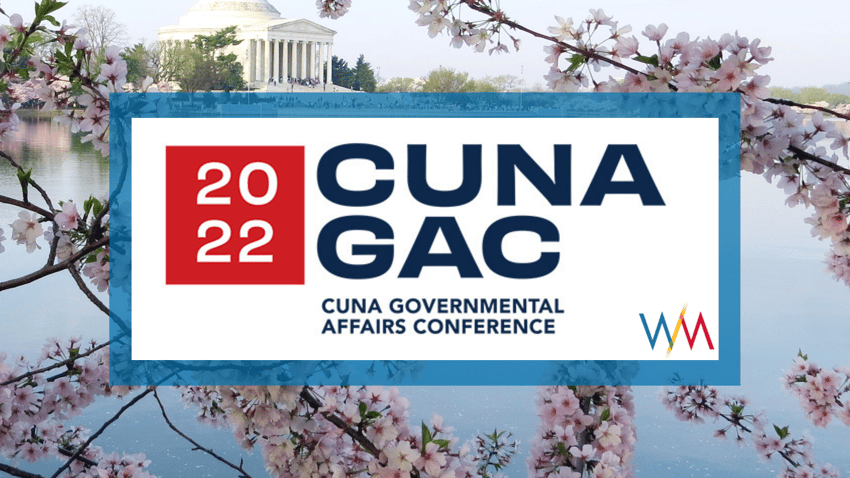 If your fintech or business deals with credit unions, the Credit Union National Association's (CUNA) Governmental Affairs Conference (GAC) should be on your list. Over 4,000 attendees made the trip to Washington, D.C. and hundreds of exhibitors were ready to share their technology, form meaningful connections – and finally, collaborate in person.
This year's conference had themes around financial health and how credit unions became financial first responders during the pandemic. As a third-party attendee, it was inspiring to hear the personal and detailed ways that our industry supported communities. This sentiment was also echoed in CUNA's recent research, where members noted how they trusted credit unions with their financial well-being and recognized their deep community roots.
Speakers encouraged credit unions to provide financial well-being equitably, making it easily accessible to everyone. This event shared real-life testimonies and successes of how to support both members' and employees' financial well-being through relevant products, services, and resources. For those who help provide these products and services, it was refreshing to hear how this has impacted millions of Americans across the U.S. It was also a reminder that credit unions and fintechs together have the power to change financial lives – a goal we've all been working toward, especially over the past two years.
This conference has taught and reinforced three main lessons for me:
Remember your audience. As a PR professional, I constantly ask myself and clients of mine who the audience may be when determining how to position a story. Like media relations, credit unions must take into consideration different political parties when advocating their efforts. They still need to maintain their bipartisan stance but should look for ways to tailor their message according to the representative. For example, when speaking with a Liberal representative, it would be best to focus on the people-helping-people mission and serving the underserved/marginalized communities. The conversation with a Republican representative, however, would likely focus on how they're helping members achieve the financial dream.


People connect with real-life examples. Two concepts were presented at the conference: 1) use stories to scale your message, and 2) ask yourself who is the one? Stories can be easily shared and referenced; they can be a way to effectively talk about your strategy in easy-to-consume and relatable soundbites, helping to scale your value proposition to the market. While sharing many different stories can be helpful, one story can also be used to impact many. It's nearly impossible to solve every problem for everyone; instead, focus on how your service can solve it for a set of similar individuals and create a story around it. There's tremendous value in finding ways to humanize the story because chances are someone can connect with a "Jim" or an "Ashley" with similar banking habits and behaviors or know someone else who does.


Surround yourself with inspiration. The conference is a great example of this. As an industry built on collaboration and community, use this inspiration to fuel your efforts and strategies. Surround yourself with physical reminders of where you've been and where you're headed, as well as people who challenge you to do more and think differently. This inspiration doesn't necessarily have to be other credit unions or fintechs, it can come from anyone. Listen to others who have achieved financial well-being for themselves, members, employees, etc. Then, identify similar stories within your institution, or better yet, determine how you can make these stories a reality for members of your institution.
As one speaker noted, "There is power in unity." While there's always work to be done around financial health and well-being, credit unions and fintechs are proactively finding ways to help members. Together, there's an opportunity to educate and provide resources to better manage finances. The conference reminded many, me included, to share their stories for the greater good of the industry because you never know who might need it.