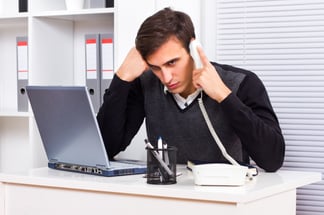 While recently scouring through financial industry trade show directories, we noticed an unsettling trend: About 20 percent of financial technology and service companies have NO REAL CONTACT INFORMATION on their websites! These companies have opted to use either a "Contact Our Sales Team" page approach or "Fill Out Your Contact Information" page approach. These companies provide no management team information. Sometimes no physical address is listed. If this is your company's strategy, you may want to rethink your approach. Here's why:
Unless your company develops top secret UFO technology for Area 51, there's no excuse for not listing full contact information. There's nothing that looks more unprofessional than a company website that does not provide real human contact information with real phone numbers and real street addresses. While emails or request forms may seem like the most efficient choice for your company, this approach actually has the reverse effect on lead generation and visibility. Customers want to contact you, and they want to do it directly. Letting people get in touch with you and providing accurate, up-to-date contact information is the first key to reaching your audience.
We aren't certain where or why this trend began, but if your company was misled into believing this is cool, it isn't – stop it! Your financial institution customers and prospects want to work with people – not wizards hiding behind a curtain. Messaging and language is vital while creating copy for your "Contact Us" section. At the end of the day, your future clients want to know that being readily available is a top priority for your company.
Allowing your company to be "media ready" is another vital aspect of creating an easily accessible environment for your client to connect with you. The media are your friends and you want to take their calls. The FinTech industry is a thriving space to simultaneously grow relationships with clients, and the media, using the same approach. In today's digital world, it is more important than ever before to broadcast the availability of your media contacts to those looking to interview you.
Hear that noise? It's your customers calling.