Do your feet hurt? Are you tired? Have you gone days without breathing real outdoor air? Do you have a ball of lanyards and pile of plastic name tags tucked in your desk drawer?
If you answered yes to three or more of these questions, you are probably in the midst of the financial industry's trade show season. Financial institutions, lending organizations and technology vendors have been flocking to events such as FinovateSpring in San Jose, American Banker's Digital Banking Summit event in Austin and MBA's National Secondary Market Conference in NYC, among many, many others.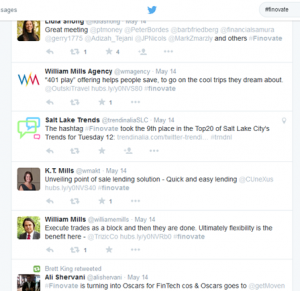 Managing a company's presence at these events requires masterful coordination, from shipping booth materials to having staff on hand to cover meetings and attend educational sessions. It's time to add yet another item to the trade show to-do list: social media strategy.
We are seeing social media participation become increasingly important to organizations' event attendance. It's an effective way to make people aware of your attendance, start conversations and be a part of the larger trend discussions the event might be stirring up. Show organizers have realized the growth in social media's popularity within the financial industry and most events now have an affiliated hashtag for attendees to use.
Because not everyone goes to events, the industry sees your social media activity and knows your company is actively participating.
Evidence of the growth in social media's role at trade shows can be found in statistics from this year's FinovateSpring. During the 2-day event, which leveraged #finovate for tracking, more than 1,300 people created upwards of 6,000 posts that reached well over 3 million Twitter followers. Impressive.
Being part of the conversation takes preparation and planning prior to taking off for the trade show along with coordination on the ground at the show.
Before the Event
Determine which channels you will focus on. Twitter tends to be the most active channel for live updates and where other attendees are conversing.
Determine who from your company will be leading social media efforts during the event.
Strategize on topics with which you want to be associated. Research hashtags related to these topics.
Prepare a list of tweets and posts prior to the event and use a tool such as HootSuite to pre-schedule them.
During and After the Event
Use incentives and social media contests to drive awareness of your company's presence.
Include the event's official hashtag in all tweets to ensure you are present in the larger conversation. Also leverage hashtags to associate yourself with applicable trending topics.
Share photos and videos – these garner more re-tweets, likes, shares, etc. than text alone.
Push out interesting stats and compelling content from sessions, presentations and conversations with industry influencers. Be sure to use these peoples' and companies' Twitter handles so that your tweets get additional exposure.
Respond in a timely manner to any questions posed or requests made on social media during the event. Within the hour is best.
Measure your success and determine any changes that should be implemented prior to the next event.
Being among the first to share interesting updates from conferences and demonstrating a thoughtful presence at financial events is done best with a strategic social media plan. Create Tweetable moments.