By David Jones, Account Supervisor at William Mills Agency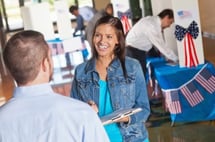 While many people love to complain about the work politicians do once they're in office, elections provide a great testing ground for communication strategies. The public nature of election cycles means that successful politicians must hone their communication strategies and consistently deliver them for months at a time. And they have become adept at adjusting a single message to respond to attacks from other contenders or high-profile issues.
So what can businesses learn from the campaign trail? Here are a few simple things every company should implement to draw more voters (customers) to your product.
Build a Key Message and Stay on Target
Too often, executives try to make their marketing say everything to everyone. But successful election campaigns build on a simple theme and focus that core message to the targeted audience. For example, in the 2012 presidential election, Barack Obama's "Forward" campaign and Mitt Romney's "Believe in America" were in every speech, article, marketing piece and advertisement either explicitly carrying this message or reinforcing it.
Of course, businesses don't need to overly rely on slogans. But they do need a focus that consistently repeats the same overall message in many different forms – media relations, collateral, website and advertisements.
Select the Right Spokesperson
If there is one thing successful politicians are skilled at, it is delivering a strong speech. Likewise, a good spokesperson is critical to any business wanting to build both their profile and their reputation. A good spokesperson provides a human face to an organization, and they can effectively communicate the key message to the public and the press.
But being a spokesperson is not merely a function of title. Consider who in the organization is truly best-positioned to represent the company. It should be someone who is a skilled speaker with the ability to be sincere, on message and engaging.
It also extremely important to make sure anyone who speaks to the press is trained in media relations. Meetings with the press, or with the public, are not 100 percent controllable or positive. Media training ensures that the spokesperson knows how to handle a situation effectively, being prepared for any scenario and knowingly how to manage hostile or challenging situations.
Digital Interactions are NOT a Luxury
Social media and an online presence are a big part of any PR strategy to communicate with key audiences. For example, the 2008 presidential election was dubbed the first "social media election" as all candidates used social media as part of their campaign strategy to educate, energize and motivate supporters. And the social media presence doesn't stop after the election. The current twitter account for the White House (www.twitter.com/whitehouse) has posted more than 16,000 messages to its more than 5.4 million followers.
Businesses likewise need to learn how to engage their customers. While companies in the financial industries may not be able to pull in millions of twitter followers, prospective customers will want to see a well-designed website that offers relevant content and clear information. Companies that take the time to educate their customers on important issues via online channels create brand advocates who recommend the company to their peers and build legitimacy among prospects.
So when the next election cycle rolls around, don't be so quick to dismiss the techniques successful politicians use to reach voters. Take a cue from them and campaign for your own brand.