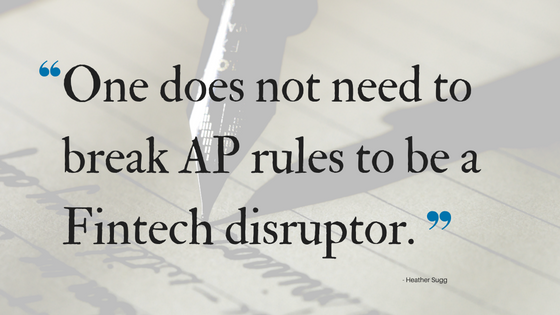 In a world inundated by 140 character attention spans, speed texting acronyms and strong competition for millennial market share, many people challenge the traditional Associated Press (AP) Style that has been the foundation of journalism and corporate communications for the last 50 years. The most widely accepted variation to AP Style is no longer spelling out the word "percent." Many financial publications, such as The Wall Street Journal and American Banker, have bucked this rule for years. It is now completely acceptable for a corporation to make the switch as well.
In a much needed update, AP style no longer capitalizes the words internet and web. The change, effective this summer, had already been made by most media. As Phil Ryan, managing director at Bank Innovation, said last year, "Sure, there is only one Internet, but there is only one Sky too, right?" I agree with Phil, as words and technology evolve, sometimes we just need to use common sense. For instance, when referring to Uber, Lyft and other similar services, the new AP Style is not to say ride-sharing, but rather ride-hailing, or ride-booking services. After all, they are rarely used to actually share rides.
The motivation to use AP Style is to make a company's written communication mirror that which a publication uses. The less editing and work a release or byline needs, the more likely it is to be published. With that in mind, WMA asked financial editors and reporters, "Is adhering to AP Style good, out dated or somewhere in the middle?" Most said that they still wrote in AP Style, but made exceptions to the rules. For instance:
• The Finovate Group mixes conventional style guides. Jim Bruene said, "I overrule my copywriter from time to time when I think the audience needs a bit more of an unconventional read."
• Jacob Gaffney, executive editor of HousingWire, embraces ways to shorten text for faster, edgier copy. He noted that sometimes symbols look more financial.
• Naomi Snyder, editor of BankDirector, summed the overarching loyalty to AP Style well by asking, "What else would you use?"
To Naomi's point, AP Style offers a solid baseline that will not be interrupted by the shift to digital media or fleeting attention spans. I can endorse flirting with the line in some social media (such as an ampersand and the occasional abbreviation to fit your message into Twitter), but such exceptions should be limited and are not advisable in blogs or other digital media. AP Style helps us all to maintain a consistent etiquette in writing.
One does not need to break AP rules to be a fintech disruptor.