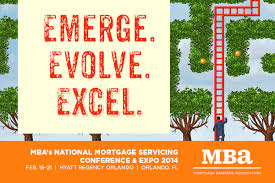 By Mary York Cox, Account Supervisor at William Mills Agency
At last week's Mortgage Bankers Association's (MBA) National Mortgage Servicing Conference & Expo 2014, more than 1,200 industry leaders gathered in Orlando to discuss the road ahead for the servicing market. With servicing in a state of transition – largely due to a substantial increase in regulations and procedures – attendees were on the hunt for solutions and best practices to equip them for the future and adhere to new servicing rules.
That hunt, however, got off to a rocky start after the CFBP's deputy director, Steven Antonakes, left attendees in silence after a startling speech last Wednesday. Acknowledging that a standing ovation would not follow what he had to say, he quickly made clear that the CFBP would take quick and harsh action against servicers in violation of the new servicing rules that took effect last month.
"It has felt like 'Groundhog Day' with mortgage servicing for far too long," he said. Despite MBA reporting last week that delinquency and foreclosure rates have declined to lowest level in six years, Antonakes argued that one in 10 homeowners are still underwater on their mortgages and that two million households remain at a high risk for foreclosure. In response, he warned that the agency would be taking a closer look at servicers.
MBA CEO David Stephens believed Antonakes' statements went too far, arguing that significant progress has been made. However, Stephens also said during an interview that "We need to have a servicing industry that we have high confidence in, that has strong consumer protections, that provides a consistency of process to every American, especially when they are in difficult times, and those standards are now law under the Consumer Financial Protection Bureau's national servicing standards."
Beyond Antonakes' speech, the show brought out three primary themes as attendees turned their focus back to their hunt for compliance solutions: Technology, Outsourcing and Innovation. Servicers are looking for ways to eliminate the pain points while also containing costs and increasing efficiencies and profitability. Without addressing these challenges, the industry has little opportunity for growth. Many are finding solutions in technology and innovation to help navigate the regulatory landscape; others are finding comfort in outsourcing rather than adding staff.
Some servicers and vendors are encouraging the industry to look at the opportunities in increased regulation rather than the challenges. Those same individuals are viewing new servicing rules as "best practices" toward improving operations and service, such as enhancements in borrower communication and protection against consumer complaints, particularly false ones.
Aside from compliance, other big topics during the show included mortgage servicing rights (MSRs) – or what Stephens referred to in his opening speech as "mortgage servicing risks" – and a return of subprime lending as volumes sink, which provided for mixed emotions. CFPB guidance to lenders' oversight of third-party vendors was also a hot topic last week.
Overall, Antonakes' opening remarks may have kicked the show off to a bumpy start, but there was still much enthusiasm and optimism at this year's conference. Attendees and exhibitors remained strongly focused on improving their business through technology, innovation and outsourcing, looking for the opportunities within new servicing rules, and ensuring they have the right tools in place to adhere to current and future regulatory guidelines. While there remains much work ahead for the industry, the show certainly ended on a positive note, encouraging continued collaboration to "create a safe, competitive and profitable housing market for years to come," as MBA Chairman-Elect Bill Cosgrove stated. We look forward to being a part of that future.