Social media participation has evolved to become a necessary aspect of a successful fintech conference strategy. After all, why limit the impact of your attendance to fellow attendees when you can potentially reach exponentially more people online? While B2B companies have leveraged trade shows to increase visibility in their markets, generate leads, build relationships and establish themselves as leaders in their industry for many years, knowing exactly how to incorporate social media into the equation doesn't always come naturally. Read on for 5 ways to leverage social media as part of your 2020 fintech conference strategy.
1) Engage with the Show's Hashtag
Most trade shows and conferences have a specific hashtag that attendees can use to share content and network with one another. If you aren't sure what the hashtag is, check the conference or its host's official Twitter account. The hashtag can be used before, during and after the show to drive booth traffic and help attendees (and those who couldn't attend) keep up with what's happening at the event. Continuously monitor the hashtag to find content to engage with and attendees to connect with.
2) Promote Executives' Speaking Opportunities
If someone from your company is speaking at the event, you can use social media to drive interest and widen the speaker's impact. Several posts before and during the trade show (including a brief description of the content and time and location) will help fill more seats. In addition, thanks to social media, the speaker's audience isn't limited just to attendees. If permitted by the event host, capture a video of the speaker or share quotes throughout to reach a wider audience. As a bonus, after the show you can leverage the speaker's content for future editorial pitching opportunities or blog posts.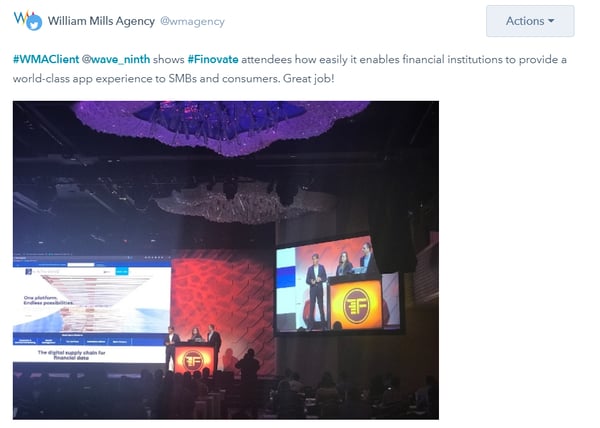 3) Share Content from Sessions You Attend
Even if no one from your company is speaking, you can still promote valuable content from other sessions. Tweeting a brief quote or takeaway from a panel, sharing a photo of a speaker you particularly enjoyed, or connecting with a speaker on LinkedIn with a personalized note are all great ways to make the most of your fintech conference attendance.
Remember to be respectful of speakers and the event organizer's rules about sharing content. Recording entire sessions is often prohibited but sharing a short quote or thought about a speaker's presentation is usually acceptable – and even encouraged – as a way to further promote the event. As your organization plans its 2020 event calendar and strategy, be sure that social media is a part of that plan.
4) Share Photos
Photos and videos outperform other forms of content on social media, but knowing what to post can be overwhelming. However, consider that most of your followers likely aren't at the trade show and would like to see what they're missing. Even attendees won't be able to see everything at a larger show like Money 20/20 or Finovate. Photos and videos of your booth (including any freebies you're giving away), speakers, and even the landscape of the show will all generate interest. In fact, it's difficult to find a photo or video post that doesn't get higher engagement than text alone.
5) Host Casual Video Interviews
You don't need an expensive camera or production team to host a brief, casual interview you can share on social media. A few minutes talking about the biggest trends and takeaways from the show filmed on an iPhone can go a long way towards driving engagement. Try to find a quiet area away from the main trade show floor and enlist someone with a steady hand to film. Be sure to tag the speaker and their company to boost impressions and encourage their followers to engage, too.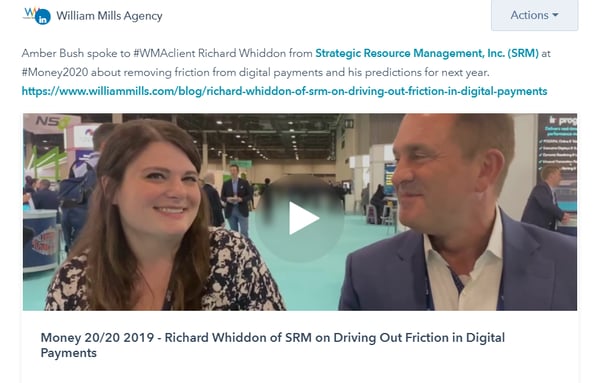 To start planning your 2020 fintech trade show attendance, download our annual directory. It includes events from all areas of financial services, including banking, credit union, mortgage and payments.