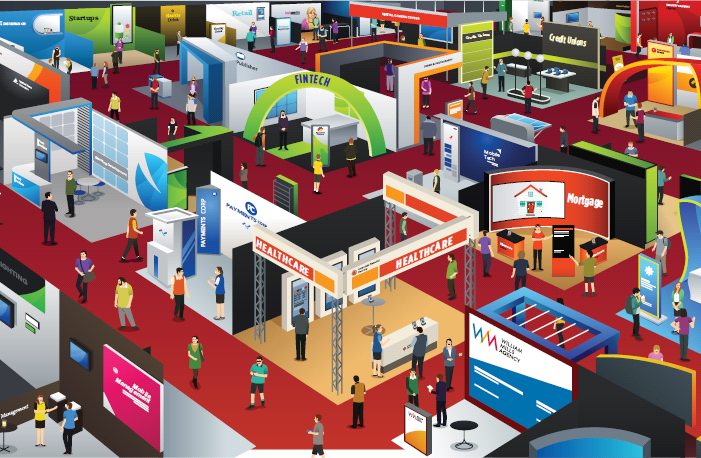 There really is no such thing as "trade show season" in the fintech industry. Major trade shows occur throughout the year, and it can be overwhelming to keep track of them all, which is why William Mills Agency has compiled its 2017 Trade Show Directory, which can be downloaded here.
With new events constantly coming online and some traditional ones undergoing some changes, you might be missing some key opportunities, so it is important to review all your options. Depending on your specific industry – banking, mortgage, payments, credit union, insurance – there is likely something for everyone in this comprehensive listing. The directory even includes some individual vendor user conferences.
On the immediate horizon, there are a few upcoming conferences that I'm especially looking forward to. One is the 6th annual Bank Innovation 2017, March 6-7 in San Jose, Calif., which features highly relevant and timely fireside chats/presentations among a solid mix of bank and fintech attendees. Another upcoming event on my radar is the MBA National Technology in Mortgage Banking Conference & Expo on March 26-29 in Chicago, which is always a great venue to learn about emerging technologies and the impact of new regulations on the mortgage industry. ABA Risk Management Conference, March 26-28 in Indianapolis, Indiana, is a must-attend for risk professionals from banks of all sizes. With all the uncertainty of the regulatory environment in 2017, this event's agenda is filled with top-of-mind issues and helpful tips to counter risk and remain compliant. And be sure to consider CUNA Marketing & Business Development Council, March 29-April 1 in San Antono, Texas, if you're a credit union professional looking for inspiration to more effectively market to your membership – and those are just a small sampling of conferences in Q1 2017 alone.
Because in-person conferences remain such a great way to network with like-minded professionals and keep up with industry developments and news, don't miss out on gaining insight from these opportunities. But don't always focus on the biggest trade events. Sometimes the intimate and more focused regional events are just as valuable (if not more so). The 2017 Trade Show Directory lists influential events of all sizes, so be sure to refer to the listing and carefully review the conference agenda and speaker list when developing your event calendar for this year.