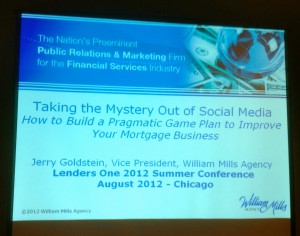 Taking the Mystery Out of Social Media
Speech by Jerry Goldstein, vice president of William Mills Agency
Given at Lenders One Summer Conference
More people use the Internet to search for information than ever before
89% of Internet users use search engines
81% of consumers use the Internet to research a product or service before buying
73% of Internet users get their news on the Web
You realize that it is time to amp up your website and get the traffic you want. The question then becomes, how do you make your website stand out in a crowd of more than 644 million sites?
When you look at the ten most visited websites in America, you find Google, Youtube, and Facebook are the top 3 Social media sites are critical for raising your online visibility. The goal is to get your company on page 1 of keyword search results and social media is a key tool to achieve that goal and help you expand your "Total Online Presence"
1. Organize
You must have centralized resources and control over your company's social media presence.
Identify your resources -- either internal or external.
2. Strategy Development
Set realistic objectives for increases in traffic and lead generation and commit to developing your social media platforms.
Create a content strategy.
3. Calendar & Guidelines
Content calendars are a critical tool for implementing your social media strategy.
For the William Mills Agency, we created a content calendar broken down by months and categories such as events, press releases, blog posts, Facebook posts, Twitter feed etc. This way you can build out your entire marketing plan and ensure you integrate all activities and every outlet is in balance.
4. Optimize
Some keywords are more effective than others in driving qualified traffic to your site. Perform research (Use Google Keyword search tools) on what keywords are actually being searched for and how your site is being found currently.
5. Social PR
Hyperlink keywords EVERYWHERE -- in your press releases, website, blog posts, twitter feeds, LinkedIn profiles, image titles, etc.
Inbound links are critical for achieving a high page rank so push your keywords out onto your social media.
6. Blog
An excellent way of promoting your message and keeping your brand updated.
An easy way of updating your blog is to re-purpose content.
Don't forget those keywords and to do some promotion through your other social media sites.
7. Social Media
Promote every aspect of your online presence though multiple channels.
Push company approved content out through employees who are active on your industry's networks.
8. Social Newsletters
75 % of Gen Yers prefer email to receive financial services and account information.
90% of online customers receive permission based e-mail.
E-mail remains a key channel for reaching your audience.
9. Buzz Monitoring
Utilize Google analytics to monitor website traffic and keywords
The top 3 free monitoring platforms for social media are:

Hootesuite
Tweetdeck
Marketmesuite
10. Report and Adjust
Track inbound leads and sources.
Report on number of new customers originating from inbound sources.
Continually adjust new words, expectations and goals.