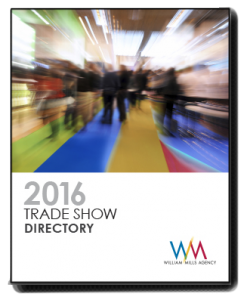 Provides conference details to organizations serving financial industry
William Mills Agency, a provider of financial public relations and marketing services, announced the release of its 2016 Financial Trade Show Directory, which lists the growing number of shows and conferences held throughout the year. The directory assists organizations serving the financial industry in identifying the best conference and event opportunities for strengthening their brands, establishing leadership within the industry and supporting lead generation.
The directory is available to download here.
The directory provides dates, locations, hosts and guest speakers. The industry sectors include:
Banking
Credit Union
Insurance
Mortgage
Payments
Major User Conferences
"The 2016 Financial Trade Show Directory provides the important information organizations need when evaluating and scheduling their participation in the nation's leading industry events for new business, networking and building their brand," said William Mills III, CEO of William Mills Agency. "Companies in the financial industry must have a strategic approach to planning their list of annual events, since participating in key conferences is a great way to build personal relationships with key decision makers in the financial industry."