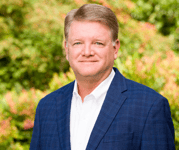 ATLANTA, July 18, 2023 – William Mills Agency, the largest independent public relations and marketing firm specializing in the financial industry, announced it has appointed Tom Duke as the agency's new CFO. Duke joins WMA with over two decades of experience in professional accounting and finance roles.
Before joining the WMA team, Duke served as CFO for an international flooring franchise, the director of finance and accounting for a national child-care franchise and was principle of his own outsource controller services business which provided forensic and turn around accounting to clients in the medical and hospitality industries. In his new senior executive role, Duke oversees payroll and manages all financial actions across the agency including cash flow, financial planning and other corporate initiatives. Tom received his degree in accounting and business administration from Furman University.
"I am thrilled to be on board with such a talented team of coworkers, and for the opportunity to embrace the fantastic company culture here at William Mills Agency," said Duke. "I know my experience and skill set will complement the organization in continuing to optimize its financial health and growth."
"Tom is an excellent addition to our management team," said William Mills, III, CEO, William Mills Agency. "I'm confident that Tom's breadth of knowledge and proven performance will ensure the agency is on the best path in terms of our financial health and decisioning."
About William Mills Agency
William Mills Agency is the nation's largest public relations and marketing firm serving the financial technology industry with an emphasis on fintech providers. The agency has established its reputation through the successful execution of media relations, marketing services and crisis communications programs. The company serves clients ranging in size from small start-ups to large, publicly-traded companies. For more information, please visit www.williammills.com.