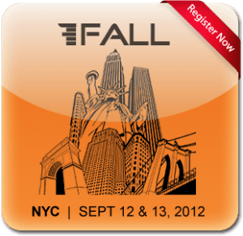 This year's FinovateFall 2012 on September 12th and 13th is a two-day showcase in New York City that will feature new innovations in financial and banking technology. It has become one of the best showcases of banking and payments innovation in the U.S.
What you will see:
The forum of Finovate is what makes the conference so unique. The conference is known for its signature demo-only format. Sixty companies present throughout the conference, but the trick is that they only have seven minutes on stage and are forbidden to use PowerPoint. Presenters must quickly showcase their technology and their latest innovations to the entire audience, which allows no time for fluff or filler. The presentations take place in one big room, not little break out sections with arbitrary speakers giving irrelevant presentations. Finovate is a no B.S. kind of conference.
Who will present:
There is a mixture of leading, well-established companies and brand-new companies presenting at Finovate. However, most of the companies are small or are startups; nevertheless, they believe they have created valuable innovations that the financial industry will care about. Typically, the larger firms present only when they have something new to show. Finovate also facilitates networking sessions at the end of each day, giving the audience and innovators a chance to speak directly.
Who will be there:
In 2011, FinovateFall had more than 1,000 people in attendance, and they expect even more this year. The audience at Finovate contributes to the unique forum because attendees are:
1) Looking to acquire a new technology
2) Looking to partner with some forward-thinkers
3) Looking for a preview of what (and who) is up and coming in FinTech
4) Looking for the latest innovations to write about
5) Looking to find a career in financial technology
The show is a great concept-debut of the industry's latest and greatest innovations and builds in plenty of time to meet the people and companies behind the ideas. It has also become a real hot spot for mobile and payments. Finovate is one of the best events where creative thinkers in financial technology come together with a roomful of bankers, consultants, venture capitalists and not to mention the press. It has been so successful that now there are Finovate conferences in Europe and Asia.
The sheer volume of innovative ideas and companies that come through the Finovate forums is enough to wow even the sternest critics. Not all the companies that preview will make it big, but historically many of the ideas and innovations live on.
Register now at http://finovatefall2012.eventbrite.com/
William Mills Agency will keep you updated on what's happening at FinovateFall 2012 next week.