Marketing Today
55% of B2B marketers say they are unclear on what content marketing success or effectiveness looks like, and that's understandable since the sheer volume of activities alone can be overwhelming, including:
Blogging;
Social Media including Facebook, LinkedIn, Twitter, Google+, etc.;
White papers;
SEO;
eBooks;
Product sheets;
Infographics ;
E-Newsletters;
Landing pages;
Outbound e-mail marketing;
Lead nurturing;
Webinars;
Video; and
Sales intelligence.
How many different systems are you using today to keep up with the growing demand of content?
Beyond juggling your marketing activities, how is your marketing helping your sales team? As a marketing executive, your goal is to build awareness and deliver high quality leads to your sales team. With many disparate systems, how can you measure the true ROI of all of your online marketing activities?
The reality is that the production of content that consumers demand today often leaves little time for quality reporting, and necessitates the need for automated support.
Software like HubSpot, Marketo and Pardot can provide a streamlined version of your marketing activities that connect to your CRM database to provide a full closed-loop view. Think of it as combining WordPress, Hootsuite, MailChimp, Salesforce and Google Analytics into a single platform.
Buyer's Online Journey
The best way to reach your prospects is to be at the forefront of their online experience at every stage of the buyer's journey. Everything referenced above can be accomplished through marketing automation software to stay top of mind for each and every prospect.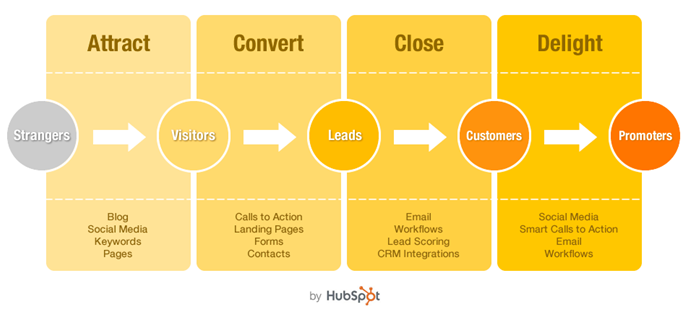 Step 1: Attract
Gain new prospects to your site by providing educational blogs that address their specific pain points. In order to increase visitors to your website, deploy a variety of tactics like social media and optimize each blog with your priority keywords.
Step 2: Convert
Once you have new visitors to your site, place call to action (CTA) buttons on every page to get them to click through to a white paper, webinar, demo, free trial, etc. These are your lead generation pages. The CTA buttons lead to a landing page where each prospect can fill out a form to download your excellent piece of educational content.
Step 3: Close
Not every download is a lead, with tools like smart forms that present self-identification questions and lead scoring, you can further qualify each lead so that it is sales ready. In order to get each prospect sales ready, you can conduct lead nurturing campaigns. Through platforms like HubSpot, your marketing team can send targeted email marketing programs segmented by key industry segments in your database. All of this can be fully integrated with your CRM system, like Salesforce, for a fully coordinated approach.
Step 4: Delight
Once your sales team closes on the leads, you can now delight your customers by providing continued educational content through social media and email as well as cross-sell them on new opportunities. Through automation tools, you can maintain on-going content and visibility, while also providing trade show follow-up to support your sales team.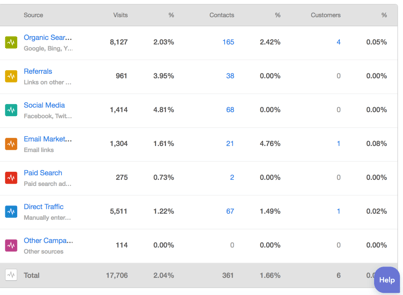 Step 5: Analyze and Report
One of the most important stages in any marketing program is to step back and analyze your results. What programs worked the best? Where should we focus our attention next quarter? With automation software like HubSpot, you can track not only the visits and leads obtained from your marketing program but also the closed customers and their subsequent deal amounts. It's no longer a guessing game in marketing; every lead has a potential customer value where you can truly quantify your results. Tracking from visit to lead to customer can be a powerful tool for your marketing department and put you ahead of your competition.