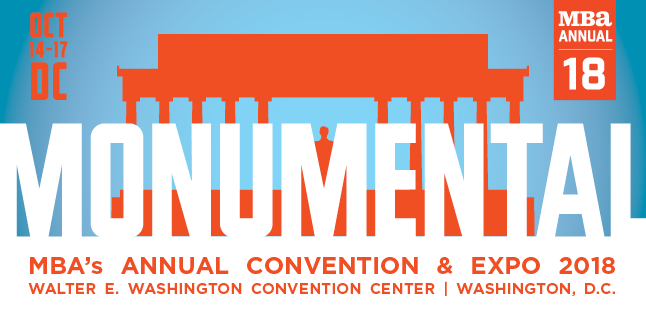 The MBA Annual Convention and Expo is the largest gathering of real estate financial and mortgage professionals in the country with an estimated 4,400 participants this year. It's fitting that such a monumental occasion was held in the nation's capital and had a celebrity lineup including Kelly Clarkson, Magic Johnson, and Oscar winner Geena Davis (who is also founder and chair of Geena Davis Institute on Gender in Media). Despite the event's star power, attendees had bigger topics on the mind—namely the current state of the mortgage industry.
This year has been a tumultuous one for mortgages, and the attitude at MBA Annual reflected this. First, the Consumer Financial Protection Bureau has been renamed (or, according to Acting Director Mick Mulvaney, reinforced under the correct name) the Bureau of Consumer Financial Protection. This seemingly insignificant change was the topic of much buzz at MBA for its implication of more changes to come.
Another change this year was the selection of a new MBA president. Robert D. Broeksmit, CMB, boasts 30 years in mortgage finance and a positive reputation in the industry. His transition to power has been noticeably seamless and peaceful. Despite the concern for the industry's current state and the uncertain path ahead, there seemed to be an air of cautious optimism surrounding the event as organizations gear up for 2019.
Each year at the MBA Annual, Progress in Lending sponsors an event, Engage, which features presentations and discussions around some of the industry's most relevant topics. Several WMA clients were panelists this year. LERETA, Advantage Systems, Dimont, Wipro Gallagher Solutions and QuestSoft representatives provided insight around how to improve the borrower experience, the future of fintech and digital lending. The competition showcased the digital progress that will propel the mortgage industry forward in 2019.
The show also had respectable media presence and ample opportunity to forge connections. Publications of note included MBA NewsLink and MBA Insights, National Mortgage News, Progress in Lending, Scotsman Guide and Housing Wire. Representatives from October Research and SourceMedia were on hand as well.
The MBA Annual Convention and Expo continues to be one of the best events for real estate finance and mortgage lending professionals to share their latest innovations, collaborate on ideas for the future and make connections that will aid them in the year ahead.