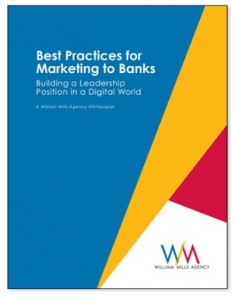 The financial services industry is a unique market and requires a strategy for creating a leadership position if you are to be successful in selling to banks and credit unions. Marketing to financial institutions is not a one size fits all approach. Today's landscape consists of large financial institutions, regional and community banks and credit unions. There are different tactics for selling into these markets, but there are also common best practices. While traditional marketing methods of developing sales materials, advertising, maintaining a strong website, attending industry events and conducting informative webinars are important, to compete in today's FinTech marketplace, you must execute additional tactics that put your company in a leadership position.
Today's digital world has changed the way decision makers inside financial institutions evaluate products and services. Buyers research potential solutions long before engaging providers, and more and more of that research is conducted online.
Use Public Relations as a Foundation
"Everything you do or say is public relations." In an ever-changing and evolving marketplace, FinTech companies are vying for the spotlight. How does a company stand out to new business prospects and make an impression with their target markets and decision makers? The answer is simple: public relations. An effective FinTech public relations campaign will position your business as an industry leader and establish it as a credible and trustworthy company. Create a strategic public relations plan as your company's foundation and then build upon it.
Develop a Comprehensive Content Marketing Program
The single largest advance in marketing over the last five years is the emergence of content marketing. Content marketing is creating and distributing relevant and valuable content across digital channels to attract, acquire, and engage a clearly defined and understood target audience – with the objective of driving profitable customer action (definition from Content Marketing Institute). Content marketing leverages the content created from public relations and uses search engine optimization (SEO), blogs and social media marketing to raise your online visibility and enables you to convert your website into a successful marketing platform that attracts prospects and converts them into customers.
Invest in Marketing Automation
For years, companies have struggled to cohesively deliver value from their digital marketing investments. You can't implement a FinTech content marketing program without a supporting marketing platform. Today's marketing automation software manages the presentation and distribution of your information over digital channels as well as the collection of who is accessing it. These platforms, available from vendors such as HubSpot, Marketo and Oracle, include solutions that allow you to manage blogging and social media, SEO, website content and landing pages, email, lead nurturing and management, as well as provide marketing analytics that enable you to measure and monitor every part of your program. With content marketing best practices and supporting marketing automation software, you are able to leverage your leadership position to generate leads and new business.
To successfully compete in the financial services industry, it is imperative that marketing and selling techniques move beyond the basics and adapt to the changing dynamics of today's buyers. The most efficient way to market to banks and credit unions is by using a strategic public relations plan as your company's foundation, developing a comprehensive content marketing program, and investing in marketing automation. Establishing your company as a market leader can prove to be a make or break proposition.
For more information on this topic, download our free white paper, "Best Practices for Marketing to Banks."