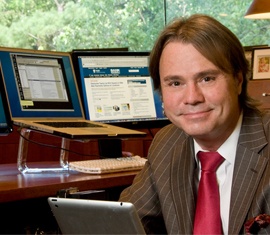 William Mills III, Chief Executive Officer of William Mills Agency is live blogging today at Finovate Spring 2013 in San Francisco. William has more than 30 years of experience in financial technology and is a recognized leader in financial and technology marketing. William has personally advised more than 300 chief executives on marketing strategy, business development, mergers and acquisitions, company branding and public relations. You can contact him via email at william@williammills.com or by twitter @williamemills.
04:06 pm
Final thoughts on Day One of Finovate Spring 2013
Today has flown by. I'm heading over to the exhibit stands and learn more about today's presenting companies. This is a HUGE show and I expect their New York event in the Fall to be even bigger.
I participated in the ETA Conference two weeks ago and as always Finovate is the place to be for financial technology innovation. One thing I've heard a lot recently is a lot of good "buzz" about the Money 2020 conference in October. I did not attend the last one but plan to be at it this year if I can.
If you are at Finovate or in the SFO Bay area and would like to learn more about William Mills Agency please call me at 678-694-7213 or email me at william@williammills.com.
See you tomorrow at 9am PST.
All the best,
William Mills III, CEO
William Mills Agency
---
03:55 pm
Day One is winding down, the exhibit hall is getting to open. Final thoughts in just a few moments.
---
03:54 pm
invoiceASAP – Paul Hoeper, CEO and Anne Maxwell, CTO Easy mobile invoicing. 120,000+ business users. "Next giant leap in mobile payments."
Anne is getting ready to demo a sync through the Intuit API to Quickbooks. At this time it appears it is mobile browser based but I may be mistaken, I really can't tell. I think they have a mobile app but perhaps the Intuit sync was browser-based. Paul is now showing an invoice on the mobile device with built-in signatures for proof of delivery and even photos of proof of work done.
"Let's talk about payments" – We've partnered with Sparkpay, marks the invoice as paid and syncs it back to QuickBooks as paid. Today, they are launching partnership with Zebra mobile printers and is printing the invoice on a mobile thermal printer (I don't know how it connects, perhaps Bluetooth).
Now we are seeing the QuickBooks screen which showed the live transaction. I think it's a great idea for the SMB space.
---
03:48 pm
FamZoo – Bill Dwight, CEO & Founder
I THINK it is Bill speaking, there was a music intro. Funny intro with Justin Bieber video.
Custom banking application built for kids. He has showing his family's virtual bank. He's a good speaker, not nervous at all, comfortable "in the lights". His family virtual bank has multiple pre-paid cards. He does micro payments back and forth with his son; allowances to his son, a debit for his son's phone charges. This is an interesting presentation but I'm trying to understand will FamZoo go through banks or other businesses or direct consumer. I'm hoping he's going to go B2B as I think this would be hard to market direct to consumers.
Very nice pitch.
---
03:40 pm
CardFlight – Derek Webster, Founder & CEO and Tim Saunders, CTO WE ARE NOT JUST ANOTHER PAYMENT DONGLE COMPANY. As their web site says: "Your app and our SDK". "We provide the card reader, their SDK and we work with most major payment processors."
To me, this is a unique approach. They are not trying to make an end-run around the current payment eco-system which lets app developers control the experience and not have to worry about the payment part. This is a BIG deal, especially because of PCI compliance.
I like what they had to say. It's in beta.
---
03:35 pm
Jemstep – Kevin Cimring, Joint CEO and Matthew Rennie, CTO
Browser-based. jemstep Portfolio Manager. Looks good so far, sign up, savings goal, set up action plan, showing a good dashboard. From their web site: Take control of your investments and reach your retirement goal faster. Get asset allocation and investment recommendations from Jemstep.
I believe Kevin said that their average user links four accounts for a total assets of over 0,000+. I think this could be really helpful in helping people better understand how they are doing financially with or without a financial planner. So many folks don't get the best ROI by throwing money in some hedge funds.
---
03:28 pm
Braintree and Venmo Andrew Kortina (not with Braintree but with Venmo)
Braintree provides payment infrastructure, app for credit card processing. I assume they have a new partnership but I'm unclear on what Venmo does yet.From their web site: Venmo is the best way to pay your friends. It's simple, fun and free to use.
How does Venmo make money? I'm going to have to do some research on this company as the IOS app looks easy to use. They are trying to make it easy to use your phone to make payments. I THINK it stores the card info so people don't have to enter card info twice.
---
03:22 pm
Trusted Knight – Joseph L. Patanella, CEO and Trevor Reschke, Founder & VP Engineering
Showing a patented Windows-based solution to prevent Malware. Protector is the product preventing all kinds of crime ware. "This would have prevented the recent hack attacks against banks resulting in millions of dollars in losses."
I probably should have known this term but it's new to me: Crimeware is a class of malware designed specifically to automate cybercrime. From Wikipedia: Crimeware (as distinct from spyware, adware, and malware) is designed (through social engineering or technical stealth) to perpetrate identity theft in order to access a computer user's online accounts at financial services companies and online retailers for the purpose of taking funds from those accounts or completing unauthorized transactions that enrich the thief controlling the crimeware.
They are taking a PC that has been compromised, installing Protector and stopping fraud instantly. Already being used by a top 10 bank in the US. Fraud dropped to ZERO among customers that have agreed to use Protector. VERY cool.
---
03:15 pm
MoneyDesktop – Ryan Caldwell, CEO and Matt West, VP FI Sales
(Full disclosure: WMA is the public relations agency for MoneyDesktop)
www.moneydesktop.com
MoneyDesktop has won best of show TWICE at Finovate and it would not surprise me that they will a third time. MoneyDesktop has signed 1/2 of all online banking providers as partners and driven adoption rates higher than others in our industry by making PFM useful and enjoyable. "The wait is over" MD is now offering their API
MoneyDesktop – Insight – This new product turns PFM totally around for FI's. With Insight FI's that deploy MoneyDesktop can easily understand, segment, market and measure the "big data" from customer PFM information. The UI is awesome. There have been some great UI's today but these are beautiful. I think these folks really harness the power of big data with simple to use applications.
---
03:07 pm
Escardgot – Tom D. Humphrey, – President, Inventor & Founder
Sacramento-based startup with 10 employees, seeking VC for their proof of concept.
Payment card has built-in bluetooth to be paired with mobile in order to move the data from the card and move it to the phone and only carry one card. I haven't seen this before. They have a mobile app for consumers and merchants which includes an offers engine. I don't know anyone that likes NFC payments so this bluetooth approach is unique.
EVERYONE is working loyalty/offers in payments.
---
02:59 pm
Expensify – David Barrett, Founder & CEO
Expense report management. Looks browser-based, clean design but do they have a mobile app? David is a good speaker, high energy. He opened with "Expense reports that don't suck!"
Expense reports are so boring but they are doing a good job of presenting their platform. I think they are getting tighter integration with payment/biller platforms. Expense reports can be paid via Direct Deposit, PayPal or even BitCoin.
---
02:54 pm
NEW SESSION
IBSS – David and David show authentication technology. Please accept my apoligies, heavy traffic caused our web site to crash to we've been working to restore the live blog from Finovate.
---
02:50 pm
———
NOTE: I think our web site has been overloaded so these most postings have been delayed. I'm sorry for any inconvenience.
———-
Realty Mogul – Julliene Helman, CEO – Justin Hughes, CMO
Crowdfunding for real estate. Launched 2 months ago and have already funded transactions. Accredited investors only allowed. Going to show in 7 minutes how to fund an investment.
https://www.realtymogul.com/about-us
From their web site: "Realty Mogul is a marketplace for accredited investors to pool money online and buy shares of pre-vetted investment properties. Realty Mogul is crowdfunding for real estate."
Julliene is a very good public speaker. All of today's presenters are smart business executives with innovative technology but most are just not comfortable being miked up, with bright lights, on a big screen and in front of a couple of thousand of their peers, competitors, investors, prospects and partners.
Realty Mogul has a clean browser-based UI that makes it easy of investors to easily find properties, invest and track cash flow and ROI. I haven't seen anything quite like it. I like it.
GoBank from GreenDot – Steve Street, Founder/CEO
I believe they are launching GoBank from GreenDot but thought it was already public. Consumers can sign up and open a bank account from their mobile app (IOS)
Showing a custom-designed debit card. From web site: "A new kind of bank account. No overdraft fees. No worries."
END OF SESSION
---
01:43 pm
TSYS – P Phillip W. Tomlinson, Chairman of the Board & CEO and M. Troy Woods, President & COO and Keith Pierce, Group Executive Commercial Services were listed as presenters but Paul and Frank speaking and I did not catch their last names.
I've always been impressed by these folks in my home state of Georgia. If you ever go to Columbus, GA TSYS has made a huge impact on the community and downtown.
They are launching "Consumer Controls to Go". Using a very funny example of a FaceTime conversation with the presenter's daughter. Great use of humor, good job!
Ability to replace a lost card. "Topaz Community Bank" PFM app demonstrating and now they are showing how to suspend a lost card and get a new card via FedEx or netSpend gift card. Nice geolocation of where to pickup a gift card. They haven't said this but I would guess the backend has functions from Yodlee but that's just a guess and my apologies if I'm wrong. As a white label solution for FI's I like it.
---
01:36 pm
Moven – Alex Sion, President and Julianna Young
Looks like a browser-based PFM but I'll learn more. Nice dashboard. The url is
www.moven.com/spendsavelive
"Smarter way to pay and improve financial wellness"
SPEND LIVE SAVE is the three cornerstones. They haven't said it's a PFM (yet).
Spend: Pulse & Path shows a consumer's spend velocity i.e. "I'm spending a lot faster than I did last month." MoneyPath shows trend data with social integration but I'm not sure how the social/Facebook integration impacts spending. The example is an upcoming event hosted by a Facebook friend and planning knowing that the consumer will spend money at that event.
Now we are getting ready to see the mobile app. Example of buying something using Moven with Square so I assume it automatically integrates the purchase in your PFM.
"Getting in control and context of your money."
---
01:27 pm
Technical difficulties at Finovate, please stand by…
---
01:24 pm
Virtual Piggy – Dr. Jo Webber, CEO & Founder and Pradeep Ittycheria, CTO & Co-Founder I've seen these folks present before so I'll be looking for something new. It still appears to be a browser-based savings platform. The parents set up a family virtual wallet with budgets for each child and manage own finances within boundaries.
Now showing Virtual Piggy mobile wallet on IOS. I THINK it's Safari browser-based but it still is a nice UI. Showing mobile offer and how a consumer makes transactions in their virtual mobile wallet.
"Use NFC technology and existing payment rails." Showing in-store E-POS. Public company.
---
01:17 pm
Banno – Wade Arnold, CEO and Ben Metz, CTO
(Full disclosure: WMA is the public relations agency for Banno)
@BannoHQ
Interactive browser, go to http://banno.com and select "Join the demonstration". Demonstration of Banno Kernel backend. Showing the live feed of everyone here interacting with their web site. Kernel seems to be a powerful tool to empower FI's to get customers engaged when they visit their web site and gives the FI's a better way to measure what's working and what's not.
"90% of customers go to bank web sites for transactions. They often don't fill out the "apply now" button. Wade showing a campaign and how their tool enables a FI drill down to who is clicking through and tied back to the customer data.
Now showing on mobile device. The demo (bank) can push a notification to the mobile device if a web advertising campaign is discontinued by the consumer.
"If you can add Google Analytics, you can add Banno Kernel just as easy."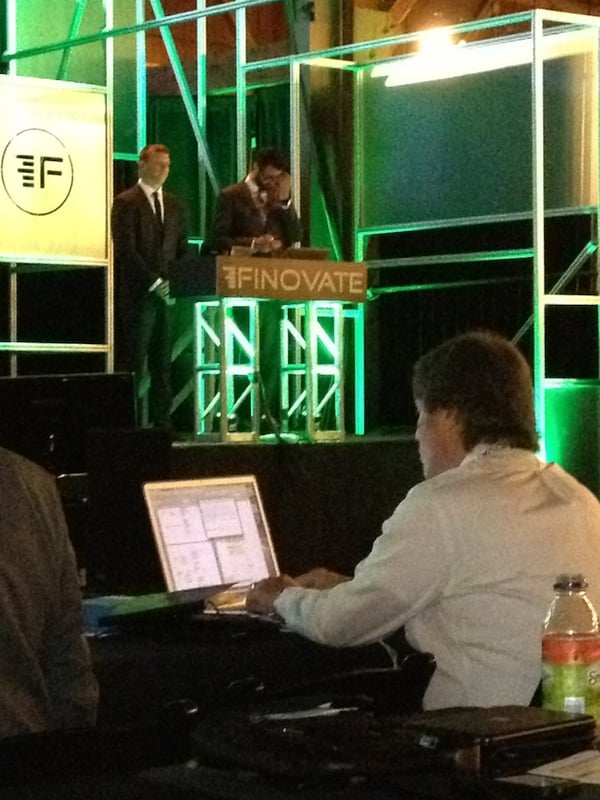 ---
01:01 pm
Corduro – Robert Ziegler, CEO and Anthony Cacheria, VP Corporate Development I think I've seen them present before. They are showing their mobile wallet today. Accessible by consumer anywhere or any device.
Showing iPad IOS Register App and showing a list of merchants. Nice IOS UI where you can slide between windows with information. Showing a donation payment via their mobile wallet. I have not yet figured out what their makes Corduro unique. I think it figures least cost routing on transactions.
"Continuity between in-person, online and mobile." "We provide transaction data back to the merchant vs. other vendors." This is I think their key difference.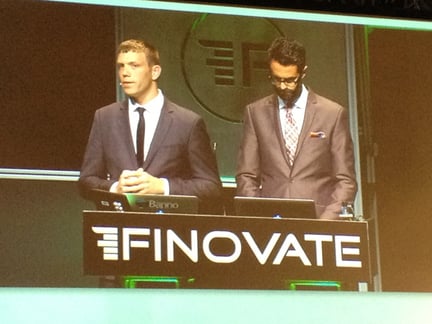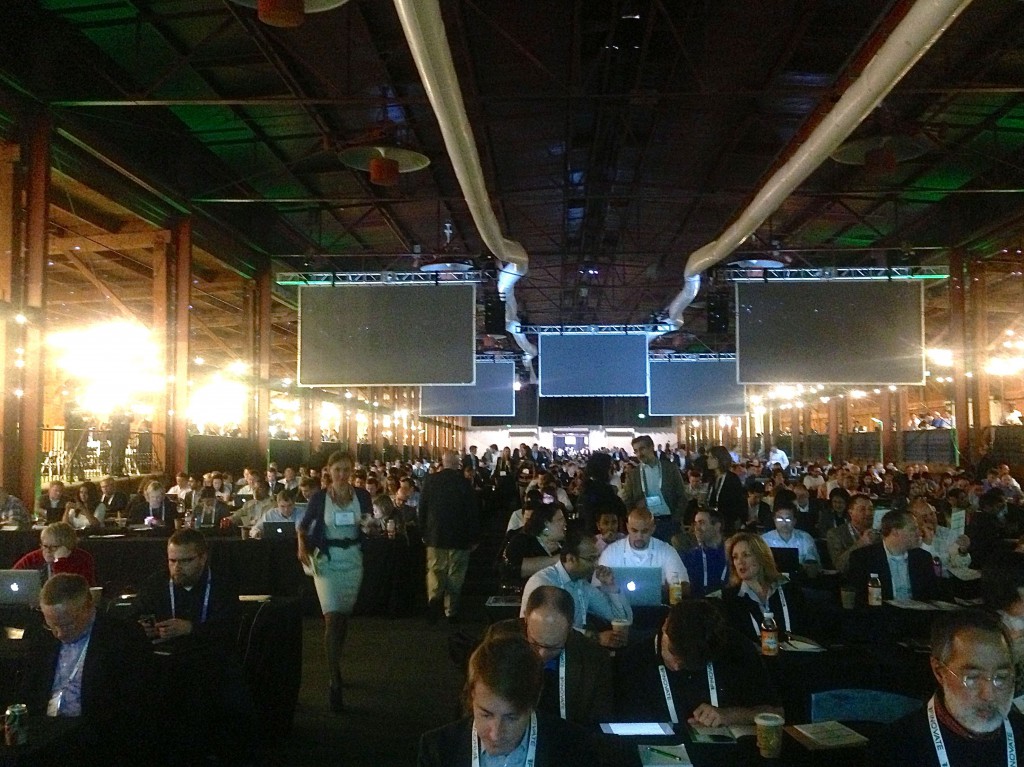 ---
12:58 pm
We are getting ready to start back with demos…
11:54 am
BREAKING FOR LUNCH.
I'm not sure where I'll be but if you would like to stop by before the next session I'm on the front row, in the center. Thanks!
William
---
11:53 am
Palo Alto Software (LivePlan) – Sabrina Parsons, CEO and Mike from MasterCard to announce their new partnership.
See small biz as a great opportunity. "We aspire to be the champion of SMB." MasterCard Business Network. 650,000 SKU items in it. Mike is showing how SMG can buy Xerox Paper at a discount and shipped free to an SMB.
SMB's can use LivePlan through LivePlan or MasterCard's Business Network web site. "Tools for small businesses." Web-based service for SMB. Helps SMB pitch their businesses, secure financing and manage targets. It sounds like a LOT of different ways their platform can help a SMB, A to Z. Speaking about integrating QuickBook data with LivePlan data.
---
11:44 am
Yandex.Money – Jane Zavalishina, President and Kristina, head of user experience.
Based in Russia.
Created twym. "Tweet your money" – Send money to relatives and friends, I believe using your Twitter credentials. This looks kind of interesting. Many of the screens presented are in Russian and they are demonstrating sending rubles instead of dollars so they need to make their demo U.S.-centric to get traction here. They are now showing how a Twitter user could create a fundraising campaign using twym through his Twitter network. "Easy to start and use." "Very social."
Interesting. I've not seen anything exactly like this.
---
11:37 am
OneID – Alex Doll, CEO and Clay Hausmann
From their web site:
"OneID is an online identity system that doesn't require a username or password. Consumers get total privacy. Businesses get security and easy transactions."
Now showing secure transactions on the AMEX web site. Username, password, etc.
"More secure than passwords, like a safety deposit box where 2 keys at the same time are needed to open a safe deposit box." Two-factor authentication?
Showing a telephone banking using mobile phone authentication using OneID. Can lock or unlock various devices (iPad, iPhone, etc.). Today doing a press release with a MyVest for two-factor authentication.
---
11:30 am
Lodo Software – Mark Vipond, CEO and Jeelani Shaik, CTO I've heard of Lodo for some time I did not meet Mark, their CEO until today and while I don't know a lot about Lodo I've only heard good stuff. They are demonstrating D3 "HTML5-based" technology for a mobile browser solution. I'm not a fan of browser-based solutions but this looks really good.
Mark is speaking about using FI customer data for better decision making. Very clean, easy UI. "Create and measure campaigns". Showing examples of campaigns using D3 Bank Admin. What is interesting to me is that has not used (yet) the phrase PFM, which I think is good.
"Comprehensive digital banking system." Very nice demo.
---
11:23 am
Kabbage (with Intuit)
The Intuit executive is speaking about financing for small business. They are showing a browser-based solution that partners with a number of lenders including Kabbage. Kabbage provides working capital to small businesses. Now integrated with QuickBooks data. "Kabbage has been at Finovate six times and we haven't won yet."
I like Kabbage and they have done a very nice job getting press coverage in mainstream media like the Wall Street Journal. This QuickBooks integration could be very powerful; so many SMB's I know use QuickBooks for accounting.
I've worked with several organizations in the space of technology to facilitate small business capital and it's a tough sell but important.
---
11:16 am
NICE Systems – Amit Ashman and Bruce Plummer
NICEMobileReach.com being demonstrated. Good demo, Bruce is showing that he got a text message from his "bank". NICE Mobile Reach pops us and he is being connected to a mobile bank rep via phone. Fun approach to their demo, good use of humor. Amit is playing the bank call center person and Bruce is playing the bank customer. I'm assuming the new product integrates with mobile banking and other applications and makes all mobile banking aspects easier for the consumer.
On a personal note, I've had TERRIBLE experiences with Delta Airlines this week with my STILL lost bag on a direct flight from ATL to SFO and their Delta's call centers are AWEFUL. Delta could use something like this to help their customers communicate with the company.
Good job Amit and Bruce.
---
11:08 am
authenticID – Blair Cohen, Founder & CEO and Brian Rossignol, CISO "DISRUPTIVE GAME CHANGER FOR THIS INDUSTRY" I think I've seen these folks before. "PictureID will eliminate fraud in face to face transactions". They are going to attempt to take over Jamie Dimon's account. This looks like an interesting demonstration. He got Jamie's SSN, DL #, DOB, all kinds of stuff. this looks pretty cool. "We will defeat 65% of ID fraud."
I think this does and will work. I like it.
---
11:01 am
GoodApril – Benny Joseph, Co-Founder and Mitchell Fox, Co-Founder First true online tax solution for consumers. I believe it's different from Turbotax and others as a year-round solution. Using a "Wheel of Fortune" wheel as an example. First product demo is GoodApril Tax Checkup. Web-based. Consumers upload current tax return. "Tax Checkup is just the beginning." I think the next part of the demo is helping consumers SAVE money, not just through tax returns but your current tax situation. New product: "REAL TIME TAX MONITORING SOLUTION".
It looks clan and easy to use. How do they make money, subscriptions? If so, they have not yet said how much it costs. I haven't seen a mobile version yet (which I feel they MUST have).
I think it looks very usable and I hope they are working on a mobile version.
---
10:53 am
Wallaby Financial – Matthew Goldman, CEO & Co-Founder "Get the most from your credit cards" – They have a Wallaby Card and mobile app. They use the Intuit platform as a backend. I believe they are launching a rewards component today.
It looks pretty cool but I'm having a trouble understanding what makes Wallaby different than so many others in the mobile/wallet/card/payments/loyalty space. Very clean web interface; it's clean and looks easy to use. I'm going to learn more.
---
10:46 am
Getting ready to start session 2
---
10:14 am
END OF DEMO SESSION ONE
Well, so far, so good. It's their biggest Finovate ever in San Francisco and I like it. See you in 20/30 minutes.
---
10:13 am
OpenCoin – Chris Larson (Founded eLoan and Prosper). He's talking about BitCoin and ripple now; global free payment networks. Send any currency anywhere in the world for FREE.
I've met and watched his career for many years and Chris is well respected and has been active in Finovate since their first conference. He may not remember but I turned down doing PR for eLoan in the early days as they only wanted to do project work, which we won't do.
He is demonstrating ripple's web-based currency exchange. It seems his premise is that these new types of math-based virtual currency are a safe alternative. What I want to know is how they make money.
Math-based currencies need gateways with pathways. Now showing a multi-currency payment. While it's browser-based it does has a cool GUI. "It federates the world's payment systems." Interesting. "HTTP for money."
---
10:05 am
Usher by MicroStrategy – Randall and Stephen is presenting (I'm sorry I didn't catch their full names).
Alternative log-in for mobile app using their "Usher" app. It looks pretty good as you can use it for Outlook log-in on your iPad not to mention mobile banking. NOT a payment platform but an authentification
Their parent company has been in business for more than 25 years; it's a big company. It looks pretty good. I wonder if they have a solution for SM-sized businesses like WMA.
---
09:58 am
P2Binvestor Krista Morgan, CMO and Clayton McIlrath, CTO
Wow, that was really coarse opening language. Krista started with something to the effect of "I'm Krista and I want to FUND your brains out!" but FUND sounded like another word that is NSFW. I hope I heard wrong but there was a smattering of laughter in the hall.
P2B is using DWOLLA, I think as a back end. It's a web-based investment platform (no mobile app shown yet). I guess it's a cross of Prosper/Kickstarter and a web-based investing/funding web platform. Crowdfunding investing. From their web site:
"P2Bi is convinced that small and midsized businesses are the engines for job growth and the key to economic prosperity in the United States. However, these businesses face real problems obtaining the short term working capital they need to keep growing. We also believe that today's investors, large and small, deserve the opportunity to support these companies while earning a fair return."
"Help us FUND their brains out!" at their closing again. "Please come get one of my T shirts." I have to admit. I'm skeptical.
---
09:51 am
FIS – Doug Brown from FIS and Chris Gardner, Co-Founder of Paydient
Not on stage but I THINK at the conference are Frank Martire, CEO & Chairman of the Board. I've known Frank for more than 20 years, back when Mellon sold Datalink to Fiserv. He's a great guy. FIS is one of, if not the largest technology provider for the banks in the United States. They have acquire perhaps 100 companies over the years (including at least 10 of our clients).
As I understand it Doug and Chris are showing a "white label" solution for banks and merchants for mobile payments/wallets showing use in two VeriFone devices. Consumer is using phone to choose card for payment but I thought he said it did not go through the VeriFone terminals. A QR code is generated on a VeriFone screen OR terminal printer paper to use your mobile phone. Showing a bill pay solution by taking a photo of a QR code on a bill. I'm unclear if this is available to ALL US banks/CU's and/or merchants or if you have to be a FIS customer. Platform is live in several cities.
---
09:43 am
Quantopian – John "Fawce" Fawcett, founder & CEO. Jean Bredeche, founder & CTO.
Launching today "Quantopian Live Trading". "The world's first Algorithmic trading platform in your browser." They are getting ready to right and test a live algorithm.
Coding on screen. Now going to test their algorithm. It has built-in data for back testing. Now it is trading in live production.
These guys are clearly smart. This seems to be the kind of company to present at Finovate Fall in New York where there are so many more trading solutions.
---
09:36 am
Narrative Science – Chris Hammond, CTO, and Katy De Leon, Director Marketing
"Human Insight at Machine Scale" – takes your data and turns it into natural language as I understand it. Business process, government, sports, FI's and other data. Investment research are client portfolio review reporting are two areas that a FI might use it.
I believe their product "Quill" can create a research report quickly that looks like an actual skilled person wrote it. As I understand it, some publishing companies are using this (or similar technology) to take raw Wall Street and other financial data and writing articles that are so accurate you can't tell a journalist wrote it.
It's powerful stuff. I have a feeling it is a little early for today's market but will become important in the years to come.
---
09:27 am
TrustEgg – Jeffrey Brice, Co-Founder & CEO, John Zdanowski, Co-Founder & CFO
Web-based family-based savings network. "only 5% of all families are using a 529 plan".
It appears easy and if it's insured by government insurance I would consider it for my granddaughter. Hiring ex-Mint executives. "Viral, retail deposit product". Nice presentation. I would think they should offer a mobile app.
---
09:24 am
Leaf – Aron Schwartzkopf, Co-Founder & CEO or Sebastian Castro, Co-Founder & COO (I'm not sure which one is presenting) I'm a bit unclear of their offering. Payment processing/mobile shopping application. "Simply better credit card processing solutions to provide your business with streamlined and honest payment processing." Android-based. They have an app store. I think it's cool but am not sure how they are different than so many other companies that offer payment/shopping/mobile wallet companies.
"POS companies are coming to us wanting to develop joint solutions." Showing nice reporting metrics and reports "VC's don't' like us" (but I'm not sure why). "Why can't let any person become a Leaf "friend?"" so I suppose anyone can become a reseller if they are a Leaf friend.
I like it but need to learn more.
---
09:14 am
Well, it's show time. I'm not a professional blogger but I started this live blog at Finovate Spring 2013 as this is an incredible event with the hottest innovations in the financial, payment, mobile and related industries.
EyeVerify is first: •Toby Rush, CEO • Chris Barnett, EVP Global Sales & Marketing
Demonstrating password process for mobile banking app. They are demonstrating their "simple, safe, secure" service using their Eyeprint Verification system: no password needed. It's cool; it's passed on a picture of your eye. They say it as secure as a fingerprint. They said it is two factor based but I am not clear what is the second factor besides the "eye print". Very cool.
---
09:00 am
getting ready to start…..
---
Want Brand Awareness for your new FinTech Innovation? Click Below.