William Mills Agency will be live blogging at FinovateFall 2017. Check back for new updates throughout the day.
02:53 pm
Best of Show Winners
---
04:13 pm
Well folks, it's networking time and then later best of show at 5:15pm. I HOPE to be here at that time, and if so I'll post at that time.
WM
---
04:13 pm

Socure
http://www.socure.com/
Presenters – Sunil Madhu, Johnny Ayers
@socureme
Leading digital verification provider using AI.
I've seen these folks at Finovate before. They use predictive analytics. They're showing a single API for verification. These folks are based in NYC (Silicon Alley) and have raised .4 million from 10 investors. I'd like to know what FIs they work with. They're also showing fraud risk prediction.
From Crunchbase: Socure is a New York-based software company that provides consumers and businesses with a next-generation security SaaS solution to fight against the risk of identity theft and related fraudulent activities. It enables the next-generation of multi-factor authentication by applying machine learning techniques with biometrics and data intelligence from email, phone, IP, social media, and the broader internet. The company capitalizes on alternative data that has proven to provide better fraud prediction capability. Founded in 2012, Socure is recommended for enterprises and financial institutions.
One of their investors is Synchrony Financial, which is kind of interesting. They are a huge credit card issuer that I THINK used to be GE's credit card group. Here is a nice interview with a founder: http://www.alleywatch.com/2017/08/nyc-startup-socure-raised-13-9m-to-be-the-backbone-of-digital-identity-verification/
I LIKE what they are doing, but I think they could do a demo with a bit more of a"WOW!" factor.
William
---
04:06 pm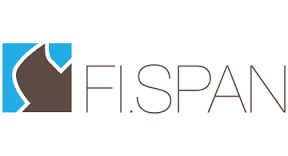 FI. SPAN
http://www.fispan.com/
Presenters – Lisa Shields, Clayton Weir
@FI_SPAN
Uniting banks and Fintech. FinTech service management for financial institutions.
"Re-Imagine Business Banking" and they help banks leverage other FinTech solutions through their exiting API program. They are showing a browser version of Oracle/Netsuite at a bank (Five State Bank) and how FI.SPAN will make their existing systems work better, easier.
I spoke to these folks last week and I was impressed. They are based in Vancouver, British Columbia, and I believe this is their first Finovate. As best as I understand, FI.SPAN provides instant connectivity between almost any bank technology with any other bank technology through their powerful API platform. They "pre-integrate" with best of breed FinTechs so you know that it already works when you deploy their technology.
Very good demo. Congratulations!
William
---
04:00 pm

Relationship Planner
http://relationshipplanner.com/
Presenters – Gibran Nicholas, Jihan Franco
ALLRIGHT! Another Atlanta-based company. We need to see more of these folks here at Finovate!
"17 years training and coaching FI professionals," they are a mobile-based CRM for banks, credit unions and other financial institutions." "SIMPLICITY of what users see when they login; each user has their own login." Good use of humor with a GAME OF THRONES reference. They're showing their CRM on a MacBookPro using the Firefox browser (I think that the is first use of Firefox I've seen in two days).
They are now showing a leader board and using metrics for competition between sales teams. Again, another great CRM User Interface (better than our CRM, but perhaps we can work on that).
I can't find anything about this company on the web except for one page of their web site. Perhaps, they are VERY VERY new. I bet they built this technology for a financial institution and then decided to market this as SAAS platform.
After further research, I found that Gibran worked at the CMPS Institute for many years, which helped train loan originators. I bet this app/platform "spun" out of CMPS.
Good job, and I hope to see you in Atlanta.
William
---
03:51 pm

Overbond
http://www.overbond.com/
Presenters – Vuk Magdelinic, Steve Smith
@overbond
Makes primary bond issuance digital, transparent and secure by connecting issuers with dealers and investors directly.
Another Toronto-based startup that started in 2016. They have .5 million in seed funding. Launching a partnership with Thomson Reuters. "Institutional investors find opportunities to finalize assets/investments – think of it like a dating app, put in your preferences for investments and we will present the best investment opportunities to follow or skip."
The UI is a little rough, but I bet the back-end is strong. This is for the BOND markets, which is huge. The sister publication to AMERICAN BANKER is BOND BUYER and I think it has been publishing for more than 100 years.
William
---
03:45 pm
Asseco
https://asseco.com/
Presenters – Adam Kiwala, Marcin Kwilosz, Tomasz Les
@asseco_pl
Asseco provides software solutions for demanding businesses.
This looks like a really big company that serves a number of markets and is based in Poland. This is from a recent earnings announcement: In the first two quarters of 2017, Asseco Group's revenues increased by 10% on annual basis to PLN 4.1 billion. Operating profit amounted to PLN 309 million. Revenues from the sales of proprietary software and services increased by 12% on annual basis to PLN 3.4 billion. The net profit attributable to shareholders of the parent company reached PLN 113 million at the end of June.
Showing a use case of "New Moto Cash Loan," which is a cross-device platform as they are now showing their mobile app (but their browser-based version looked really good as well.)
Since Finovate sold to Informa, I've been seeing more and more international FinTech companies at Finovate.
Good demo.
William
---
03:38 pm

Trusted Key
https://www.trustedkey.com/
Presenters – Prakash Sundaresan, Amit Mital
@trustedkey
Trusted Key's Digital Identity Platform provides a secure, reusable and privacy-preserving way for users to bring online their definitive identity documents (driver's license, passport etc.) and turn them into Trusted Key cryptographic credentials and tokens they control.
"Banks are spending 0 on KYC compliance per customer." So far, I really like what they are saying. They're how the "Trusted Key App" can open a bank account with verification of a drivers license and passport with image capture and processing.
They used Great Northwest Credit Union as an example. If this is one of their clients, it is a credit union based in Aberdeen, Washington, home of the late, great Kurt Cobain, lead singer/songwriter/guitarist of the band NIRVANA. (Just a little moment of trivia).
It's a good demo with an IOS and browser-based solution to authentication.
From Crunchbase: Trusted Key was founded to provide consumers and organizations with a secure digital identity solution. Their vision is to enable an Open Identity Network where users control their own identity using their mobile phones and securely interacting with governments, banks, retailers, universities and others. Users are able to securely log in to apps and services without the use of passwords, bringing online their definitive identity credentials in order to verify their identity as and when needed, protect themselves for identity theft-related fraud and access advanced services.
They're showing how a credit union member might scan their credit card and then use their card to make a purchase online. These folks have a strong board of directors made up of a former CEO of Symantec/Intuit as well as a top exec at Microsoft.
Very good work and demo. Congrats!
William
---
03:30 pm

AI Foundry
http://aifoundry.com/
Presenters – Sid Probstein, Chris Folmar
@AIFoundry
AI Foundry helps to automate and streamline enterprises by integrating info, people and processes.
I THINK he said this is a new company that was spun out of Kodak. Speaking about the mortgage origination process, this continues to be a problem in real estate finance. It LOOKS like they are live streaming from Finovate, but I don't think that is allowed. I wonder if Informa knows this and if they said it was OK to stream on Facebook.
Join AI Foundry on Tuesday, September 12th at 3:10 p.m. ET for a live demonstration of our latest innovation! Not going to the show? Watch the event live on Facebook!
The demo is going really well. He is using the Alexa voice app to find the status of his mortgage application process. GREAT use of humor. They are doing a great job. Congrats!
William
---
03:23 pm

RateSeer
http://www.rateseer.com
Presenters – Donna Tilden, Brian Smith
@rateSeer
RateSeer empowers people to find the most competitive rates available to them. It is a new fintech startup that helps consumers find the most competitive banking, mortgage, credit card and loan rates. RateSeer also offers services to financial professionals that provide them with up-to-the minute detection and notification of changes to thousands of market rates, commodities, currency and economic indicators.
Another Canadian-based FinTech, this one is based in Alberta. This year, there have a been a number of cool new FinTech companies from the Great White North. Why is this? Are Canadian FIs more willing to invest in the newest technologies? I suspect so.
William
---
03:17 pm

Dynamics Inc.
https://www.dynamicsinc.com/
Presenters – Michael Gerome
Dynamics designs and manufactures intelligent, battery-powered payment cards.
These folks are tied with MX/MoneyDesktop for winning the most "Best in Show" awards at Finovate. I'm wondering why Jeff, its CEO, is not here. It's a fascinating technology, but they are showing the same thing they showed last year: a card that can change from debit to credit in an instant (it has a battery and chip in the card) and this example (from last year) shows its Tim Horton Card with CIBC in Canada.
What may be new is a three button version of the card that allows you to choose the card credit, debit or points to pay. It looks like it's in beta. This company is a giant, raising more than 0 million so far in funding. I don't know why they are not used by more FIs in the U.S. as they are based in the U.S. They seem to be more popular in Canada.
William
---
03:12 pm
Optimove
http://www.optimove.com
Presenters – Pini Yakuel
@Optimove
A marketing cloud that orchestrates high-targeted customer communications, empowering brands to drive growth through CRM automation.
This is their first Finovate demo. They are a Tel Aviv-based company that has raised at least million in funding.
"Relationship marketing hub." This is a hot space. Our agency is a HubSpot PR Agency Partner and if you don't have a marketing technology platform on your desktop, you will. They will be as common as Microsoft Office.
From Crunchbase: Optimove's Customer Marketing Cloud is used by over 200 customer-centric brands to drive their entire CRM marketing operation. Optimove combines the art of marketing with the science of big data and machine learning to enable marketers to orchestrate highly-effective personalized customer marketing via channels including email, mobile, Facebook and Google's DoubleClick. Optimove's unique predictive customer modeling, realtime hyper-targeting and multi-channel campaign automation technologies help brands maximize customer spend, engagement, retention and lifetime value. The company has offices in New York, London and Tel Aviv.
Nice UI (better than our CRM). There is such an explosion of CRM and marketing automation technology platforms now; it's hard to keep up with the changes in this space. The product looks pretty good. My only challenge is figuring out how this fits: is it more a CRM or marketing automation, or both?
This technology will become increasingly important to financial institutions. Did you know that HubSpot's President/COO is on the Board of Directors of Fiserv? I don't think it's a coincidence.
This company works with FIs, gaming industries and more.
William
---
02:36 pm
Side note:
FinTech in Atlanta is HOT! We had one company from Atlanta present so far, GRO Solutions and we need more to present here at Finovate.
There are hundreds of FinTech startups in Atlanta and thousands of folks in the area that work in our industry at companies like Fiserv, FIS, NCR, First Data, Elavon, InComm and so many other companies. If you would like to learn more about FinTech in Atlanta, feel free to reach out to my brother Scott Mills, WMA President, at scott@williammills.com.
---
02:30 pm
Taking a short break. See you in 15 to 20 minutes…
---
02:30 pm

North Capital Investment Technology
https://www.northcapital.com/
Presenters – Jim Dowd, Sara Borazan
The leading provider of prime brokerage and technology application services to power financial marketplaces.
As a Utah-based company, they have technology that helps with Reg D, A and other private placements. They make it quick and easy for investors to raise capital, help investors to invest and help with compliance (KYC etc.). They have a Transact API Dashboard. This is a unique company. I don't think I've seen a FinTech demo that focused on this particular market segment.
Boy, Chrome sure seems to be THE browser of chocie, it's been used by almost all web-based demos on both laptops and iPads.
It looks like the company has raised million in funding. Here's additional information from Crunchbase:
million in one Round from three investors
Headquarters: Salt Lake City, Utah
Description: NCIT was founded in 2014 to provide technology to facilitate the offering, transaction and settlement of private placements.
Founders: Jim Dowd
They're showing how to send an investment payment via ACH. Interesting demo for a market segment that I have never seen here. Good job.
William
---
02:22 pm

GoodData
http://www.gooddata.com
Presenters – Matt Curtis, Stuti Shrivastava
@gooddata
Enable enterprises to unlock data value by sharing engaging analytics with their entire network.
It sounds interesting, but I haven't seen the product in action yet. They are showing how they fit in the Forrester "Wave" (like the Magic Quadrant). I'm getting a little frustrated, this is supposed to be a demo event. Show us the product, please!
With 2.5 minutes left, we are NOW seeing a bar chart. Guys, I hate to be negative but this would have been a LOT stronger if you had gone straight to the demo. There's less than two minutes left and we still haven't really seen the demo. NOW, we are seeing their "Asset Management System" platform on a web browser that's very basic. "Connects to Salesforce."
William
---
02:14 pm

Averon
https://www.averon.com/
Presenters – Tom Green, John Burman
The world's only fully-automated mobile security solution
Based in San Francisco, this too is a security company. Boy, that's a LOT of security companies. Let's see how they are unique. It looks like you have to use your cell phone to authenticate your identity prior to your online session. I'm assuming it's based on the SEID from the IOS or other mobile device. "This is new." "We ID the user the same way cellular carriers identify their devices."
William
---
02:07 pm

Sensibill
https://getsensibill.com/
Presenters – Corey Gross, Jamie Alexander
@getsensibill
Powering banks with best-in-class receipt management solutions.
They're showing a phone app with a Home Depot receipt. This Toronto-based company has raised almost million in funding.
From Crunchbase: Sensibill provides a turnkey digital receipt solution to the world's largest financial institutions. Our service allows retail customers to manage their itemized receipts from trusted financial services applications. The Sensibill platform combines best-in-class technology with a beautiful interface design to deliver an experience that creates a consistent customer engagement for banking applications and transforms customers into advocates.
I think I've seen this before and I like it. The receipt mobile capture not only captures receipt images, but also the data (down to the SKU level) and integrates it into their app so you can see a total view of purchasing. "The Trust is on The Receipts." I like that.
They're launching a new product, PULSE, which provides personalization of receipt technology for FIs. Almost a Pinterest UI – very easy to use and it looks like it is mobile-browser based as opposed to an app. Good job.
William
---
02:01 pm

Zafin
http://zafin.com/
Presenters – Adam Nanjee, Fares Raad
@Zafin
Award-winning tech platform enabling institutions to develop deeper, more personalized and more profitable client relationships.
HSBC, Barclays, Standard Chartered, CIBC, TD, BMO, BNS, National Bank of Abu Dhabi, Emirates NBD and First Bank are among their 30 clients. They're showing a VERY cool user experience, which I THINK is on an iPad. "Build out tailored financial products based on what you indicated you needed or wanted." They instantly created an online catalog and pricing. In a few short steps, the bank has created the right product for their customer at the right time.
The company is based in Toronto, Ontario (not surprising considering their customer base) and has raised million in funding so far.
Good job.
William
---
01:54 pm

Fiserv
https://www.fiserv.com/index.aspx
Presenters – Scott Graf, Dennis Wang
@Fiserv
Leading global-tech provider serving the financial services industry. Now showing a "Commercial Center Secure Browser" for First Financial Bank (demo bank). I'm thinking they are showing authentication for a commercial banking web platform, but I"m not sure.
I've worked with Scott in the past when he was with Online Banking Solutions (OBS) and before that Magnet Communications. He was a pleasure to work with. OBS was known for their commercial digital solutions.
EVERYBODY knows Fiserv, interesting that they are showing this particular product line at Finovate. Good demo. Congrats!
William
---
01:47 pm

Bpm'online
https://www.bpmonline.com/
Presenters – Matthew Tharp, John Binda
@bmponline
Premium vendor of process-driven software for marketing, sales and service.
A new approach to CRM to utilize all channels at a glance. They are showing a web-based system, which I'm wondering what it looks like on a tablet or mobile device. The UI is good (better than our CRM UI) and it seems like it's a CRM built for FIs. "This is a unified CRM" – connects to all your third-party systems. If it's less expensive than Salesforce, it might be popular.
William
---
01:35 pm

Nvstr
https://www.nvstr.com/
Presenters – Patrick Aber, Hayden Cacace
@NvstrOfficial
Intelligent investing. Makes the investment process easy and intuitive.
As a New York-based company, the solution is in beta and has a waiting list of people that want to use the system. They're showing a web-based investing platform. It's a very nice investing user experience. If I had to guess, it's actually a robo-advisory platform, but I'll have to wait to learn more. It seems it's kind of like an investment terminal with a social network aspect. An "machine learning technology," but I don't think I've seen a mobile app from these folks yet. Maybe the web UI is good enough where they don't need a mobile app.
William
---
01:29 pm

Jscrambler
https://jscrambler.com
Presenters – Pedro Fortuna, Rui Ribeiro
@Jscrambler
Leader in JavaScript Application Integrity and only client-site RASP solution to make apps self-defensive against tampering and reverse-engineering.
More Cybersecurity. This is REALLY big here. I found this story about this firm that looked interesting:
https://www.forbes.com/sites/alisoncoleman/2017/02/13/the-portuguese-entrepreneurs-who-are-protecting-your-javascript/
William
---
01:23 pm

Jiffee(Braintri)
http://braintri.com/jiffee/
Presenters – Maciej Stepien, Wojciech Zatorski
@Braintri_
Build innovative, custom software and provide specialized consulting services to banks and other institutions on the payments market.
"We can enable any device to accept payments." This a Poland-based company, and these folks were behind a successful Poland payments technology.
"We work with any phone and any terminal, not just Apple or Google Pay."
They're showing an IOS Jiffee App where they select the chosen card. Now, they moved to a POS device and some kind of add-on to the terminal. The dongle for the POS device is per terminal. Interesting. Phone to phone, any phone. Now they're showing a Android phone with the Jiffee app paying phone to phone. OK, how do they do the payment rails between devices and how do they make money? It's cool stuff, good use of humor. They are taking an old gum machine, and I'm assuming it has dongle and will now dispense chewing gum. Maybe it's Bluetooth-based.
This is an interesting demo. Great job!
William
---
01:15 pm
Getting ready to start the next session…
---
12:15 pm
Well it's time for a break, see you back after lunch.
William
---
12:11 pm

Malauzai
https://www.malauzai.com/
Presenters – Robb Gaynor, Danny Piangerelli, Craig Agulnek
@MalauzaiMonkeys
Digital banking solutions for community banks and credit unions
Full disclosure: WMA represents Malauzai for media relations.
Malauzai's MOX Pay is all about helping businesses get paid faster. A turnkey solution incorporating CRM, invoicing and payments into a simple solution for the business delivered through the bank's digital banking solution. MOX Pay uses the best in mobility and voice to engage employees and customers for making business payments.
"Digital banking is the new core." I like that sound bite. They're showing how an invoice can be created by voice via the iPhone. It was fast and accurate. They're also showing the web side on the left and the IOS app that is live today with one of their bank clients. "Network of local businesses built by the bank." This is a really interesting way to think about how bankers think about payments. It worked, and it worked fast. A lot of time these type of demos wind up failing at the conference, but everything is working great with Malauzai.
They're asking a voice assistant about very specific payments and receivables with accuracy. Very cool.
William
---
12:10 pm

AlphaPoint
https://www.alphapoint.com/
Presenters – Joe Ventura, Ted Pendleton
@AlphaPointLive
Helps institutions discover and execute their blockchain strategies.
ScotiaBank is a client. They are showing a presentation, not a demo now so I'm looking forward to the demo. These folks have been around a few years, but I don't think I've seen them here. It's three minutes in, let's see the product.
Now showing a web platform and speaking about ICOs and investing related to digital currency. Good use of humor, their fictional company on the demo is PIED PIPER, the fake company from the FANTASTIC HBO show, "Silicon Valley," which is one of my favorite shows.
William
---
11:57 am

Stash Invest
https://www.stashinvest.com/
@Stash
Simplified investing app.
"90% of all Americans don't have a retirement account." REALLY? If this is true, we are in trouble. I believe it, but it's still bad news. Cool name and branding.
These folks are New York-based and I don't think I've seen them before. They're showing their investment mobile app. VERY Cool mobile, user experience. I checked out their web site and they are promoting their IOS/Google Play mobile apps (no surprise) and I found this: This website is operated and maintained by Collective Returns, Inc. dba StashInvest ("Stash"), an SEC registered investment adviser.
Great mobile device app, offering credit to try it. I like it.
William
---
11:48 am

AFS
http://www.afsvision.com/
Presenters – Jason Boyer, Bill Butryn, Mark Deese
@afs_vision
An industry leader in lending and benchmarking solutions for financial institutions.
I've known this company a LONG time and decades ago we worked with Jim and John. They have some legacy systems at some BIG banks. I'm looking forward to their demo today to see what they are doing now.
They're showing a web platform related to their capitol markets solution. "Because it is an enterprise solution it has the information for all the commercial loans in the bank." It's a good web-based front end platform in Chrome on an iPad. I'm wondering how it looks on an iPhone or Android phone. They're also showing that they had a text alert on their phone and now back to the iPad for approval. The way they show their platform on an iPad looks pretty good; many web apps look bad on tablets.
William
---
11:41 am

ID Analytics (a Symantec Company)
http://www.idanalytics.com/
Presenters – Aaron Kline, Tim Manglona
@ID_Analytics
Transforming consumer risk management with patented analytics, proprietary data and real-time insight into consumer behavior. Very interesting UI on how companies and topics are integrated as well as the sentiment of the financial news. NEWS ANALYZER. "We can look at new differently."
Good use of humor. Showing examples of trying to enroll a new customer, now showing on IOS device. "Just take a photo of a government ID and it's that easy." It then returns information that validates/invalidates the data because of the billions of records in their database. This is pretty cool.
I'm curious where they got their original data. I'll check them out. Good job.
William
---
11:34 am
YUKKA Lab
https://www.yukkalab.com/
Presenters – Oliver Berchtold, Dennis Reckling
@YUKKALab
YUKKA Lab AG detects market sentiments and transforms them into innovative tools for the finance and communications industry. YUKKA Lab's software reads and understands financial news within seconds and provides asset managers and financial advisors with an information advantage at a considerable smaller expenditure of time.
It sounds like they can serve in a number of areas but I'm trying to find what makes them unique. Interesting UI showing news coverage sentiment related to countries and topics. they also have an "early warning" function that might alert a user that a sector might have some change in news and you may need to make investment changes to address. Interesting. I like it.
"Our model goes back to 2005".
William
---
11:26 am

GreatHorn
https://www.greathorn.com/
Presenters – Chris Fraser, Sean Varga
@greathorn
Helps companies secure email, chat and collaboration platforms communicate with confidence.
I like their branding. I don't think I know these folks, but they seem like they have a pretty good security product. They are based in Massachusetts so I bet they came out of MIT. They have raised .83 million in funding. RRE Ventures did seed funding and Series A funding. This is Jim Robinson's VC firm, yes THAT Jim Robinson, formerly CEO of AMERICAN EXPRESS.
Clearly, cybersecurity is a huge recurring theme at this event and is even more timely in light of recent events. This sounds like a smart, workable solution, but how does it differ from the other cybersecurity organizations?
William
---
11:20 am

Envestnet|Yodlee
https://www.yodlee.com/
Presenters – Anil Arora, Harini Padmanabhan
@Yodlee
A leading data aggregation and analytics platform powering dynamic, cloud-based innovation for digital financial services.
Yodlee has over the years been a HUGE presence here at Finovate. Even after their IPO and acquisition by Envestnet, they are still very active with Finovate. Showing a mobile app that demonstrates the power of the data. This technology powers a ton of other FinTech companies (something that I don't think most people know). The company is now Envestnet, but until they drop the Yodlee brand they will always be Yodlee to me. THAT brand has been around about 20 years from the "dot com" days.
They're showing how users spend related to subscription services and how someone might save money with their streaming. Is it a PFM? Bill saving? Savings? Perhaps all and more.
William
---
11:13 am

ebankIT
http://www.ebankit.com/en
Presenters – Diana Winstanley, Pete Atkinson
@e_bank_it
An omnichannel banking software company that helps financial institutions worldwide to future-proof their businesses.
We provide the platform above your bank's core system for an omnichannel experience. I think I met these folks in London and they seem real sharp. I suspect they are popular in Portugal and the EU. They're showing IOS voice app with their bank. Voice is going to be HUGE. Now using TouchID for verification. "No codes. No passwords. Just simplicity." Now showing with a voice device, I THINK it's one of the Google voice assistants (we use Alexa at home). Now showing use case with Amazon's Alexa with an Echo.
William
---
11:05 am

Uniken
http://www.uniken.com/
Presenters – Bimal Gandhi, Dwayne Cosby
@Uniken_Inc
A cybersecurity firm that makes connecting safe, simple and scalable through its flagship product.
It has 30 implementations so far. Increase interaction between their customers and THEIR customers with lower.
Commercial Bank of Chatham demo on now. That SOUNDS like a Georgia bank but I bet it's in New Jersey. Here are their locations: 7 World Trade Center
250 Greenwich St
New York, NY 10007
466 Southern Blvd
Chatham Township, NJ 07928
3 Shalem St.
Ramat Gan, Israel
5221550
Teerth Technospace
S. No. 103
Mumbai Banglore Highway
Baner, Pune
Maharashtra 411045, India
Showing Commercial Bank of Chatham web-interaction and how the bank's customer will authenticate with the bank's call center with REALID. No PII information needed (as a lot of it was hacked last week anyway).
Clients biggest complaint is authentication with a call center. I believe it.
Wiliam
---
10:21 am

Samsung
http://www.samsung.com/us/business/
Presenters – Richard Lobovsky, Ron Kozoman, Alan Carino
@SamsungMobile
As a global leader in enterprise mobility and information technology, Samsung Business provides a diverse portfolio of enterprise technologies from smartphones to wearables, tablets, digital displays and smart signage.
On stage with a partner, Thomson Reuters. Getting ready to show integration with biometric solution with a Samsung smartphone, Samsung smartwatch and other devices.
Showing Reuters screen on his computer where I think he has already been authenticated.
William
---
10:13 am

Finn.ai
http://finn.ai/
Presenters – Jake Tyler, Scott Walker
@finnforbanks
Innovative AI chat and voice solutions to empower banking customers.
Vancouver, Canada-based. "Think SIRI or Google Assistant but just for banking. We help banks and credit unions." Boy, voice and voice assistants are going to be HOT. They keep getting better and better. For example, they just asked their phone, "How much did I spend at Starbucks last month?" and there you go. Here's a link to an interview with their CEO: https://letstalkpayments.com/medici-now-finn-ai /
I'd like to know how they got in this business and what FIs are using it. I would suspect they got started with credit unions or a bank in Canada and it spread from there. I can't find info on funding.
William
---
10:05 am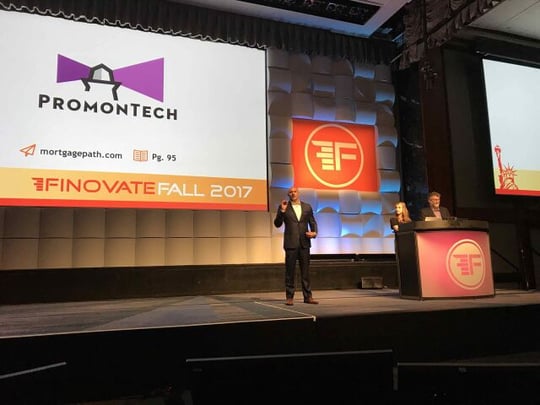 PromonTech
http://www.mortgagepath.com/promontech/ 9
Presenters -Michael Kolberner, Tony Pietrocola
@tpietrocola
PromonTech has a vision of a mortgage industry that is transparent, efficient and understandable for all: borrowers, lenders, regulators and investors.
Its a digital mortgage by Trusted Experts. I'm listening. Based in Denver, I can't yet find any VC info on them yet. They are showing three use cases, now "Whitefall Bank & Trust." They're showing, web and iPhone interfaces. Great design. "Loan officer still plays a key role in a mortgage origination." That's for darn sure. Mortgages are COMPLEX and quite intimidating for first time home buyers. Showing a preview of the credit decision interface/workflow. Good job.
William
---
09:58 am

Finicity
https://www.finicity.com/
Presenters -Nick Thomas, Jessie Morris
@finicity
Provides an Application Program Interface (API) for Fintech apps to connect to banks.
"Previewing this function that will be available to select lenders in the coming weeks." They're showing a lending example using their API. I'm thinking that they are making it easier for FIs to connect to new FinTechs through their APIs. "We cover over 80% of the DDA accounts in the U.S." These folks have raised a lot of funding, more than million. They are based in Utah. "Working with Fannie Mae and Experian." "Wells Fargo and JPMorgan CHASE are clients." These are "high steppers" and I'll need to learn more.
William
---
09:50 am
eSign Live by Vasco
http://www.esignlive.com/
Presenters -Tommy Petrogiannis, Francois Leblanc
@eSignLive
Leading provider of esignature solutions for business via on-premises, cloud and SaaS, working with banking, insurance companies and government agencies.
"I want you to [remember] three things:
1. Frictionless digital lending is possible
2. There is a new digital currency in the world
3. Through the power of Blockchain you bring transparency"
They're showing a use case for auto finance. Nice UI. Showing a consent form to execute the agreement electronically. What I'm trying to understand is what is different from this use case vs. traditional e signatures? I suspect it's on the back-end. They're also showing web-based "e-Vault Manager Console" and selling an auto loan to an investor. OK, I'm getting it. Now showing the view from the investor side.
William
---
09:45 am
ENVEIL
https://www.enveil.com/
Presenter – Ellison Anne Williams
@enveil_inc
Powered by homorphic encryption, ENVEIL's technology is the first scalable commercial solution to cryptographically secure Data In Use.
"Developed with the NSA," no wTHAT caught my attention. These folks are based in Maryland so that explains the NSA connection. I like what she's saying, but I haven't seen anything on the demo yet that really knocks my socks off. I guess in summary it's SUPER ENCRYPTION for transactions, document movement.
Our IT/Cybersecurity team at WMA has told me that their mission is to keep the NSA from getting into our systems. They figure if they NSA can't get in then the "bad guys" can't. Now that I wrote this, I figure they will be working on getting into WMA more diligently.
Now getting ready to show a demo on an iPad (?) app for a query and the background functions on the right. WAY over my head but it looks like a really smart company.
WM
---
09:37 am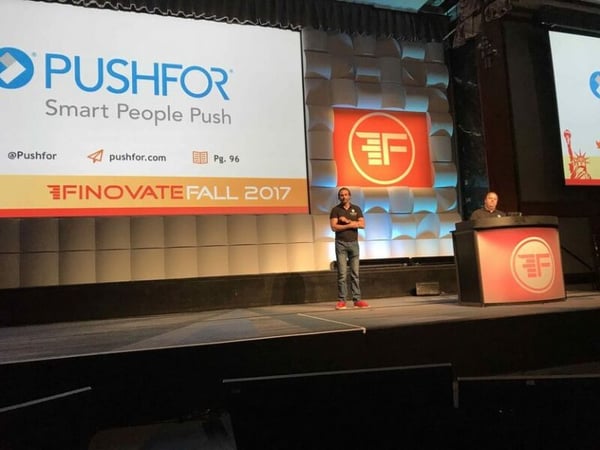 Pushfor
https://pushfor.com/
Presenters – John Safa, Crispin Luxton
@Pushfor is a software product company, established in 2013, with a vision of making content sharing secure in a mobile connected.
"We are able to share any type of content to any type of device." They're showing a Push on the tablet (on the left) and the experience on an iPhone (on the right). These folks are based in London and have raised .64 million in funding. Here's a link to a good article on their funding and their mission: http://www.finsmes.com/2016/11/pushfor-raises-1-2m-in-pre-series-a-funding.html
Speaking about a use case for M&A, which dynamically alters the user experience in different devices. Interesting.
William
---
09:29 am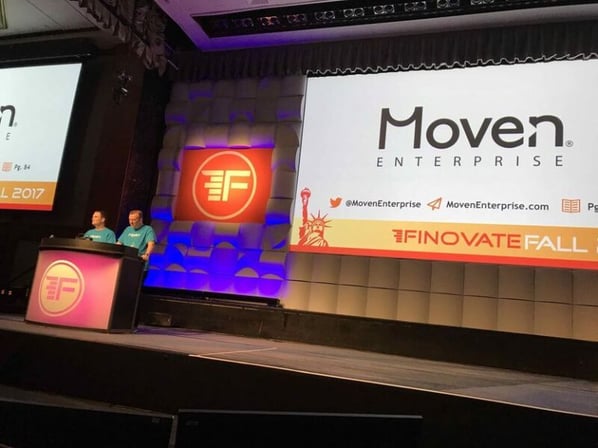 Moven Enterprise
http://movenenterprise.com
Presenters- Morten Kriek, Ryan Walter
@getmoven
A debit account that tracks your money for you, instantly. It offers benefits in three key categories: new ways to acquire customers, innovative ways to engage them and powerful channels to grow the relationship over time.
These folks have raised more than million in VC. Brett King is a real FinTech "rock star" and they have a good reputation. "Live in four countries," showing a mobile app now. They're showing an app to better understand spending habits and how they "fit" with savings goals. They're also showing items that a buyer might want on their "wish list" and how long it will take to buy the goal item. Now they're showing the Moves chat bot appearing on the app. Now the bank is a "trusted advisor."
William
---
09:22 am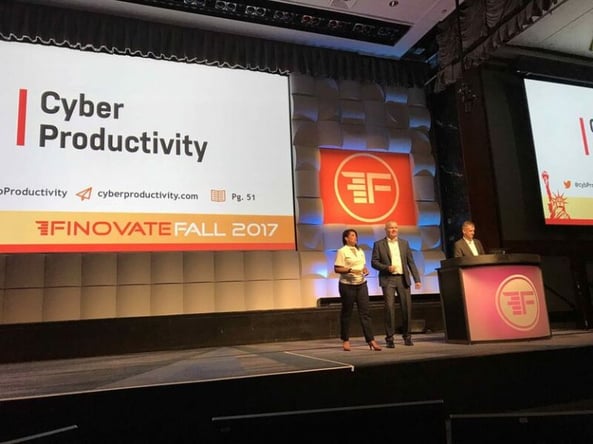 cyberProductivity
http://www.cyberproductivity.com/
Enable real-time booking, fully automated reconciliations, semantic cost categorization backed with sophisticated AI accounting rules. Offer small and medium businesses daily information for management, with a special focus on cashflow projects and management.
"Most small businesses fail due to cash flow problems." Its an add on to existing online banking. They're showing a use case at mBank. It looks like they started in Poland and have offices in Palo Alto, California. It looks like they are popular in Poland, but I haven't yet found a bank in North America that uses their technology. Nice web-based UI. Whether it's from this company or another, FIs really need 21st century technology to better serve their small business customers or some other non-bank in Silicon Valley. They might wind up taking away some of your best customers.
William
---
09:14 am

Sensory
http://www.sensory.com/
Presenters Todd Mozer, Jeff Rogers
@Trulyhandsfree
A profitable, venture backed, privately held company focused on improving the user experience through embedded machine learning technologies such as voice, vision and natural language processing.
"Companies like Google use our technology. Integrated a bunch of technology." Showing an AVATAR on a mobile device; it looks interesting. Enrolling voice and face in just moments. "Welcome to Sensory Banking." While very interesting, what is the value prop for banks and their customers? Demo problems, but it worked out. Very visually interesting. It's like taking SIRI to the next level.
William
---
09:04 am
It's show time! Intro video is rolling and the first company will be up soon.
---
08:12 am
Good morning! We are setting up this morning at Finovate. If you are here and would like to meet please stop by. I'll be onthe front row most of day. Thanks!
William
---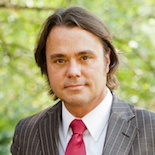 William Mills III, Chief Executive Officer of William Mills Agency is live blogging today at FinovateFall 2017. He has more than 34 years of experience in financial technology and is a recognized leader in financial and technology marketing. He has personally advised more than 300 chief executives on marketing strategy, business development, mergers and acquisitions, company branding and public relations. You can contact him via email at william@williammills.com or on Twitter @williamemills.