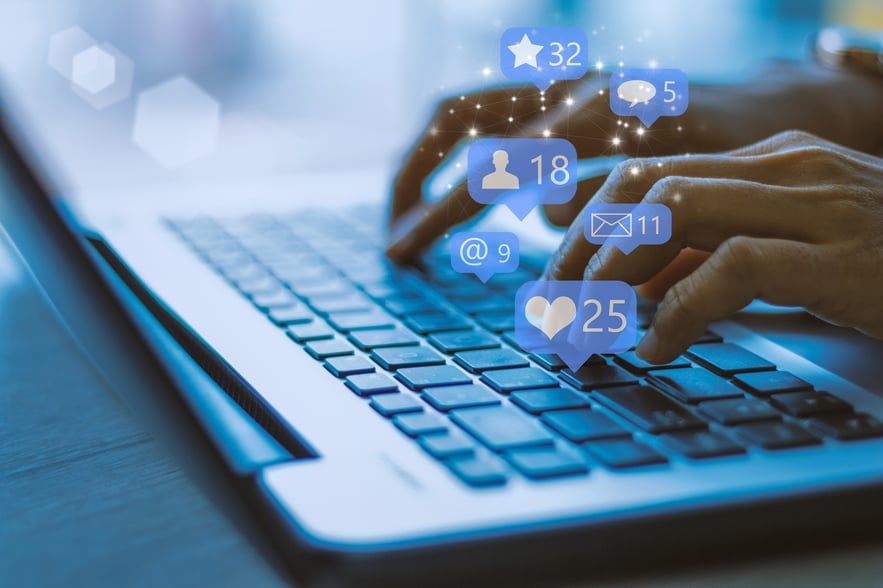 There's no denying social media is a great tool for creating consistent, genuine interest in your brand and business. While historically companies in the financial industry (and B2B in general) have been slower to embrace social media, more fintech companies are recognizing its importance in supporting marketing and lead generation. And while fintech companies are certainly upping their game, a frequently overlooked (but very important) component of any successful social media campaign is employee engagement.
Often, employees are perceived as "people like me" by your customers, so they can be an asset to your social media plan. Additionally, your employees' social connections can help amplify brand visibility, increase lead quality, drive web traffic and boost social recruiting. While employee participation is always optional and personal privacy must always be respected, providing tools and guidelines for promoting company content is helpful for those who wish to engage.
First and foremost, employees need to feel empowered and free to share your company's content if they wish to do so. You want them to know the company is fully behind their participation and that you trust them with it. To this end, creating a simple but thorough social media policy guidebook for staff is an important first step.
Having a social media policy for your business is the best way to make sure your employees know how, and when, to act on various channels. Social policies also help to ensure your employees are attuned to your brand and are familiar with your mission, vision and voice. This helps safeguard your brand's reputation and encourages employees to responsibly share messages, which is even more important in a regulated industry like financial services.
As with most things, company initiatives stand a much better chance of success when backed by the executive team. So, lead by example. When employees see your executive team walking the walk and talking the talk, they're more likely to join in. Your leaders should serve as role models and have a strong social media presence. By sharing content, they can encourage employees to follow suit.
It's important to keep in mind that not every employee is up to speed on all of the best social media practices. So another way to help employees become more involved is by regularly sharing tips and tricks. For example, provide suggested company images, the best day/time to post or ways they can optimize their company profiles.
Another way to increase engagement is by making it easy for employees to find and share your company's content. Some organizations use an internal content hub with data and graphics that any employee can use; others might share content through internal newsletters or company-wide emails. To make it even easier for your employees, you may consider drafting suggested posts so all they have to do is copy and paste. The easier, the better.
The ultimate goal of your social media marketing efforts should be to give employees a sense of pride in their company and help spread your content across their networks. With the right strategy in place, some patience and dedication, your company can realize even greater benefit from its social media marketing initiatives.