By Jerry Goldstein, Senior Vice President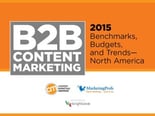 The recently published research report B2B Content Marketing 2015: Benchmarks, Budgets and Trends – North America written by Content Marketing Institute and Marketing Profs has a number of interesting data points and paints a picture of the current state of the union for CM. Since the beginning of the year, I routinely speak with six to ten companies in the financial industry each month who are currently looking to launch a content marketing program or improve upon their initial efforts.
I thought it might be useful to share what we see and compare to CMI's research.
Major findings from B2B Content Marketing 2015: Benchmarks, Budgets and Trends – North America Report
86% of B2B marketers use content marketing.

(This statistic, by itself is pretty meaningless. Content marketing tactics consist of any and all forms of information publishing. Every organization produces some form of content.)
Content marketing tactics used within B2B organizations: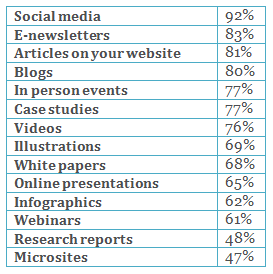 83% of B2B organizations have a content strategy, but only 35% of organizations have a documented strategy.

(The message here is obvious – a strategy that is documented and vetted across the organization is going to help create more effective outcomes.)
Those with a documented strategy have more commitment to creating content and have dedicated resources to this task versus the other segments, and as a result, are better at tracking ROI

(although still a big issues regardless)

and are more inclined to consider themselves effective.

Creating engaging content remains a major issue for most organizations, with or without a strategy.
Our Content Marketing Observations from Financial Organizations
While our observations are purely qualitative in nature, we have had enough conversations with companies to identify the following trends.
More and more financial services companies are investing in marketing automation software. We often (too often!) see these investments not supported by a strategic plan for content marketing, i.e., without clear goals and objectives, necessary budgets or resources to develop the content.
We often encounter companies who are seeking help with their plan and content, after having tried implementing internally or having used a content marketing consultant or agency to implement their marketing platform who lacked the knowledge of financial markets and products and the skills of content development.
We see many organizations struggling to produce results. The key issue is not the technical implementation of their marketing automation system, but the lack of compelling content. Far too many financial services companies are using their blog as a mirror image of their Facebook account or recreating their sales materials in their white papers instead of creating insights about the problems their customers face and how to solve them.
Three Suggestions for Creating a Successful Content Marketing Initiative
Plan your work and work your plan. It's an old saying, but a wise one. Set goals for growing website traffic, converting visitors to leads and leads to customers. Create special content to assist at each stage.
Invest in marketing automation. Content marketing demands a marketing automation system to execute effectively.
Engage an outside resource or partner to assist in content creation. While you may be an expert on your company's products or services, writing compelling content is an art. Being a PR and marketing agency, we think we are ideally suited to address this issue, as content creation is a core competency of everyone within our agency. Many content marketing companies are skilled at implementing a marketing automation platform but lack content creation knowledge of financial markets and products. Choose your partner wisely.