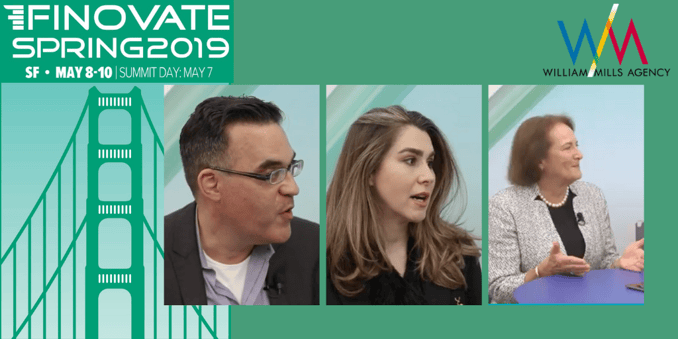 Folks, I have been pleased to see that in the last few years, Finovate has grown to boast one of the largest international presences of any fintech event. At FinovateSpring 2019 last month, there was an unprecedented emphasis on small business, artificial intelligence and mortgage solutions. While at the show, I had the opportunity to interview Karen Gordon Mills, Senior Fellow at Harvard Business School and former Administrator of the U.S. Small Business Administration; Ronak Pakzad, founder of GoodWealth; Steven Ramirez, CEO of Beyond the Arc;and Rick Winslow, Chief Experience Officer of Kabbage.
Karen Gordon Mills served in President Barack Obama's Cabinet as the Administrator of the U.S. Small Business Administration at the height of the Great Recession. She took steps that led to record-breaking years for SBA lending and investments in growth capital. Karen shares how her impressive career has impacted her view of small business lending and how technology can change the game.
Ronak Pakzad is the founder of GoodWealth, an investment platform democratizing the access to institutional quality growth stage tech investments. Ronak and I discuss how the platform is creating the opportunity for the everyday investor to align their portfolio with their desire to have a social impact. GoodWealth will launch later this year, so keep an eye out for updates.
Steven is a good friend of the agency's and CEO of Beyond the Arc. He is a popular industry analyst, writer, and speaker in financial services and fintech. His insights have appeared in American Banker, ABA Banking Journal, ABA Bank Marketing, Financial Brand, Bank Innovation, Mortgage Banking, and other industry publications. Steven and I discuss why fintech funding has accelerated and what the biggest trends in financial technology for banks may be in the future.
Rick Winslow, Chief Experience Officer, Kabbage talks responsible borrowing behaviors, the importance of being able to provide much smaller lines of credit to small businesses and trends within fintech at FinovateSpring 2019.