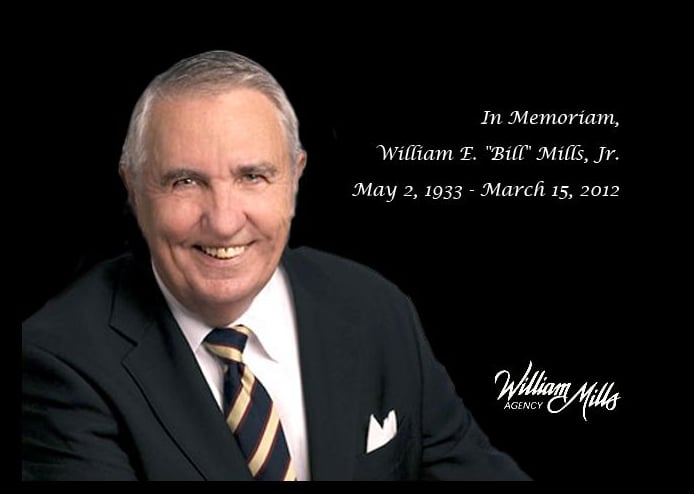 It's been 45 years since my dad founded William Mills Agency, and 10 years since he passed from ALS.
William Mills, Jr., or more commonly known as Bill, was the best father anyone could have. I had the opportunity to be his son, but also someone that worked for, and with, almost every single workday at the agency for more than 29 years. He was not only my father, but also my mentor, role model and great friend.
I, and so many others, learned so much from Bill. We listened, but his actions spoke so much louder than words. There is not enough time in the world to speak about all the great things he did, but there are some really important lessons I learned from my dad that still resonate with our agency today.
Family comes first, always
My dad loved my mother, Eloise, as much as any person could love another. His unconditional love for my mom set an example for both my brother, Scott, and I on how to be the best husbands to our wives. Growing up, I thought that everyone loved his or her spouses unconditionally, and forever, like he loved my mom.
Love for family and friends
Besides my mother, my dad loved his family, friends, his Sunday school class, the people he worked with and so many more than anyone I ever knew. I would be less than candid with you if I didn't admit that me and Scott (especially me) gave my parents some very difficult times in our youth.
But, his unconditional love for us never ceased, and when we both grew up and started our own families, it was clear that his love knew no bounds.
Faith
My dad was very active in our church and community. His faith was the strong backbone of the incredible man that he was. Bill was generous with his time and money to his church, non-profit organizations, his family, friends, employees, and many more.
During the hard financial times of the 2008 financial crisis, Bill bought stock in a failing community bank in Wakulla County Florida even though he probably knew that the bank would most likely fail. He wanted to help his friends and his community, and always inspired others to live a life of service.
Life's better with a little fun
My dad knew the importance of having fun, and he would make any event a little brighter. Whenever my parents vacationed, or went to a social event, or even had a simple dinner with friends, we would ask, "How was it?" And he would always say, "We had a WONDERFUL time!" and go on and on about how much fun they had.
At the agency, he always started off Monday mornings with a staff meeting to kick off the week. Bill believed in working hard and enjoying time off, so he would go around the room and ask folks to talk about their weekends. He loved hearing stories about concerts, movies, events, parties, and more. He encouraged all of us to have fun. To this day, we still start the week with an all-staff meeting for everyone to share their weekend highlights.
Bill's continued impact
Being a family-owned business, my father worked hard to cultivate a company culture in which family comes first. This is still embedded in our culture today. More than two-thirds of William Mills Agency employees are women, many of whom have children that we've been able to watch grow up over the years.
Whether it's celebrating a birthday, wedding, addition to their family, or providing support during hard times, our associates know that we will always support their needs and respect their time with their families.
Although it has been ten years since he passed, the legacy of Bill Mills continues to live strong in our business. His passion, care and dedication to employees, clients and partners will always shine throughout WMA.
We miss you, dad.