- Recognized for effective content marketing plan, increases qualified leads for client -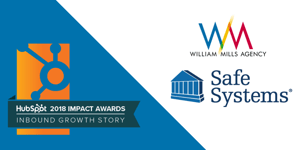 ATLANTA, March 27, 2019 –William Mills Agency, the largest independent public relations and marketing firm specializing in the financial industry, has been named a HubSpot Inbound Growth Story Impact Award winner for their efforts in growing the business for Safe Systems, a national provider of fully-compliant IT and security services for community banks and credit union, through inbound marketing.The Inbound Growth Award honors the agency's marketing success by highlighting a client's rapid development using practices based on five categories including: challenge, solution, results, impact and overall quality. William Mills Agency received 88.5 out of a possible 100 points attributed to the agency's excellent results.
William Mills Agency helped Safe Systems execute the inbound strategy that generated more than $6 million in marketing-related revenue, an expansion of the company's geographic range and a higher than expected increase in leads and visits to its website. Pillars of the content marketing plan include SEO, expansion of buyer personas, assimilation of marketing automation software, HubSpot, and execution of Salesforce integration into HubSpot's platform which was instrumental in achieving the goals set by William Mills Agency.
"The William Mills Agency team was able to use their knowledge about inbound methodology to implement our content marketing program so it had maximum impact and produced a number of qualified leads for our sales team," said Christine Filosa, chief marketing officer at Safe Systems.
Please click here for more details.
"HubSpot is proud to call William Mills Agency a partner," said Katie Ng-Mak, VP global partner strategy and operations at HubSpot, Inc. "They have been recognized for their innovative and strategic inbound approach to help their clients succeed."
"We are thrilled to be selected by HubSpot to win the Inbound Growth Story Impact Award," said William Mills, CEO, William Mills Agency. "Our clients are looking to us to deliver strategic inbound marketing plans that bring results, and that's what our partnership with HubSpot allows us to do. It's evident in the clear results Safe Systems is seeing."
About William Mills Agency
William Mills Agency is a public relations and marketing firm serving the financial technology, insurance, healthcare and retail technology industries. The agency has established its reputation through the successful execution of media relations, marketing services and crisis communications programs. The company serves clients ranging in size from small start-ups to large, publicly-traded companies. For more information, please visit www.williammills.com.
Follow William Mills Agency:
LinkedIn: WMA LinkedIn
Twitter: WMA Twitter
Facebook: WMA Facebook
#