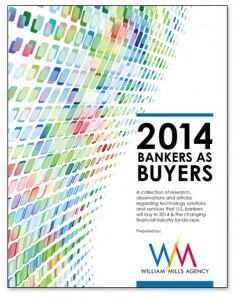 --Provides insights on technology buying habits of financial institutions --
William Mills Agency, provider of financial public relations and marketing services, today released its Bankers As Buyers report, its annual financial services industry research report, a collection of research, observations and articles about what technology, solutions and services North American bankers will buy in 2014. The survey is available for free download at:http://info.williammills.com/bankers-as-buyers-2014.
Some of the insights are provided by: Aite Group; American Banker; American Bankers Association; Beyond the Arc; CEB TowerGroup; Celent; Clientific; Cornerstone Advisors; CSI; Credit Union National Association; Crone Consulting, LLC; CTS North America; D+H (Harland); Equifax; Federal Deposit Insurance Corporation; Federal Reserve; FIS; Fiserv; Gartner, Inc.; I7strategies; IDC Financial Insights; IPSOS; Jack Henry Banking; Javelin Strategy & Research; Malauzai Software, Inc.; Mercator Advisory Group; Mortgage Bankers Association and Sawyers & Jacobs, LLC.
This year's findings indicate financial institutions are continuing to stabilize as a result of economic growth. Many financial institutions are utilizing outsourcing, resource sharing and technology to reduce the growing compliance burden. IT spending in financial services will exceed $430 billion in 2014, growing to $500 billion by 2020, according to IDC Financial Insights.
Some key findings from this year's Bankers As Buyers report include:
Banks are proportionally spending less on internal IT resources and more on third-party providers. Spending on third-party providers has grown to 45 percent of total IT spending, compared to only 28 percent 10 years ago, according to Jerry Silva, research director of global retail banking for IDC Financial Insights.
In the third quarter of 2013, banks shuttered 390 branches, a trend that is expected to continue in 2014. The closures came as consumers continued to gravitate to mobile and the Internet for their basic banking needs – payments, deposits, balance queries and money transfers.
The Mortgage Bankers Association (MBA) expects to see $1.2 trillion in mortgage originations during 2014, a 32 percent decline from 2013. While MBA expects purchase originations to increase 9 percent, it expects refinance originations to fall 57 percent.
An ABA/Ipsos survey of 1,000 U.S. adults revealed that while the Internet remains the most popular banking method, mobile banking has eclipsed the popularity of telephone banking.
Celent estimates spending on Big Data in risk management will grow from $470 million in 2014 to $730 million in 2016.
Gartner predicts worldwide mobile payment transaction values will reach $235.4 billion in 2013, a 44 percent increase from 2012 values of $163.1 billion.
According to the FDIC, 8 percent of all households are considered "unbanked."
Click to tweet WMA releases "Bankers As Buyers." A free financial industry report on the buying habits of Financial Institutions.
Follow William Mills Agency
Linked In: WMA LinkedIn
Facebook: WMA Facebook
Twitter: WMA Twitter
About William Mills Agency
William Mills Agency is the nation's largest independent public relations and marketing firm to the financial services industry. Founded in 1977, the Atlanta-based company has established its reputation in the industry through the successful execution of media relations, marketing services and crisis communications campaigns for hundreds of companies ranging in size from entrepreneurial start-ups to large, publicly traded corporations throughout North America, Europe and India. For more information, please visit www.williammills.com.
About Bankers As Buyers
The 2014 William Mills Bankers As Buyers survey is the firm's 11th annual financial services industry research report. The report provides information on the buying habits of financial institutions and includes commentary and contributions from industry analysts, banking consultants and financial technology professionals. For more information, visit www.williammills.com.