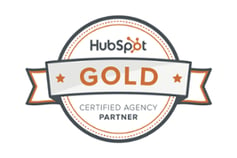 William Mills Agency, the largest independent public relations and content marketing firm specializing in the financial industry, announced today that it has achieved gold level status as a HubSpot certified agency partner. HubSpot recognizes partners based on sales revenue for its platform, on-going client support relationships and passing an annual certification exam. Roughly ten percent of HubSpot's partners reach the gold level.
"William Mills Agency has an incredible knowledge of both the financial sector and content marketing which they have combined to consistently accelerate marketing and sales growth through their digital presence," said Jordan Benjamin HubSpot channel account manager. "Working with the savvy William Mills team is a privilege, and I look forward to their continued success as an agency and the continued success of their clients."
HubSpot's partner program acknowledges not only agency partners who have brought inbound messages to the most clients, but also those who execute inbound marketing services to the highest standards. Agencies achieve tier status based on several metrics including retention of clients, use of HubSpot software functionality and overall inbound marketing success.
"We are very proud of our agency's designation as a HubSpot gold certified agency partner," said Jerry Goldstein, senior vice president, William Mills Agency. "Content marketing is a mainstream marketing tactic within the FinTech industry, and our clients look to us to develop and implement their entire content marketing strategy. HubSpot is the ultimate partner, providing us with the tools, platform and knowledge necessary to execute successful content marketing programs that drive leads and new business for our clients, which is the ultimate goal."
About HubSpot
HubSpot ($HUBS) is the world's leading inbound marketing and sales platform. Since 2006, HubSpot has been on a mission to make the world more inbound. Today, over 15,000 customers in more than 90 countries use HubSpot's software, services and support to transform the way they attract, engage and delight customers. HubSpot's inbound marketing software, ranked #1 in customer satisfaction by VentureBeat and G2Crowd, includes social media publishing and monitoring, blogging, SEO, website content management, email marketing, marketing automation and reporting and analytics, all in one integrated platform. Sidekick, HubSpot's award-winning sales application, enables sales and service teams to have more effective conversations with leads, prospects and customers. Recognized by Inc., Forbes and Deloitte as one of the world's fastest-growing companies, HubSpot is headquartered in Cambridge, MA with offices in Dublin, Ireland, Sydney, Australia and Portsmouth, N.H. Learn more at www.hubspot.com