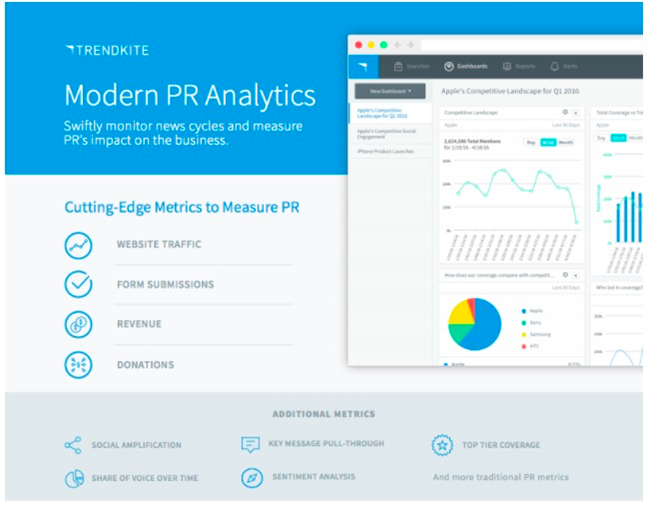 William Mills Agency, the largest independent public relations and marketing firm specializing in the financial industry, announced today it has entered into a formal relationship with TrendKite to provide comprehensive reporting capability to clients. The Austin, Texas-based company offers public relations reporting services through detailed analytics coupled with visually appealing, interactive and mobile-friendly graphics. The agency provides the TrendKite platform as a premium service offering and has several clients already using it.
To see more about the agency's use of TrendKite, visit http://info.williammills.com/trend-kite-pr-measurement-analytics.
"TrendKite is proud to partner with William Mills Agency, a leader with a well-established reputation in financial technology, public relations, and marketing services," said Erik Huddleston, CEO, TrendKite. "Leveraging our Intelligent Communications Platform, William Mills can now harnesses artificial intelligence to understand and influence every part of the earned media ecosystem, enabling their clients to make data-driven PR decisions. They will also have the benefit of reporting in an engaging, digital format, which can be shared and easily understood across the marketing mix."
"Understanding the effectiveness of PR programs is really important," said Scott Mills, President, William Mills Agency. "Without TrendKite, gathering the information for this type of reporting is extremely difficult and certainly not a cost effective use of time. As a service business, we find these reporting capabilities help us quantify the impact of a public relations campaign in a sleek, compelling format that includes graphs and interactive charts."
About TrendKite
Founded in 2012 in Austin, Texas, TrendKite provides comprehensive PR software to agencies and corporate brands to help measure and analyze the impact of their PR efforts across multiple channels with minimal effort. With TrendKite, customers can focus on quality, high-value media coverage rather than just quantity. TrendKite recently won a 2015 IMPACT award for "Solution of the Year." The Internet Marketing Association's IMPACT15 event honors marketing industry innovators and leaders.
For more information, visit www.trendkite.com or contact them at office@trendkite.com.
About William Mills Agency
Founded in 1977, the Atlanta-based company has established its reputation in the industry through successful execution of media relations, marketing services and crisis communications campaigns for hundreds of companies ranging in size from entrepreneurial start-ups to large, publicly traded corporations throughout North America, Europe and India. For more information, please visit www.williammills.com.