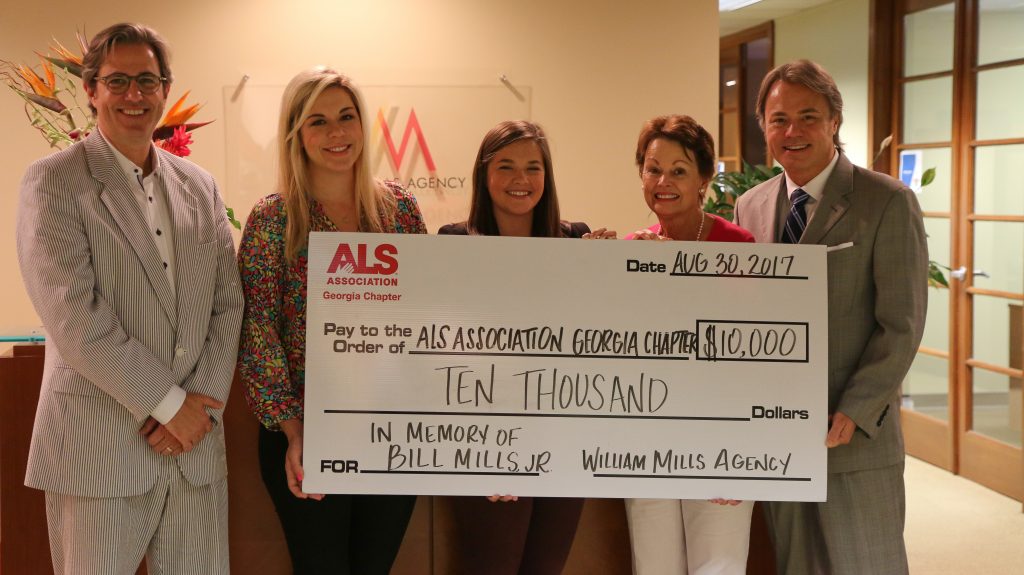 William Mills Agency (WMA), the largest independent public relations and marketing firm specializing in the financial industry, announced today a $10,000 donation to the ALS Association of Georgia.
Five years ago, WMA lost its beloved founder, William "Bill" Mills, Jr. to ALS. In addition to starting William Mills Agency with his wife, Eloise, and working closely with a talented team that includes their two sons, William and Scott, Bill was an avid runner who participated in Atlanta's Peachtree Road Race more than 30 times. In Bill's memory, WMA began the fundraising for this effort by fielding a team of six runners in this year's July 4th race in commemoration of the agency's 40th anniversary.
The ALS Association of Georgia is the only nationally affiliated, not-for-profit health organization dedicated solely to Amyotrophic Lateral Sclerosis (Lou Gehrig's Disease). Its mission is to find the cause and work to discover a cure for the disease through research.
"We are extremely thankful to have such a generous, caring community of friends, partners and clients who joined us in helping make this donation possible," said Eloise Mills, Chairman of William Mills Agency. "The outpouring of support for this campaign means a great deal to WMA. We hope our small donation will help in research toward the cause and cure for the disease. The donation in Bill's memory makes it even more special."
About William Mills Agency
Founded in 1977, the Atlanta-based company has established its reputation in the industry through successful execution of media relations, marketing services and crisis communications campaigns for hundreds of companies ranging in size from entrepreneurial start-ups to large, publicly traded corporations throughout North America, Europe and India. For more information, please visit www.williammills.com.
About The ALS Association Georgia Chapter
The ALS Association Georgia Chapter is the only nationally affiliated not-for-profit health organization dedicated solely to the fight against Lou Gehrig's Disease. The ALS Association Georgia Chapter provides patient consultations, a medical equipment loan program, patient and caregiver support groups, an in-home care and respite program, and support for ALS clinics in Atlanta, Augusta and Macon. The local chapter also joins with chapters across the country to support research and participate in federal advocacy initiatives. To learn more about Lou Gehrig's Disease and The ALS Association Georgia Chapter, visit www.alsaga.org.