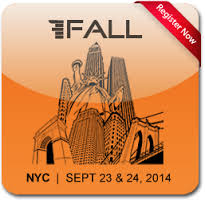 Who: William Mills, CEO of William Mills Agency, a provider of financial public relations and marketing services, and Steven Ramirez, CEO of Beyond the Arc, a provider of strategic consulting for financial services firms, will deliver live blogging and video coverage at FinovateFall 2014. Those unable to attend this year's FinovateFall conference can follow Mills' coverage to receive real-time updates and recaps on the latest and most significant companies and trends in the financial services industry. Additionally, Mills and Ramirez will review conference presenters and demos by video twice a day.
When: Live blogging and video coverage will occur September 23-24

Where: Interested parties can access it at: www.williammills.com/blog/
Contact: Ronald Anderson, ronald@williammills.com, 678-781-7219
About Beyond the Arc, Inc.
Headquartered in the San Francisco Bay Area, Beyond the Arc combines strategy consulting with advanced analytics to help financial services clients identify opportunities to differentiate themselves in the marketplace. Our social media data mining helps clients improve their customer experience across products, channels, and touch points. For more information call 877.676.3743. We also share insights on social media, financial services, and more on our blog, and on Twitter, Facebook, LinkedIn, and Slideshare.
About William Mills Agency
Founded in 1977, the Atlanta-based company has established its reputation in the industry through successful execution of media relations, marketing services and crisis communications campaigns for hundreds of companies ranging in size from entrepreneurial start-ups to large, publicly traded corporations throughout North America, Europe and India. For more information, please visit www.williammills.com.
About Finovate
Founded in 2007, Finovate is a series of unique conferences that showcases the best new innovations in financial and banking technology via short, fast-paced demos (no slides allowed) and high-quality networking.
Click to tweet: William Mills Agency CEO to provide live blogging, video coverage at 2014 FinovateFall