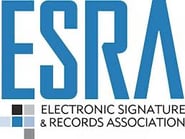 William Mills Agency, a provider of financial public relations and marketing services, has been selected by the Electronic Signatures and Records Association (ESRA), the premier trade association representing electronic signature adopters and providers, to lead the organization's strategic public relations efforts to raise awareness of the organization and its mission to lead endeavors to advocate the use of electronic signatures and records, promote process efficiencies and provide educational resources to the public, businesses and government.
"We chose William Mills Agency because of its experience not only with vendors in the financial industry, but trade associations like ours as well," said Jeff Knott, vice chairman, for ESRA. "By engaging in a comprehensive public relations program, we can better display our vendor-neutral, collective voice that advocates public policy; communicate the benefits of membership; and demonstrate how the adoption of e-signatures and e-records can provide huge value for almost any organization."
ESRA is led by a strong group of professionals spanning many industries and advocates for policy change and education around the practice of using electronic documents and signatures.
"ESRA members represent a variety of extremely dynamic, progressive companies either creating or using these advanced methods of conducting business and transacting," said Scott Mills, president of William Mills Agency. "We are excited to assist ESRA in its efforts to share uses and advantages as well as the legal and policy issues surround e-signatures across several different verticals."
Click to Tweet: Electronic Signatures and Records Association (ESRA) Selects William Mills Agency for Public Relations Services
About ESRA
The Electronic Signature and Records Association (ESRA) is the premier trade association representing electronic signature and records industry adopters and providers. Founded in 2006, the organization's primary mission is to educate its members and the public on legal, public policy, regulatory and operational issues in relation to the use of electronic signatures and records across various industries. For more information, visit www.esignrecords.org.
About William Mills Agency
William Mills Agency is the nation's largest independent public relations and marketing firm to the financial services industry. Founded in 1977, the Atlanta-based company has established its reputation in the industry through successful execution of media relations, marketing services and crisis communications campaigns for hundreds of companies ranging in size from entrepreneurial start-ups to large, publicly traded corporations throughout North America, Europe and India. For more information, please visit www.williammills.com.