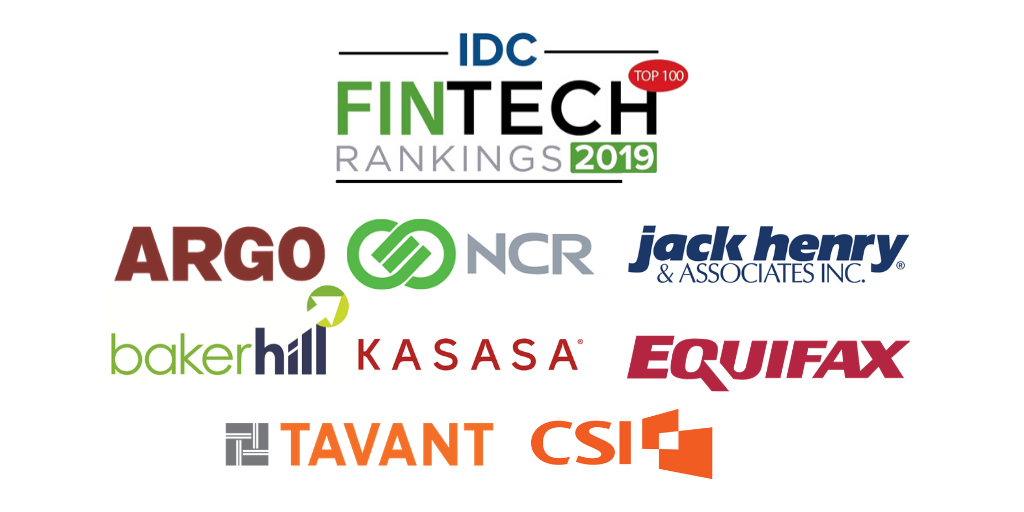 William Mills Agency is proud to congratulate several clients that were recognized by the 16th Annual IDC Fintech Top 100 award. The annual award recognizes companies that derive more than 1/3 of their revenue from financial institutions and are propelling the industry forward. Data is gathered from surveys completed by vendors, as well as original research and market analysis conducted by IDC Financial Insights.
"IDC is honored to recognize the technology providers that appear on the 16th annual FinTech Rankings," said Marc DeCastro, Research Director at IDC Financial Insights. "These are the companies that have shown commitment to the financial services institutions and their appearance on the list is a testament to that dedication."
The clients below were among those recognized by this prestigious award. If you're interested in learning more about the award, click here to view or download the full list.
ARGO
Founded in 1980, ARGO develops, installs and supports high-value technology and analytical-sciences software for the financial services and healthcare industries. ARGO currently works with nearly 300 banking customers in all financial services sectors including six of the top 10 banks, and non-bank financial services lenders, ARGO also provides solutions for a leading-edge health care information exchange and major health care providers.
Baker Hill
Baker Hill empowers financial institutions to work smarter, reduce risk and drive more profitable relationships. The company delivers a single unified platform with modern solutions to streamline loan origination and portfolio risk management for commercial, small business and consumer lending. The Baker Hill NextGen® platform also delivers sophisticated analytics and marketing solutions that support sound business decisions to mitigate risk, generate growth and maximize profitability. Baker Hill is the expert solution for loan origination, portfolio risk and relationship management, CECL and analytics for financial institutions in the United States.
Computer Services, Inc. (CSI)
Computer Services, Inc. delivers core processing, managed services, mobile and Internet solutions, payments processing, print and electronic distribution, treasury management and regulatory compliance solutions to financial institutions and corporate customers across the nation. Exceptional service, dynamic solutions and superior results are the foundation of CSI's reputation and have resulted in the company's inclusion in such top industry-wide rankings as the FinTech 100, Talkin' Cloud 100 and MSPmentor Top 501 Global Managed Service Providers List. CSI's stock is traded on OTCQX under the symbol CSVI.
Equifax
Equifax is a global data, analytics, and technology company and believes knowledge drives progress. The Company blends unique data, analytics, and technology with a passion for serving customers globally to create insights that power decisions to move people forward.
Jack Henry
Jack Henry is a leading provider of technology solutions primarily for the financial services industry. We are an S&P 500 company that serves more than 9,000 clients nationwide through three divisions: Jack Henry Banking® supports banks ranging from community banks to multi-billion-dollar institutions; Symitar® provides industry-leading solutions to credit unions of all sizes; and ProfitStars® offers highly specialized solutions to financial institutions of every asset size, as well as diverse corporate entities outside of the financial services industry. With a heritage that has been dedicated to openness, partnership, and user centricity for more than 40 years, we are well-positioned as a driving market force in future-ready digital solutions and payment processing services. We empower our clients and consumers with the human-centered, tech-forward, and insights-driven solutions that will get them where they want to go.
Kasasa
Based in Austin, Texas with 450 employees, Kasasa® is a financial technology and marketing provider committed to driving results for over 900 community financial institutions by attracting, engaging, and retaining consumers. Kasasa does this through branded retail products, world class marketing, and expert consulting.
NCR Corporation
NCR Corporation is a leading software- and services-led enterprise provider in the financial, retail, hospitality, telecom and technology industries. NCR is headquartered in Atlanta, Ga., with 34,000 employees and does business in 180 countries. NCR is a trademark of NCR Corporation in the United States and other countries.
Tavant
Headquartered in Santa Clara, Calif., Tavant is a digital products and solutions company that provides impactful results to its customers across North America, Europe, and Asia-Pacific. Founded in 2000, the company employs more than 2500 people and is a recognized top employer. Tavant is creating an AI-powered intelligent lending enterprise by reimagining customer experiences, driving operational efficiencies and improving collaboration.