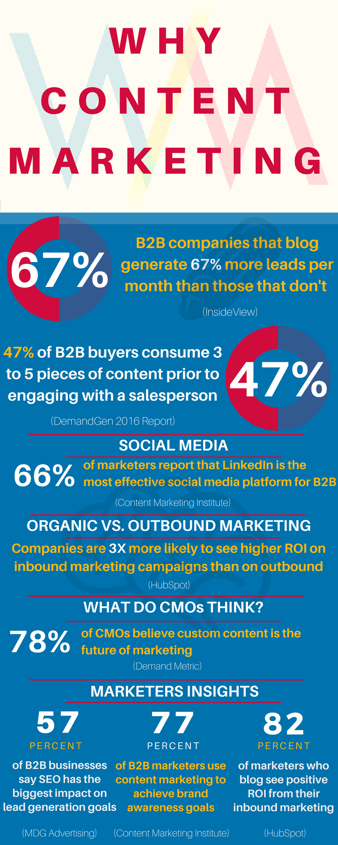 The digital age has fundamentally changed the way we deliver and receive information both in B2C and B2B. Prospects are much better at filtering advertising and content that is irrelevant to them and technology has given them more control over who and what they choose to engage with.
This shift has impacted traditional marketing and PR practices as it is no longer enough to distribute news releases and place bylined articles to gain market awareness. Prospects also want compelling, focused content to educate them on how to better manage their specific pain points.
Content can now be delivered in a number of ways. Social media posts and blogs may drive more visitor traffic to your website. White papers and infographics may develop more leads for your sales team. A successful content marketing program is one that leverages a healthy mix of all of these in an integrated, well-designed program.
If content marketing isn't part of your company's overall communications strategy, data suggests that it should be:
78% of CMOs believe custom content is the future of marketing (Demand Metric)
77% of B2B marketers use content marketing to achieve brand awareness goals (Content Marketing Institute)
47% of B2B buyers consume 3 to 5 pieces of content prior to engaging with a salesperson (DemandGen 2016 Report)
2 times as many marketers say inbound delivers below average costs per lead than outbound methods (HubSpot 2016 Inbound Report)
Companies that invest in inbound marketing versus outbound save on average $20k per year (HubSpot 2016 Inbound Report)
71% of B2B marketers use content marketing to generate leads (MarketingProfs)
Content marketing generates 3 times as many leads as traditional outbound marketing AND costs 62% less (Demand Metric)
Statistics don't lie! 88% of B2B organizations now use content marketing (Content Marketing Institute). Lead generation and sales are the most important goals for B2B marketers over the next 12 months, but 55% are unclear about its success and effectiveness (Content Marketing Institute).
Technology has changed the game from 25 years ago when big brands controlled the message through advertising. Prospects don't want to be sold to; they want to be educated, and having an integrated public relations and content marketing plan is what will really make your company successful in today's digital age. While content marketing helps deliver leads to your sales team, public relations helps convert them into customers.
Today's successful companies are those that realize the importance of content marketing and the impact of an integrated marketing and communications program to achieve maximum results and positive ROI.