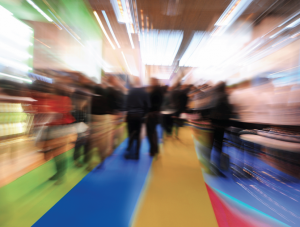 - Free 2016 Trade Show Directory Available for Download Now! -
In today's digital age, there has definitely been a shift in how we communicate. More of our interactions in both our professional life as well as personal life are done through digital channels rather than through face to face contact. Skype has become a popular method to video chat with family or friends in other states and to conduct business meetings. Another example is the growing number of banking customers who handle all transactions through mobile and Internet banking technology instead of in person at a local branch.
#1 Meeting in person matters
While digital interactions are more convenient in many ways, an in-person interaction has irreplaceable power. This is an important factor to remember as you may feel like you need to justify the expense of attending or exhibiting at a trade show or user conference this year. Research conducted by George Mason University and University of Illinois explains that communicating through e-mail and videoconferencing "strips away the personal interaction needed to breed trust." The study also notes: "Technology has made us much more efficient but much less effective. Something is being gained, but something is being lost. The something gained is time, and the something lost is the quality of relationships. And quality of relationships matters."
Unlike any other event, trade shows and user conferences provide the vital opportunity for face-to-face meetings with peers, prospects, clients and partners — all in one place —to build trust, credibility, and deepen business relationships. Our industry trade show guide has more than 100 financial industry trade shows and conferences, sponsored by a variety of industry associations, publishers, independent third parties as well as software and hardware providers. It is intended to help you prioritize and plan your calendar for 2016.
Please download our complete Financial Industry Trade Guide.
#2 An opportunity for a captive audience
Financial industry trade shows and user conferences have thousands of attendees each year including prospective buyers of software, hardware and services representing the many segments of the financial services industry. Another trade show advantage that trumps communicating via email, videoconference or even just over the phone, is to secure a valuable speaking opportunity or to lead a panel discussion. These activities allow you to be face to face with a live audience that has chosen to attend your event on your particular topic.
Typically, in order to secure a speaking engagement, you will need to start well before the show date, about 8 months prior at a minimum. Information about these types of openings can be found on the trade show or conference website.
A few of our clients have told us over the past couple of years that some of the traditional industry shows have recently suffered from a lack of potential buyers (bankers and lenders) walking the exhibit floor. This does not suggest these events lack quality content, but we strongly recommend that you research each show before investing in an exhibit. Additionally, it's important to be familiar with these top shows in the financial services industry: Finovate, Money 2020 and ETA as they seem to be very much on the uptick.
To assist you in choosing tradeshows and conferences, William Mills Agency has compiled a comprehensive listing of financial services trade shows in our annual Trade Show Directory. Please utilize this resource for planning purposes!